Credit director Elisabeth Subrin for being resourceful in incorporating her cast's real-life situations into her storytelling.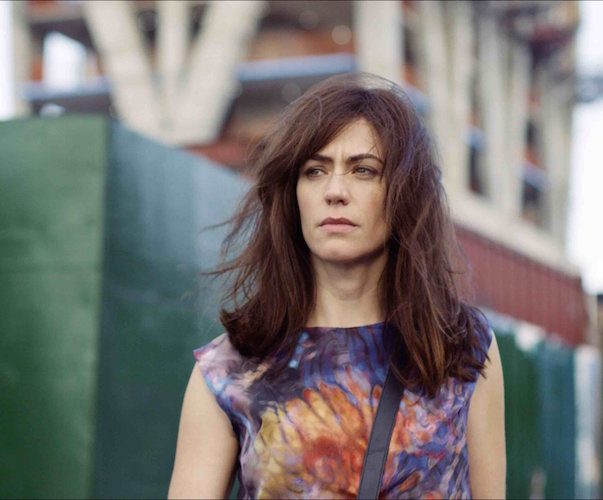 By Gerald Peary
In Ingmar Bergman's 1966 masterpiece, Persona, the actress played by Liv Ullmann breaks down in the middle of a performance. She can't do it anymore, so she retreats from her thespian life, and life itself, for a slow rest cure on an island. In Ex-Bostonian Elisabeth Subrin's mostly absorbing first feature, A Woman, a Part (at the Brattle Theatre, Wednesday and Thursday, January 24 and 25), a lost actress has an analogous existential crisis about her career choice, and also decides to quit. "There's nothing left," she declares. "I don't want to act any more." She's Anna Baskin (an excellent Maggie Siff), who is suffocating in LA playing a leading role in a dreadful unnamed generic TV series.
Her character says things like, "You know me, Sam, you know what's supposed to happen on my watch."
As the movie opens, Anna has been fighting with her male director over the inanities in the teleplays, only to be lectured that she's being a prima donna complaining that her character is phony and empty. "You can't call a summit every time you have a problem with a script. It's just who she is," he tells her. But Anna is not pacified at all. In fact, she's really suffering, and the coke she's snorting and the pills she's popping only escalate her anguish.
Pointedly, she lives off Sunset Boulevard, and she's on her first hazy steps toward becoming loony Norma Desmond. Remember Norma's swimming pool in the 1950 Billy Wilder baroque classic, where the murdered William Holden floated dead? The pool is back with Anna wading in it in her clothes, trying to fish out the dozens of crappy screenplays she's tossed in the water as her "Fuck You" to Hollywood.  In a surreal daydream sequence later in A Woman, a Part, Anna imagines herself immobile in this pool like a drowned Ophelia.
Anyway, there's no island retreat for Anna. Instead, she flees California for a tiny rented apartment in Brooklyn. The first morning there, she sits at a sidewalk table and smells the coffee and smiles as a little girl passes by. Relief! But it doesn't last long enough, for Anna (masochistically?) reinserts herself into the life she led before her TV series. She was an actress in a decidedly off-off-Broadway theater company, but had a fractious relationship with the other two principles, actress Kate (Cara Seymour) and playwright Isaac (John Ortiz). Now, she appears uninvited at Kate's 50th birthday party.
Resentments start anew. Among the sore points is the feeling that Anna used her theater work in New York as a stepping-stone to her lucrative commercial career, that she, in effect, abandoned her real friends so she could sell out in Hollywood.
Credit director Subrin for being resourceful in incorporating her cast's real-life situations into her storytelling.  Siff indeed has been a recurring performer in a series of TV series, including Sons of Anarchy and Mad Men, and currently she's been in 27 episodes of Billions opposite Paul Giamatti. Ortiz actually lives the split life of Anna, leading the Latino LA Byrinth Theater Company while making his money acting in Fast & Furious movies. Seymour, like her character Kate, is a tremendously talented performer who, though acting for Martin Scorsese, Lars von Trier, Spike Jonze, has had, so far, fame elude her.
There's a tremendously choreographed lovemaking scene, in which the woman, Anna, takes the lead in stripping the man, for which I applaud Subrin. But I wish I liked the New York sequences more. For me, A Woman, a Part indulges in self-pity and self-loathing as the various characters debase themselves. And there's an unfortunate plot hook which doesn't work, when Anna freaks out reading a script written by Isaac.  She discovers therein a thinly disguised version of herself which she considers a betrayal. Much griping and pain about very little.
But I'm with Subrin when she says, "Making an indie art film about characters over 40, by a first-time female director, with a feminist view, is not an easy path." Fortunately, her movie comes back on course with its acidic Stepford Wives (or Stepford Actress) LA ending. Subrin will be speaking at the Brattle with the screenings of her film. Be there for a worthwhile evening.
---
Gerald Peary is a retired film studies professor at Suffolk University, Boston, curator of the Boston University Cinematheque, and the general editor of the "Conversations with Filmmakers" series from the University Press of Mississippi. A critic for the late Boston Phoenix, he is the author of nine books on cinema, writer-director of the documentaries For the Love of Movies: the Story of American Film Criticism and Archie's Betty, and a featured actor in the 2013 independent narrative Computer Chess.