It's clear these four musicians love playing together. As long as the magic lasts, it's well worth your hearing.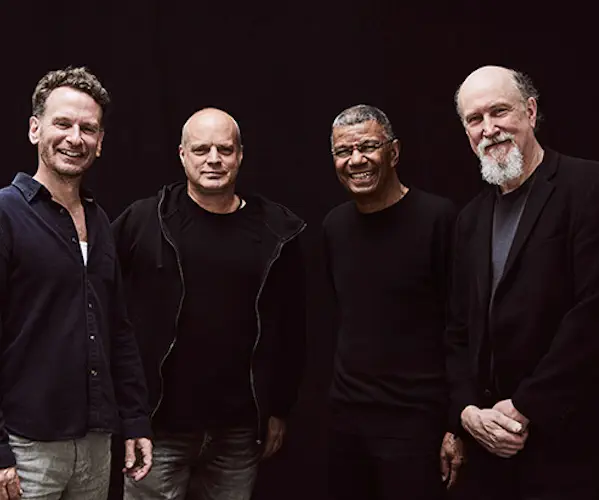 By Steve Elman
Friendship is tested in small jazz ensembles, and the longer the group plays together, the more that friendship is tested. Paul Desmond chafed at being a sideman in the Dave Brubeck Quartet. Milt Jackson often felt that he couldn't relax within the frame of John Lewis's music for the Modern Jazz Quartet. John Coltrane jettisoned his three most simpatico partners when he decided to take his quartet in a new direction in the mid-sixties.
So when a "jazz supergroup" is formed, you can usually bet that its life will be relatively short. That's the way it surely will be for Hudson, the quartet assembled for a January recording date (their eponymous CD, Hudson, was released on Motéma Music in June) and the supporting tour. On the strength of their performance at the Berklee Performance Center (a presentation of the Celebrity Series) on October 8, they are having a hell of a time playing together, and you'd be wise to see the band when it comes to your town. We can only hope it lasts long enough for a return trip here.
Hudson is the result of two longstanding musical conversations and some convenient geography. Guitarist John Scofield and keyboardist John Medeski have worked together since at least 1998, when Medeski Martin and Wood (with drummer Billy Martin and bassist Chris Wood) guested on Scofield's A Go Go (Verve). That combination of forces worked so well that Scofield became a named partner for three more CDs issued under the name "Medeski Scofield Martin and Wood."
Scofield and drummer Jack DeJohnette combined forces in 2003 with Larry Goldings, another frequent Scofield partner, to form Trio Beyond, working in the tradition of the Tony Williams Lifetime. Their one CD (Saudades, ECM, 2006) and the tour that followed, which I was lucky enough to see, proved that there was plenty of empathy, and that fueled this new project.
I have the impression that DeJohnette and Scofield are the sparkplugs of this new band. As much as Medeski and bassist Larry Grenadier contribute to performance and interpretation, which is considerable, the basic concept belongs to the drummer and guitarist. Because all four of the players live in the Hudson valley, which was also the home of the Woodstock Festival, they decided to use their musical rapport to interpret tunes closely associated with pop musicians they admired in their younger days – Jimi Hendrix, Bob Dylan, Joni Mitchell, and Robbie Robertson (so far). Just looking at the tune list – "Wait until Tomorrow," "Lay Lady Lay," "Up on Cripple Creek," "Woodstock" – you'd be forgiven in anticipating an exercise in nostalgia with minimal musical substance. Not so.
In fact, the tunes (even when DeJohnette sings them, as he did at Berklee on "Castles Made of Sand" and Up on Cripple Creek") feel loose and rangy, and they slip easily from relaxed theme statements into improvisations that are absolutely true to the players. Thank God, there is no attempt to make these performances sound like the originals.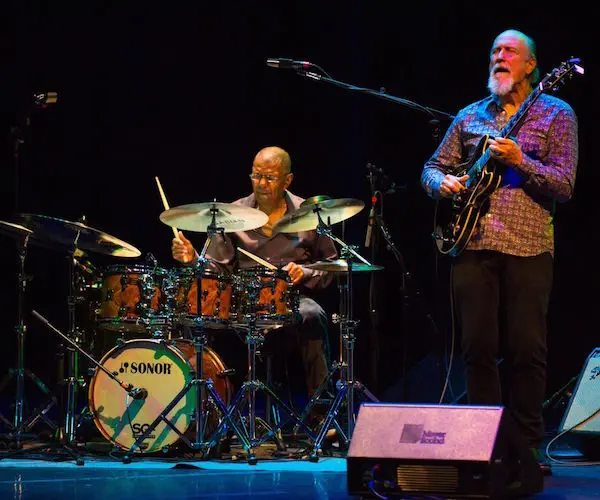 There is a significant body of original music as well, with DeJohnette trying to extend the peace-love-etc. theme (one of his tunes is called " Song for World Forgiveness") and Scofield being – as always – a cogent and smart writer of singable, swingable lines. They have also made room for near-free-improv in a Milesish jam with the same name as the band and its debut CD.
DeJohnette and Scofield share a working esthetic about their musical explorations – when either of them devotes himself to a project or a concept, the result is concentrated and defined. Scofield playing Ray Charles or country tunes or New Orleans gospel is still Scofield, but he puts a frame around his work to fit the repertoire. DeJohnette's "Special Edition" bands have each had distinctive character, and each CD in that series has had a defined sound. And they each give Hudson the same kind of care.
Each of the four members in the group contributes something mightily personal to the playing of the tunes. Scofield's strong linearity, which allows him to "tell a story" effectively in every solo, moves the music forward propulsively. Medeski's chosen esthetic is more in the nature of atmospherics and effects than it is linear – although he showed during a solo piano segment at Berklee that he thinks beautifully when he plays in as linear way – and so his contributions give each piece an acoustic space in which to unfold. Grenadier's big rich sound and his impeccable choice of notes keeps things firmly founded. And DeJohnette responds to every cue with sensitive, powerful percussion.
It's clear these four musicians love playing together. As long as the magic lasts, it's well worth your hearing.
More:
Set List for Hudson at Berklee Performance Center, Boston, Sunday October 8, 2016:
Hudson:
Jack DeJohnette, dm, vo (*); John Scofield, g, vo (#);
John Medeski, p, e-p, org, vo (#); Larry Grenadier, b
1. Wait until Tomorrow (Jimi Hendrix)
2. Hudson (DeJohnette / Grenadier / Medeski / Scofield)
3. El Swing (Scofield)
4. Castles Made of Sand (Jimi Hendrix) *
5. solo piano segue (Medeski)
6. Up on Cripple Creek (Robbie Robertson) * #
7. A Hard Rain's A-Gonna Fall (Bob Dylan)
8. solo bass segue (Grenadier)
9. Dirty Ground (DeJohnette / Bruce Hornsby) *
10. solo guitar segue (Scofield)
11. Tony Then Jack (Scofield)
12: Encore: Woodstock (Joni Mitchell)
Upcoming tour dates for Hudson:
10/12, 8 PM: Corbett Center, Cincinnati OH
10/14, 8 PM: Sheldon Concert Hall, St. Louis MO
10/15, 7 PM: Yardley Hall, Overland Park KS
10/17, 7:30 PM: Jack Singer Concert Hall, Calgary AB
10/18, 8 PM: Chan Center, Vancouver BC
10/19, 7:30 PM: Moore Theater, Seattle WA
10/21, 8 PM: Modavi Center, UC Davis, Davis CA
10/22, 7 PM: Weill Hall, Sonoma State University, Rohnert Park CA
10/23, 7:30 PM: Newmark Theater, Portland OR
10/25, 7:30 PM: Piper Repertory Theater at Mesa Arts Center, Mesa AZ
10/26: KiMo Theater, Albuquerque, NM
---
Steve Elman's four decades (and counting) in New England public radio have included ten years as a jazz host in the 1970s, five years as a classical host in the 1980s, a short stint as senior producer of an arts magazine, thirteen years as assistant general manager of WBUR, and currently, on-call status as fill-in classical host on 99.5 WCRB since 2011. He was jazz and popular music editor of The Schwann Record and Tape Guides from 1973 to 1978 and wrote free-lance music and travel pieces for The Boston Globe and The Boston Phoenix from 1988 through 1991.