The Monks were, and to some extent still are, the quintessential cult band.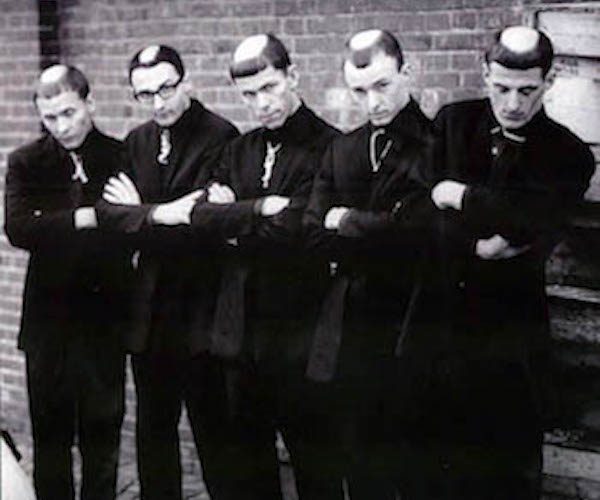 By Matt Hanson
In some ways, a lot of great American rock music wouldn't be around without the Nuggets compilation. Selected by Lenny Kaye, Patti Smith's guitarist, the four discs contained enough overlooked sixties-era garage rock classics — think timeless rave-ups like "Louie Louie" and "Wooly Bully" — to inspire a seminal return to rock's first principles, which are based both literally and figuratively in the garage. So much brilliant but barely commercial music would surely be consigned to oblivion if not for Nuggets, which gave them some much needed attention. Arguably, of course, the most distinctive of these bands would have to be The Monks, an American/German ensemble that briefly blew minds across the Atlantic in the form of Black Monk Time, which — until recently — was their entire recorded output.
If you don't know The Monks, don't worry — you're definitely in the majority. The Monks were, and to some extent still are, the quintessential cult band. A brief recap of The Monks' origin story would probably clarify their eccentric appeal. American G.I.'s stationed in Germany in the mid-sixties, The Monks combined a love of primal rock and roll with a twisted sense of humor: a potent cocktail of Bo Diddley and Mad magazine. Whimsically conceived as a nihilist's alternative to Beatlemania, they decided to dress as their name suggested: donning black cloaks, shaving their heads into tonsures, adding a dangling noose around a neck  or two for a touch of gallows humor.
Their propulsive, avant-garde sonic attack matched the severe stage attire. The lyrics gleefully mocked cold war paranoia run amok ("We hate the army/ what army? Who cares what army?/ James Bond, who is he?/ We like Pussy Galore, we don't like the atom bomb"). Featuring improbably catchy tunes like "I hate you baby/ but call me" and a mesmerizing way with rhythm and feedback, including staccato organ jabs and an electrified banjo, The Monks helped shape the punk that was to come.
The Monks enjoyed a brief but legendary run of concerts throughout Germany, but were most in demand in Hamburg, mostly playing sleazy Reeperbahn dives. In some cases, they played the same spots that The Beatles had cut their teeth on a couple of years before though, needless to say ,their public response was far more polarizing than the Fab Four's. Despite frenzied crowds and a small but devoted following, they eventually disbanded, remaining a well-kept secret whose first American gig was a reunion show in the nineties.
Black Monk Time is a solid record, with no songs wasted, but for years it was the band's only album. It's influence was felt far and wide; legendary bands like The Dead Kennedys, The Fall, and The White Stripes (among others), have payed tribute to The Monks. Now Third Man Records, Jack White's invaluable record label, have unearthed a new EP of lost Monks songs, which is a cause for celebration for long-suffering fans. The EP consists of five songs recorded after hours at one of the Hamburg clubs The Monks played during their brief but intense heyday.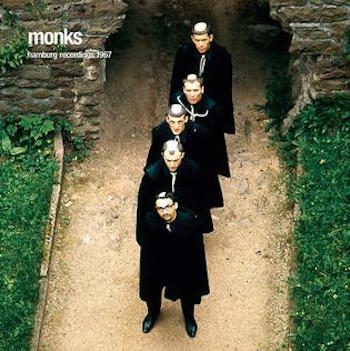 At the time, the band was under pressure from their record label to produce a hit — a bit of a tall order, given how intentionally odd so much of their music was. But the surprising thing about these "new" songs is how well they bridge the gap between the band's brash bravado and their subtle but crucial pop sensibilities. Despite the slightly ominous harmonies and the crisp, almost martial beats, a song like "P.O. Box 3291" could easily have landed on the radio, especially in the late sixties. "I'm Watching You" has more than a hint of what was once called blue-eyed soul, with an agreeably bouncy melody and just enough mischievous innuendo to be acceptable for mass consumption.
The upbeat "Julia" sounds like something the Monkees could have written — which is a compliment, with the slight caveat that it might have fit best as a track on their acid-imbued, experimental Head than on their TV show. "I Need You Shatzi" is as amusing as its title suggests, with a goofily triumphant chorus that sounds like the theme song for an imaginary cop show. The jaunty instrumental "Yellow Grass" (the vocal track was accidentally erased) even incorporates a horn section, an intriguing glimpse into the kind of sonic explorations that might have come in the future, if the band had managed to last.
Not only is the EP a welcome treat for admirers, and of historical value, but the Hamburg Recordings 1967 make clear that The Monks could have been more popular — if they'd wanted to be. Was their willful contrarianism ultimately what did them in? If they'd stuck together a bit longer, gotten some more public support, would they have been able to catch on and swim in the mainstream? We'll never know, of course. Pop stardom is notoriously fickle, especially with something as sui generis as The Monks. In the meantime, we can be glad that the new recordings prove that it's still Monk time … for a little while longer.
---
Matt Hanson is a critic for The Arts Fuse living outside Boston. His writing has appeared in The Millions, 3QuarksDaily, and Flak Magazine (RIP), where he was a staff writer. He blogs about movies and culture for LoveMoneyClothes. His poetry chapbook was published by Rhinologic Press.