Burn All Night is a pretty damp squib coming from one of the country's major regional theaters.
Burn All Night, score by Teen Commandments members Van Hughes, Nick LaGrasta, and Brett Moses. Book and lyrics by Andy Mientus. Directed by Jenny Koons. Staged by the American Repertory Theater at OBERON, Two Arrow Street, Cambridge, MA, through September 8.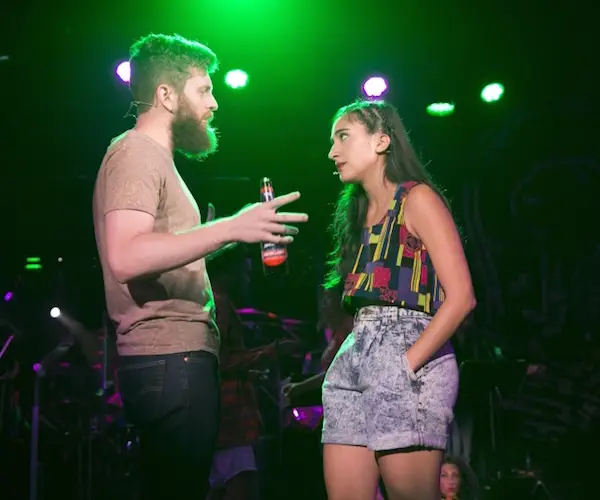 By Bill Marx
American Repertory Theater artistic director Diane Paulus no longer has to worry much about the academic side of her job. The ART Institute for Advanced Theater Training was called out earlier this year by the US Department of Education, which fingered it for financial abuse of its students. Harvard University decided to put the Institute on hiatus for three years. Gone is the ivy-covered pretense that somewhere on the ART's premises sits a long-range, serious performing arts program. The jig is up. This is not good news for the Institute's graduates, who are currently in the real world struggling to pay back huge amounts of debt, as reported in a NYTimes story on the shut-down. But it is liberating for the entrepreneurial Paulus, who can now concentrate on what she has always really been about — packaging commercial entertainment under the guise of "vibrant, cutting edge" theater. If it has the Harvard U brand, it must be substantial, right?
Not really. The latest egregious example of head-banging banality, the musical Burn All Night, is receiving its world premiere at the ART's club-theater environment OBERON, for which it was specifically developed. We know important issues are being bravely faced in the show because Paulus notes in the program that the piece was "inspired by youth culture on the eve of global catastrophe." Heavy, man. Of course, all kinds of people are going to die when the world ends — old, poor, middle-aged, lots of non-Americans. But sure, let's spotlight the demise of NYC's young, clueless, and beautiful. These are not your run-of-the-mill kids, but privileged types, wannabe artists who seem far more interested in who is sleeping with who than with the fate of the world. And that is as it should be. Issues like Global Warming are for the non-young to worry about. Kids, with their disposable income and exuberance, should treat the eve of destruction as they do here, as an inspiration for a dance-a-thon. Party like it's 1999! Raise the hedonistic temperature and melt some more icebergs.
Truth is, no one but your Aunt Minnie (who doesn't get out much) and the members of the Boston Theater Critics Association would find this show edgy in the slightest. The BTCA must feel so proud, having just undercut its credibility by recently handing Paulus an Elliot Norton Prize for Sustained Excellence. The first show of the ART season turns out to be an incoherent white bread rock musical with nary a single original ingredient, aside from exploiting anxiety about Climate Change in order to make the same old same old look — relevant. Burn All Night is a pretty damp squib coming from one of the country's major regional theaters. But hey, it may have showbiz legs …
The plot recycles the 1941 Ginger Rogers film Tom, Dick, and Harry. Three guys are smitten with Holly, a visual arts type working at a New York advertising firm. Bobby is a fledgling actor who has a backstory with Holly, Will is a devil-may-care visual artist, and Jak, a melancholic rock and roller, is Holly's current boy friend. These aren't characters so much as heavily mic'ed entertainment machines; you really don't give a hoot about who she ends up with. (I don't think Holly cares all that much herself.) The action amounts to a succession of sybaritic parties, relationship maneuvers,  and plenty of dance/jigging interludes on and off the OBERON's bar by the production's frenzied chorus members. Well over half the show is over (Who will Holly choose? The suspense is killing us.) before an earthquake messes up New York City. Fleeing to the shore (of New Jersey?) our artsy quartet displays no signs of post-traumatic stress syndrome. (We don't even learn if anyone was hurt in the quake — surely some partygoers Bobby and Holly knew were injured?) A big (if inscrutable) personal betrayal occurs, which brings about an ending that shouldn't surprise anyone over the age of three.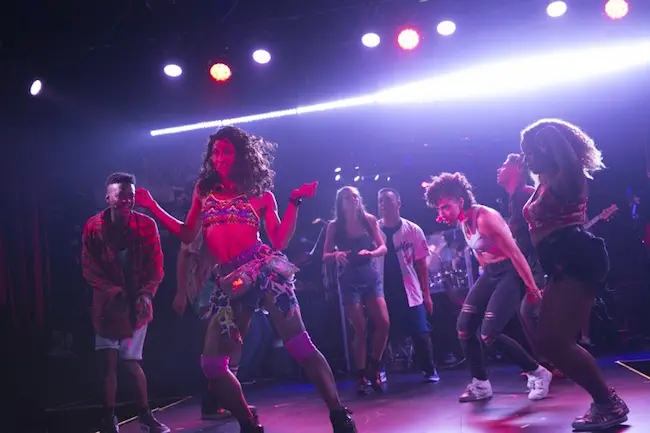 I occasionally enjoy listening to MIT station WMBR, which features rock by alternative bands, so I know there's much grittier and more inventive dance music out there than the succession of suburban rock-ish wheezes we have here, manufactured to make sure that everyone from 9 to 90 will tap their feet. But the music must reassure because, let's face it, extinction is a downer; flickers of despair in Burn All Night are few and far in-between, and when they come they are immediately followed by an uptempo tune. ("Show me the way to the next whisky bar.") As for the you-are-in-all-the-excitment merits of OBERON's saloon setting, the faddish notion of 'immersive entertainment' is beginning to wilt: seeing the performers slither on top of tables or gyrate wildly, while wheeled about on platforms, has become routine. Once virtual reality goggles are available as inexpensive consumer items, viewers will be able to get much closer to the (images) of the performers and the booze is a lot cheaper at home.
There's plenty of 'stop making sense' energy here, from the attractive cast (Lincoln Clauss, Ken Clark, who has a terrific beard, Krystina Alabado, and Perry Sherman) to the acrobatic moves of the chorus. But to what end? Is this how Paulus's global catastrophe will come? Not with a bang, not with a whimper, but with a butt shake?
---
Bill Marx is the editor-in-chief of The Arts Fuse. For over three decades, he has written about arts and culture for print, broadcast, and online. He has regularly reviewed theater for National Public Radio Station WBUR and The Boston Globe. He created and edited WBUR Online Arts, a cultural webzine that in 2004 won an Online Journalism Award for Specialty Journalism. In 2007 he created The Arts Fuse, an online magazine dedicated to covering arts and culture in Boston and throughout New England.