We want to see how looming middle age is treating these two friends, whose intersecting careers and self-images shape their relationship.
The Trip to Spain, directed by Michael Winterbottom. Screening at Kendall Square Cinema, Cambridge, MA.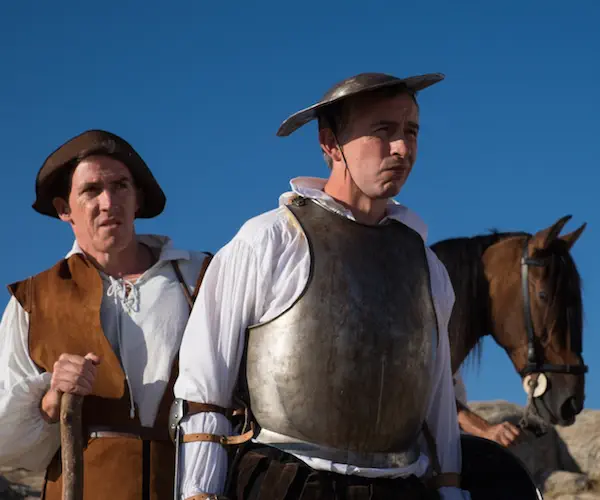 By Peg Aloi
If you haven't seen The Trip (2010) and The Trip to Italy (2014), I think it's a good idea to do so before viewing the third entry in the series. It's not that you'll find the latter's plot less satisfying or the jokes less funny without seeing the first two entries in the franchise. But the relationship between Steve Coogan and Rob Brydon is undergoing a nuanced evolution; experiencing their predictable tendency to provoke one another early on will help you appreciate the delicious layering of subtlety and hilarity.
Under the sure hand of director Michael Winterbottom, the thrilling vistas and moments of gastronomic beauty served up in these films are, by design, demoted to explorations of the supporting players: these journeys shared by two actors interweave details about their real life careers with revelations about their personal lives. The initial source material for the series is Winterbottom's Tristram Shandy: A Cock and Bull Story, a sort of behind-the-scenes story of the making of a potted costume drama, with Coogan and Brydon playing the lead roles. Their constant one-upmanship and compulsive need to do impressions and reference classic films migrates very well to the Trip films; but unlike Tristram Shandy, the Trip stories are not set in the entertainment milieu; thus the need to frame the plot with a "real" friendship, albeit a sometimes tense one, at least as it's portrayed in the movies.
The Trip, a tour of fine restaurants in North England, is propelled by Coogan's writing assignment for an English lifestyle magazine. Brydon is invited along, as an afterthought, when Coogan's girlfriend cancels on him. The careers of both are doing mildly well; one of the film's finest scenes digs into the competitive nature of the relationship: the two actors try to outdo each other's Michael Caine impressions. The contest is affectionate but, in a revealing way, perfectly serious. Brydon tends not to know when to shut off game-playing; compulsively dives into his comic riffs at inappropriate moments. This lack of control becomes a growing point of tension in The Trip to Italy. We see Coogan's vanity and selfish behavior soften somewhat in that film, whereas Brydon's down-to-earth, family man persona becomes slightly tarnished. Those familiar with the earlier films will wonder, then, what sort of role reversal might take place in The Trip to Spain. To a certain extent, the new film begins where The Trip to Italy left off, but it is crucial to note that we're immediately shown exactly how much these men have (or have not) matured in the years since, and how this emotional mileage might affect their time together.
The film starts with a phone call from Coogan to Brydon. Coogan immediately drops the name of Martin Scorsese, in reference to his latest project, as well as referring to his Oscar-nominated film Philomena. This set-up pays off later on with some good-natured ribbing about Brydon's relative lack of high-profile roles and Coogan's questionable need to flaunt his successes. Both performers are based in London: Brydon is happily married with a young daughter and infant son; Coogan is divorced and dating a younger married woman who lives in New York; his 20 year old son is planning to join him at the end of the trip.
Coogan is assigned yet another restaurant review article, and asks Brydon rather impulsively to come along. Brydon's baby boy is crying loudly when the phone rings, and you see relief cross the actor's face at the prospect of a week away. The two venture forth, first by ferry and then in a huge Range Rover, through the beautiful hills and valleys of various regions of Spain. Travel buffs and foodies will appreciate the regional history and cuisine, but again, touristy charm is not the focus of the franchise. We want to see how looming middle age is treating these two friends, whose intersecting careers and self-images shape their relationship.
A publicity shoot for the restaurant articles has a Don Quixote theme, which informs many of the jokes and images throughout The Trip to Spain, including the recurrence of the song "Windmills of Your Mind." Coogan is writing a book about his relationship to Spain, based upon another author's similar experiences, and the parallels in his narrative to Quixote's aspirations and narcissism are subtle but notable. The hilarious history-themed dreams that Coogan has are, perhaps, partly fuelled by the existential crises he undergoes as his present relationships and reminiscences of his youth converge in this land of vast landscapes and rich culture.
Coogan, despite the success of Philomena, continues to display a restless self-effacement (masquerading behind comic arrogance) that serves as an effective foil to Brydon's grounded existence as a family man whose pleasure in performing is about play, regardless of whether he is gamboling with his children or when he's doing a professional gig.
Keeping up with the constant literary, cinematic, and pop culture allusions can be somewhat daunting. A running gag in the series continues to be highly amusing; it is still a hoot to see both Brydon and Coogan go out of their way to secretly study the regions they travel through — they are anxious to one-up each other with obscure travelogue anecdotes. No spoilers will come from me regarding the subjects of the pair's rivalry when it comes to impressions. Suffice it to say that actor Michael Caine once again makes an appearance, and that one music-themed volley is brilliant and moving. The ending of the film comes off as part cliff-hanger, part poetic justice, and altogether odd — it made me immediately want to know what's next on the menu.
---
Peg Aloi is a former film critic for The Boston Phoenix. She taught film and TV studies for ten years at Emerson College, and currently teaches at SUNY New Paltz. Her reviews also appear regularly online for The Orlando Weekly and Diabolique. Her long-running media blog "The Witching Hour" has recently been moved to a new domain: themediawitch.com