Theater in the Berkshires has now entered a less than sparkling mode with a group of offerings that left me wondering why they were chosen for production.
By Helen Epstein
It was too good to last. After a burst of well-produced, provocative summer plays that have now, unfortunately, closed (most notably, Sarah Ruhl's The Clean House at the Williamstown Theatre Festival), Berkshire theater has now entered a less sparkling mode with a group of offerings that left me wondering why, exactly, they were chosen for production.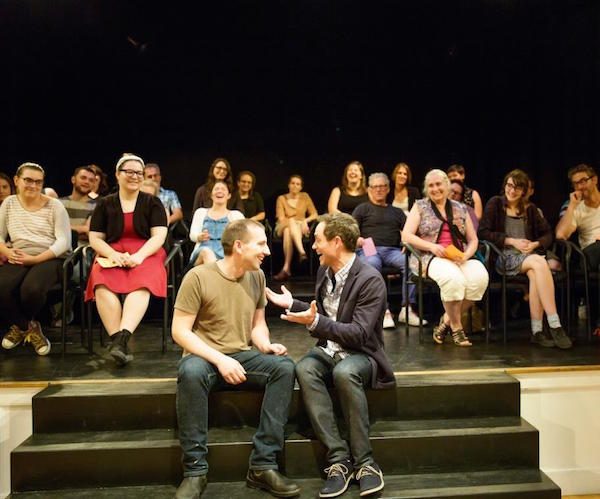 Every Brilliant Thing by Duncan Macmillan with Jonny Donahoe. Directed by Daniel Elihu Kramer. Staged by the Chester Theatre Company, Chester, MA, through August 13.
I was looking forward to seeing actor Joel Ripka in the CTC's production of Duncan MacMillan's Every Brilliant Thing, especially after taking in the snarky, expletive-ridden, and off-putting Moscow, Moscow, Moscow, Moscow, Moscow, Moscow (Halley Feiffer's update of Chekhov's Three Sisters ) at the Williamstown Theatre Festival. Ripka, a slight, boyish actor, has starred in six previous productions in Chester. I've been impressed with his unaffected stage presence and nuanced performances and was pleased that he would be doing a one-man show.
CTC dismantled its customary proscenium stage and set up a banked, five row, theater-in the round for its staging of Every Brilliant Thing. This British import, developed over a decade by playwright Duncan Macmillan and performer Jonny Donahoe, is a mix of story-telling, audience participation, and improv that explores the effects of a depressive mother on her son from the time of his childhood through adulthood. It was produced by the Paines Plough and Pentabus Theatre Company in 2013, subsequently played at the Edinburgh and Ludlow Fringe Festivals, and became an off-Broadway Christmas show in New York as well as an HBO movie.
Staged by CTC Artistic Director Daniel Elihu Kramer, Every Brilliant Thing enlists the participation of its audience in telling the story of the narrator's lifelong effort to keep his depressed mother from successfully committing suicide. The theatrical conceit: the creation of an ever-longer list of "brilliant" reasons to stay alive that the actor (the script does not specify gender) generates from the age of seven through his college years. Audience members are enlisted to read out some of the reasons from scraps of paper they were given when they enter the theater.
Whether or not one finds the premise interesting, tedious, moving, kitschy, insightful or funny is a matter of taste — and, possibly, psychological savvy. It's hard to take issue with a play that's endorsed by national suicide prevention hotlines. For me, the script is pedestrian, providing few moments of poetry or drama. Moreover, the playwright's directions ensure that the quality of the evening's improvisation, and the audibility of various audience participants, will be erratic.
On opening night at CTC, audibility was poor. The usually masterful Ripka has only one effective design element to work with, an interesting jazz soundtrack; he came off less like the child of a suicidal mother than as a disarming Dick Cavett-like talk show host, making small talk and voicing such gentle truisms as "Children of suicides blame themselves," and offering up suggestions for what not to say after someone has killed him or herself.
The reconfiguration of the theater raised my expectations; Every Brilliant Thing fell far short of meeting them.
---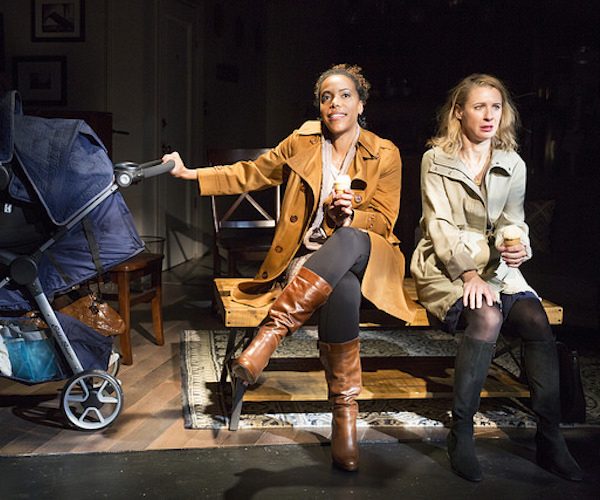 This by Melissa James Gibson. Directed by Louisa Proske. At Barrington Stage's St. Germain Stage, Pittsfield, MA, through August 27.
Playwright Melissa James Gibson, who writes for the HBO series House of Cards, knows how to invent contemporary characters, fast-paced scenes, and snappy dialogue. In This – a (to me) mystifying title for a play first presented by Playwrights Horizons in 2009 – the characters are four aging hipsters who met in college. Some 20 years later they are unhappy and having a dinner party in what seems like Brooklyn (as suggested by the set and sound design), when a fifth character, a laid-back, bi-sexual French Doctor without Borders drops in.
They are all around the age of 40, dispirited by their entry into middle-age, and in the grip of identity politics. Jane, mother of Maude, is a self-described WASP poet who works as a test proctor. She has been recently widowed. Her best friend Marrell, an African-American jazz singer, has just had a baby with her husband Tom, a white, class-conscious wood worker. Their mutual friend, Alan, is a gay Jewish mnemonist. They talk a lot and it's unclear how they manage to pay the rent.
Director Louisa Proske has staged the play on an extremely cluttered single set that, variously lit, serves to evoke two apartments, a playground, and two nightclubs.
I found the clutter reflected in the direction. Proske's actors perform at fever pitch, doing little to shade their characterizations or develop the script's relationships. The cast has a hard time transcending Gibson's stereotypes or making meaningless dialogue sound meaningful. Julia Coffey manages to give some depth to the character of Jane, the harried, bereaved poet and single Mom. Eddie Boroevich brings a loping ease to his role as the working-class hero and Mark H. Dold is interesting as the neurotic, intellectual Alan. But their efforts are not enough to make anything about this drama memorable. The most riveting dramatic moment may be when the French doctor, Jean-Pierre, casually lights up a cigarette and smokes.
---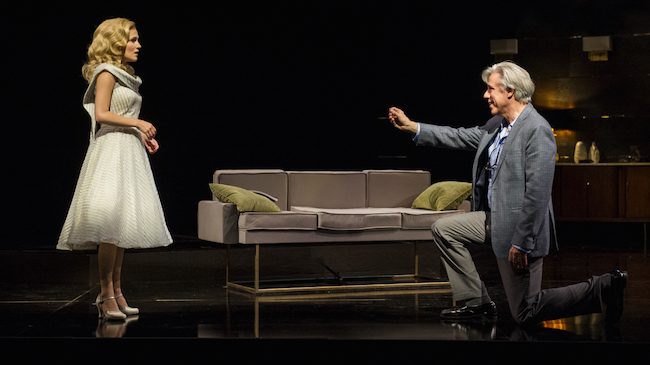 A Legendary Romance Music & lyrics by Geoff Morrow. Book by Timothy Prager. Drected by Lonny Price. Staged at the Williamstown Theatre Festival, Williamstown, MA, through August 20.
A musical about how the Blacklist destroyed two lives and a marriage? A musical that uses a documentary film made expressly for this production as a way to illuminate contrasting versions of personal narrative and examine whose version becomes history and why.
A Legendary Romance is an ambitious, complicated, and possibly unique project still in development. I was struck by its seriousness and by the disjuncture between its old-fashioned music (by pop tune composer Geoff Morrow) and brilliant use of state-of-the-art stage technology; the stock characters of Hollywood romance and the far less-dramatized figures dealing with the life-long consequences of McCarthyism and the Blacklist.
The show, inspired by Jesse L. Lasky's book Whatever Happened to Hollywood, moves back and forth between the mid-1990s and the late 1940s. It begins with aging movie producer Joseph Lindy watching the end of a movie based on his life and then arguing with a slick young film executive over its disregard of facts.
The filmmaker's concerns are relevant in our age of fictionalized biopics and fake memoirs. In Lindy's case, personal and political concerns make this issue even more loaded because Lindy, himself, began making this autobiographical film, which deals with the Hollywood blacklist, which ended both his marriage and his career. He was unable to complete the movie and it somehow fell into the hands of others who have rewritten key facts of his life, including the implication that he was responsible for a murder.
The young producer doesn't care much about the facts. "We're storytellers – that's what we do," he argues. "You used to be one too!" He wants to wrap up a successful movie and is indifferent to the tragedy of Lindy's life. He thinks the older man is holding out for a better financial deal.
What was the real-life story? The musical purports to tell it, making use of a sumptuous period set by James Noone, gorgeous costumes by Tracy Christensen, sure direction by Lonny Price and an appealing cast which sometimes appears to find itself at sea trying to make sense of lacunae in the script.
Young ambitious ingénue Billie Hathaway (played and sung by sprightly and lyrical Lora Lee Gayer) first appears in the Hollywood office of gray-haired producer Joseph Lindy to audition for a role. Lindy (as played by Jeff McCarthy, fresh off his portrayal of attorney Bill Kunstler at Barrington Stage) is immediately charmed. The two become both a romantic and professional couple. He prepares to feature her as a leading lady in his next film and proposes marriage.
Note to Timothy Prager: Their December-May engagement seems reasonable in the 1948 flashback, but it makes no sense nearly 50 years later, when Billie is an aging, long-forgotten actress and Lindy is still spry, apparently impervious to age.
The government's investigation of Hollywood Communists interferes with the Hathaway-Lindy romance. The producer is served with a subpoena to testify before the House Committee on Un-American Activities and announces that he will not name names.
Note to Timothy Prager: Since no one has sung about or even mentioned Communism or the Blacklist, the sudden onslaught of names and terms – subpoenas, Dymytryk, Reagan, Nixon, Hopper, Red Channels, a front, a subpoena – is confusing, even to a theatergoer who has some knowledge of the period.
Lindy is suddenly transformed into a man of principle who refuses to name names, even though we have had no previous indication of his interest in politics or that he's privy to any. Pert Billie thinks Communists are evil and sees no reason why they shouldn't be named. "You're not a Communist are you?" she asks her fiancé.
Enter a young party crasher and  showbiz wannabe Vincent Conor (well performed by Roe Hartrampf in what is the clearest role –in the musical). After Lindy is blacklisted, the three agree that Conor will become Lindy's front but, like many real-life fronts he becomes a male version of  All About Eve's Eve Harrington. Conor soon wants more, both professionally and personally.
"If he loved you, he would have given the Committee what they wanted!" Conor tells Billie. And "If she marries you her career is over," he tells Lindy. Though Conor seems to think he has Billie in his pocket, she destroys him by naming his name. Lindy, driven by his principles, renounces her.
It falls to the slick young film producer (convincing played by Maurice Jones, doing his second persuasive WTF stint this summer as a hard-boiled corporate type) to inform Lindy that Billie is dead. In one of the production's most moving moments, which also bends time, a markedly older and world-weary Billie descends the Hollywood staircase singing a plaintive, "You Didn't Call, You Didn't Write."
A Legendary Romance has several problems to work through, but there's the promise of an excellent musical here, so it may well be worth a commitment to a long development process. It's wonderful to walk out of a musical pondering the content as well as humming the tunes. I hope to see the show's next iteration.
---
Helen Epstein reviews books and theater for artsfuse. She is the author of Joe Papp: An American Life and nine other books. Her work can be found at Plunkett Lake Press.