Lope de Vega's classic story of how the powerless stood up to authority — and won –deserves better treatment than clumsy caricature.
Like Sheep to Water, or Fuente Ovejuna by Lope de Vega. Directed by Mark Valdez. Translated and adapted by Curt Columbus. Staged by Trinity Repertory Company at The Chace Theater, Providence, Rhode Island, through June 11.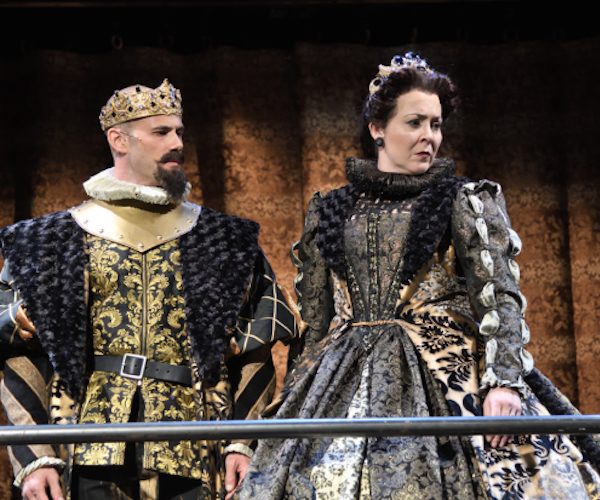 By Mary Paula Hunter
Sometimes, for all of their bravado about taking a stand, topical plays make for dull, paint-by-the-number drama. When theater competes with CNN, especially during these turbulent, news-laden times, the result can be redundant. Didn't I just see that on TV last night? Sometimes going back in time, such as staging a seventeenth-century script about oppressed people, can be more effective, as 'relevant' storytelling, than a passionate retread of yesterday's news. Fuente Ovejuna has all the earmarks of a classic that carries a contemporary punch. Unfortunately, the Trinity Repertory Company production drags, mainly because of an overripe production that undercuts the enduring power of this warning about the destructive power of autocracy.
Spanish playwright Lope De Vega penned a rather straight-forward story about a cruel Commander, the power-obsessed regime of Ferdinand and Isabella, and the effects of tyranny on a helpless small farming community in southern Spain. At its heart is a story of love and the value of solidarity. By focusing on the struggles of a community to persevere, especially the beleaguered women at its center, Fuente Ovejuna remains current.
The Trinity Rep production, however, does not match the sure hand of the playwright. Saddled with an awkward translation by Curt Columbus, the actors struggle to master a stylistic mix of slang, stilted language, and a post-Hamilton rap. A small onstage band inserts generic drumming and guitar music at random points in a production already plagued by an irritating lack of specificity. Group dance numbers feature stomping lines of mostly non dancers who, when they are not whooping and hollering, look lost in under-choreographed sequences. These stilted "power to the people" interludes look amateurish (the choreography is uncredited) and, as if to make up for the thinness of the live music and dance, taped music is brought in to pull up the slack.
More disconcerting is that there is more shouting than acting in this production of Fuente Ovejuna. The strutting Commander, played by Fred Sullivan, yells out his evil intentions with comic book bravura. Once again, undeniable proof that, when it comes to the stage, the banality of evil works best. Sullivan's cruelty comes off as cardboard sadism, a let-down compounded by the fact that his most heinous acts take place off stage.
Sullivan is surrounded by other cartoon antics that undercut the central conflict, the story of a young love ripped apart by the Commander and his stooges. Their misogynistic dalliances predate the obscene gab of Donald Trump and Billy Bush, but these screaming bullies lack the callous ease of professional louts. The over-the-top gown worn by the stiff, unfeeling Isabella (Rachael Warren) is garish, to the point that it draws attention away from the character's role as the guardian of a repressive social order.
Lope de Vega's classic story of how the powerless stood up to authority — and won –deserves better treatment than a clumsy caricature of oppression that features a parade of ill-mannered macho men sporting silly helmet and mustaches.
---
Mary Paula Hunter lives in Providence, RI. She's the 2014 Pell Award Winner for service to the Arts in RI. She is a choreographer and a writer who creates and performs her own text-based movement pieces.