Matisse's collectibles had a profound influence on his creative choices, and by examining them we have a priceless opportunity to see how the artist's mind worked and the ways his creative process unfolded.
Matisse in the Studio, at the Museum of Fine Arts Boston, Ann and Graham Gund Gallery, through July 9.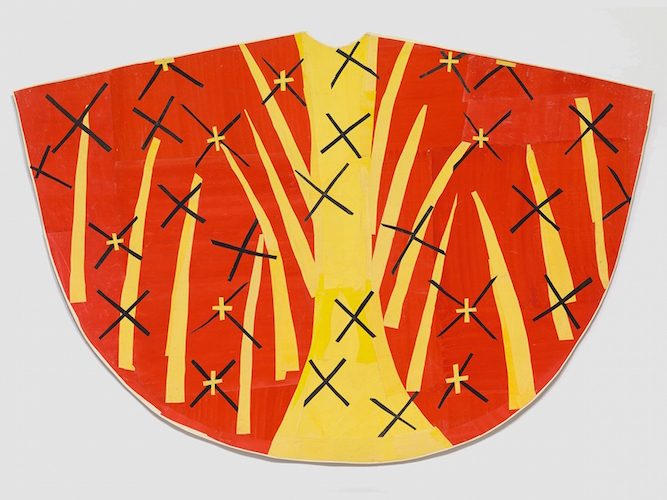 By Mark Favermann
French artist Henri Matisse (1869-1954) was a seminal influence on 20th Century Art, a creative spirit who helped define the century's revolutionary approach to the visual. The MFA's Matisse in the Studio — the only venue in North America where this exhibition will be shown — is the first major international show to examine how the objects in the artist's personal collection played in powerful role in shaping his art. It is a fascinating look at how the objects he regarded with affection effected a great artist's oeuvre.
Matisse is celebrated for both his magnificent use of color and his distinctively fluid approach to drawing. His work was initially labeled to be in the Fauve style ('wild beast'), but he was increasingly recognized during the 1920s as an artist who bridged Modernism with the classical tradition of figurative French painting. The unrivaled master of an expressive use of color, often poetically infused into a gestural drawing, Matisse's vision evolved over the course of a half century.
His inspired approach to the psychological values of color and composition is among his strengths. He stated that he did not paint an actual object so much as express the emotion that it stirred in him. He did this by way of vibrant color, line, and gesture. Born in Northern France, he studied in Paris and moved frequently during his long career, toting his personal collection of objects with him from studio to studio. He eventually settled in Nice. This exhibition underscores Matisse's extensive and sustained interest in the art of cultures that sat outside of his native French tradition.
The artist was an avid collector of things that appealed to him aesthetically, materially, and creatively. These collectibles had a profound influence on his creative choices,  and by examining them we have a priceless opportunity to see how the artist's mind worked and the ways his creative process unfolded.
In 1951, Matisse acknowledged his objects as "actors," stating that "A good actor can have a part in ten different plays; an object can play a role in ten different pictures." Visitors to the Matisse Studio often came away feeling that this creative space was arranged for maximum theatrical power —  influential objects were dramatically juxtaposed with the artist's work.
Focusing on Matisse's strategy, this exhibition presents a selection of major works from different periods of his career. These include 34 paintings, 26 drawings, 11 bronzes, seven cut-outs and three prints, as well as a delightful illustrated book. The artworks are presented alongside 40 objects that the artist kept in his studio, many publicly exhibited outside of France for the first time.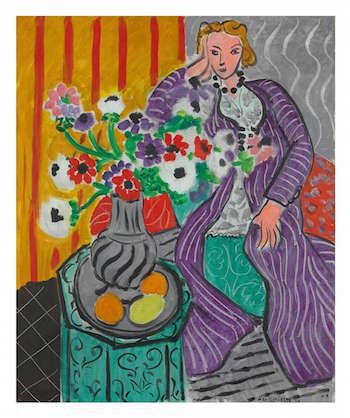 Exploring the various ideas and inspirations that the artist drew from his collection of objects, the exhibit is organized into five thematic sections: "The Object Is An Actor," "The Nude and African Art," "The Face," "Studio as Theatre" and "Essential Forms." Through these themes, the visitor explores the compelling story of Matisse's lifelong engagement with Sub-Saharan African, North African, and Asian cultures.
The exhibition's introductory section focuses on a few of his favorite objects, which were transformed/ interpreted over and over again in his works throughout his career: a green glass Andalusian vase purchased on a trip to Spain in 1910-11; a 19th Century silver chocolate pot received as a wedding gift in 1898. Isolated or surrounded by a particular spatial arrangement — often underscored by a stunning sense of light — these objects or "actors" appear in still lifes and drawings.
The anthropomorphic vase dominates the still lives Vase of Flowers (1924, MFA Boston) and Safrano Roses at the Window (1925). Embracing its shapes and colors, the artist skillfully recreates the vase's physical qualities in both paintings. The chocolate pot plays a similar role in the watercolors Still Life and Heron Studies (about 1900) and Bouquet of Flowers in a Chocolate Pot (1902, Musée Picasso, Pari). The latter was purchased in 1939 by Picasso.
The next section in the show focuses on concepts that Matisse intriguingly borrowed from a variety of objects that represented the human figure. From 1906 forward, Matisse started to collect figures and masks from Africa. These sculptural forms quickly began to influence the artist's handling of the human figure in his work. No longer were his subjects classically proportioned — they were now elongated and exaggerated.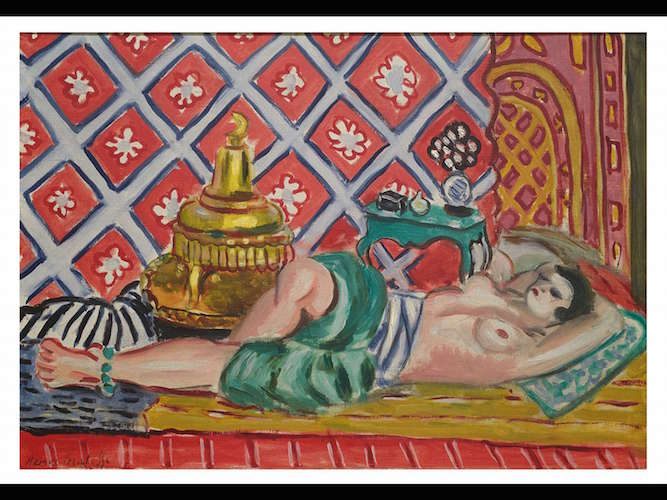 An example of this is Standing Nude (1906–07), his first major painting to specifically respond to African art in a way that underlines his fascination with ideas from cultures beyond the Western norm. With abstract elements borrowed from African sculpture, this unconventional nude painting challenges the viewer. In other works from the same period Matisse purposely simplifies and modifies the nude for striking visual effect.
Matisse appropriated powerful elements in the form and even the moods of traditional African art: he focused on rigorous postures, elongated torsos, and ovoid faces,. An example of this influence can be seen in the image of the woman in the painting Seated Figure with Violet Stockings (1914, The Pierre and Tana Matisse Foundation Collection).
In the other sections of the exhibition there are examples of Matisse's new approach to portraiture/faces. His goal — strongly influenced by his collection of tribal masks — was to capture the character of his sitters rather than their physical likenesses. A revealing example is the artist's portrait of his 13 year-old daughter Marguerite (1906–07, Musée Picasso, Paris); her flattened, masklike features are drawn to illuminate inner "unseen" personal qualities. Other unorthodox "portraits' underscore these traits as well. His various reclining odalisques not only highlight his love of curvy women; they are also testaments to the vibrant beauty and intricate geometric design of Middle Eastern and North African textiles.
Ultimately, Matisse in the Studio gives us unusual way to appreciate Matisse's imagination. In the studio he was a skillful theater director, showcasing the strengths of his 'actors' in various stage-settings. His goal was to choreograph emotional images, to set up — in the space around him — dramatic arrangements of color and line by placing his objects/props in various relationships to each other. In that sense, his collectibles played starring roles in his artistic productions.
---
An urban designer, Mark Favermann has been deeply involved in community branding, enhancing, and making more accessible parts of cities, sports venues, and key institutions. Also an award-winning public artist, he creates functional public art as civic design. Mark created the Looks of the 1996 Centennial Olympic Games in Atlanta, the 1999 Ryder Cup Matches in Brookline, MA, and the 2000 NCAA Final Four in Indianapolis. The designer of the renovated Coolidge Corner Theatre, he has been a design consultant to the Red Sox since 2002. Mark writes on architecture, design, and the fine arts.