This is an old story, but the approach this time around is fresh, the acting uniformly excellent, and the pacing just right.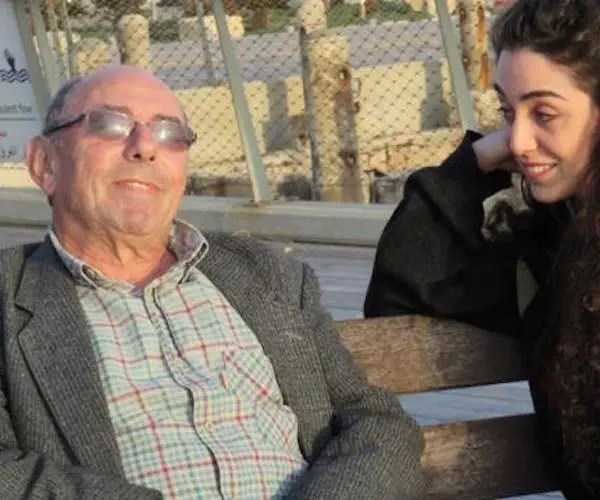 Peter the Third directed by Tommy Lang. At the Maine Film Festival.
By Paul Dervis
The Maine Jewish Film Festival concluded this weekend with Peter The Third, a melancholic comedy from Israel. At times the movie is laugh out loud funny, but at its core this is a touching piece that examines the trials of an aging actor and a young waitress who forge an uneasy friendship.
Peter, a character actor with an ensemble theatre company in Tel Aviv, has never been given a chance to play a leading role with the troupe. He dreams of playing Shakespeare's Richard the Third, but he is always relegated to bit parts. Time is running out for the disappointed thespian.
Alona is a struggling young waitress at a cafe Peter frequents with his old buddies. She is stressed to the limit. She sends what little money she has to her family, leaving her without enough to pay her rent. And Alona makes poor choices in love; choosing to go out with aggressive 'pretty boys' while a young fellow, the epitome of a 'mensch,' meekly woos her. She has known this young man since childhood but has little interest in his kindness or his humor…that is, until he stops calling on her.
Peter, widowed for two years and estranged from his daughter, lives alone in a small, cluttered apartment. Alona, now homeless, needs a place to stay. The die is cast, and they become one very strange couple. Alona parties too much; Peter is a bit inhibited. But over time they grow to care for each other, and this friendship leads to a funny and brilliant scheme. Peter, concerned about what looks like a penniless future, will run for the Knesset where he will be guaranteed a lifetime pension. Alona will run his campaign. When she is not serving cafe con leches or fending off wolves, she fancies herself a writer.
And Peter's platform? Fighting for the rights of widows and widowers. Specifically, he is promising to fund the building of a resort where the bereft can go, for free, to lounge around in jacuzzis and have wild sex. The pair solicit elderly women to be their major campaign supporters. The shy and quiet Peter is transformed into quite the ladies man.
Many of these fundraising scenes are broadly comical, but there's a somber undercurrent generated by the inhuman starkness of a steely gray Tel Aviv. This movie is as much about loneliness and missed opportunities as it is about the odd couple narrative. There is a heartbreaking scene in Peter's empty theatre: Alona silently watches him deliver a soliloquy from Richard the III. He is masterful, yet it clear he will never be given the chance to play the role for an audience.
In another scene, outside Peter's front door, a half drunk Alona needs to fight off an angry paramour who will not take 'no' for an answer. The scene goes from comic to traumatic in a heartbeat; she finally slams the door in his face and falls on to the sofa in a mixture of tears and intoxication.
Written and directed by Tommy Lang, the film's visuals are grainy, probably because of a limited budget. Yet the gritty images work for the story. This is a Tel Aviv that is inhospitable, its steel and concrete canyons are a prison for those who live on the edges of society. The elderly are a forgotten lot in this world.
The performances are perfectly in tune with each other. Robert Hoenig's unsophisticated Peter is an old and somewhat infirm sixty-five and Dana Yadlin's Alona is the definition of hip, but their relationship becomes a smooth dance between opposites. Hoenig subtly journeys from pathos to comedy. Yadlin provides an agile blend of "cool" and innocence. Their pleasing chemistry belies the generation gap.
This is an old story. It's been done many times before, but the approach this time around is fresh, the acting uniformly excellent, and the pacing just right. The ending is a bit abrupt, but that means that as the credits roll you are left wanting for more…and in today's film world, that ain't bad.
---
Paul Dervis has been teaching drama in Canada at Algonquin College as well as the theatre conservatory Ottawa School of Speech & Drama for the past 15 years. Previously he ran theatre companies in Boston, New York, and Montreal. He has directed over 150 stage productions, receiving two dozen awards for his work. Paul has also directed six films, the most recent being 2011's The Righteous Tithe