Mavis Staples' colossal voice fully blanketed the entire venue and tucked its way into every nook and cranny.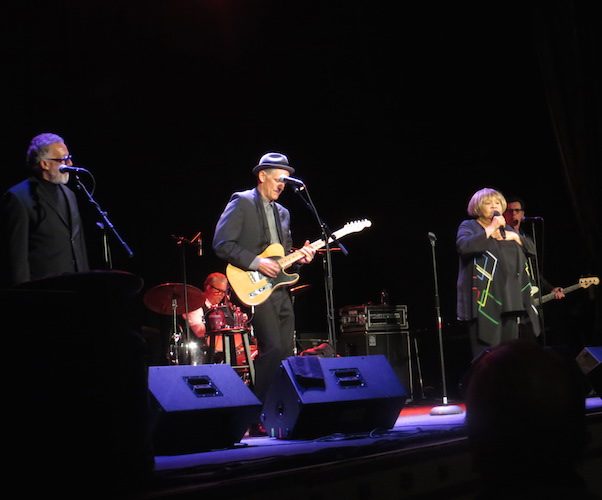 By Blake Maddux
A review of a Mavis Staples concert seems redundant.
Unless she was ill or pulling a Spinal Tap by performing a set in a genre entirely outside of her wheelhouse, is it possible for someone blessed with such an impeccable natural instrument to put on a bad show?
Maybe, but even either of these two scenarios would probably be worth checking out.
The point is that the question one should seek to answer in a writing up a Mavis Staples performance is not "How was the Mavis Staples concert?" but "What specifically made this particular concert of hers good?"
Regarding the show at The Cabot in Beverly last Friday, the answers are simple: a voice untarnished by more than 60 years as a professional singer, a smart selection of songs from a fathomless well from which to choose, a loose and groovy band that was in perfect lock-step, and an effortless rapport with the enraptured audience.
While the physically unimposing Staples took up only a small amount of space on a stage, her colossal voice fully blanketed the entire venue and tucked its way into every nook and cranny.
The set list featured covers (Funkadelic's "Can You Get to That?" and Talking Heads' "Slippery People"), compositions by her father, Roebuck "Pops" Staples ("Freedom Highway"), original Staples Singers recordings ("Respect Yourself"), and traditional numbers of indeterminate origin ("Hush, Somebody's Calling My Name").
These allowed for plenty of singing-along by those who may not have been familiar with the selections from Staples's own newer material, including the two drawn from 2016's Livin' on a High Note.
Late in the show, Staples left the stage—presumably to give her voice a break—after finishing the vocal parts of the 1965 Little Milton song "We're Gonna Make It." It said a great deal about her band—which included guitarist Rick Holmstrom (whom The Arts Fuse's Noah Schaffer interviewed in 2014), bassist Jeff Tumes, drummer Stephen Hodges, and vocalists Donny Gerrard and Vicki Randle—that it was able hold its own in her absence by breaking into a spectacular instrumental bonanza.
Before performing the final song, Staples told the crowd that she was going to finish up in order to "let your ears get some rest." After leaving the stage following the Staples Singers classic "I'll Take You There," the audience made it clear by way of a sustained standing ovation that their ears were as wide awake and alert as they'd been all evening.
Having recognized that she wasn't going anywhere but back on stage, Staples returned to the microphone to deliver "The Weight," which The Staples Singers sang with The Band at the latter's 1976 farewell concert, which was released as the film The Last Waltz in 1978. Just as The Band did in its 1968 original, Staples's band members traded verses among themselves.
Granted, actor Bobcat Goldthwait could sing "The Weight" in the voice of his Police Academy character (Zed) and it would still sound good. In Staples's hands, however, every iota of the song's mellifluous inscrutability came to the fore.
A traditional gospel called "Ain't Gonna Let Nobody Turn Me Around" brought the evening to a close, and had something in common with several of the evening's selections: it was a civil rights anthem. Given the fact Mavis's father Pops was a friend of Rev. Dr. Martin Luther King, Jr., it is no surprise music critic Greg Kot—of Staples's hometown paper the Chicago Tribune—wrote a book called I'll Take You There: Mavis Staples, the Staple Singers, and the Music That Shaped the Civil Rights Era, which was for sale on the merch table in the lobby.
After returning for the encore, Staples had announced that she and her band would be back the following night on the same stage. Although she was—as she put it—"just jiving," she surely would have packed the house all over again.
New England Music Award recipient Dwight & Nicole was the opening act. Several songs from the duo's two albums and an inspired version of The Rolling Stones song "Shake Your Hips" warmed up the crowd nicely. The fact that almost every seat was occupied during their set amply indicated that many attendees had made a point of arriving in time to see them.
---
Blake Maddux is a freelance journalist who also contributes to The Somerville Times, DigBoston, Lynn Happens, and various Wicked Local publications on the North Shore. In 2013, he received an MLA from Harvard Extension School, which awarded him the Dean's Prize for Outstanding Thesis in Journalism. A native Ohioan, he moved to Boston in 2002 and currently lives with his wife in Salem, Massachusetts.