Like a lot of first efforts by prospective masters, Artifact is loaded with ideas.
William Forsythe's Artifact 2017, performed by Boston Ballet at the Boston Opera House, Boston, MA, through March 5.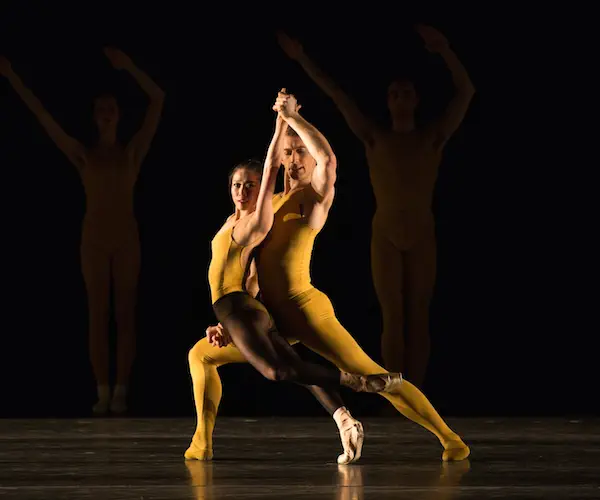 By Marcia B. Siegel
Artifact wasn't William Forsythe's first ballet, but it was the first full-length work he made after becoming head of the Frankfurt Ballet in 1984. Like a lot of first efforts by prospective masters, Artifact is loaded with ideas. It's exhausting to watch and intriguing to think about. It would be an impossible mashup if not for two things. Forsythe's super-intelligent sense of composition links everything together. And it touched off 30 years of modern ballets, so that the audience today loves its exquisite dancing surface and doesn't bother about the more complex allusions in its words, music, and movement.
If that's a contradiction or a downgrade, Forsythe himself embodies the same thing. He's a diffident but confidently smart man who isn't above sensationalizing his braininess. He's outwardly anxious to communicate but his words are convoluted, even veiled.
Artifact begins with the house lights on and the audience enjoying its pre-curtain conversations. Suddenly there's dead silence; a woman covered in matte-white makeup slowly crosses the stage and exits. Another woman (Dana Caspersen), dressed in an elaborate 18th century gown and wig, appears. She gestures, and two chandeliers over the audience light up, as the rest of the house lights dim. She seems to be telling a story. "Step . . . inside," she invites. But the escaped story circles back onto itself over and over during the next two hours. An invisible piano plays snatches of what sounds like Bach. The white figure (Caralin Curcio) reappears through a trap in the floor—only her hands or legs sticking up. A man (Nicholas Champion) whispers into a megaphone. The first time you see any dancers, a line of them crosses the stage, one step at a time. The piano by this time is playing improvised snatches of old pop tunes, "Misty" and "The Way You Look Tonight," the sort of thing a bored accompanist plays for ballet class.
The Cliffs Notes to all this could tell you that Forsythe is riffing on ballet, and on the way history repeats itself and forgets itself. What's most immediately captivating is the way Forsythe has structured the ballet vocabulary for two couples and a large ensemble. He uses the full roster of Boston Ballet, all ranks, plus the apprentice company, Boston Ballet II—more than 60 dancers—to explore the possibilities of partnering, unison, and counterpoint for different size groups, male and female.
The movement language is based on classical ballet's basics: leaping, turning, bending, stretching, with the upper body in swooping conventional arm sequences (port de bras) and angular semaphoric gestures. The smaller groups echo and complement each other in grandiose unfoldings of counterpoint and unison. Although the women are on pointe, there's very little of the detailed batterie or showy leg gestures exploited by the American master of classical ballet, George Balanchine.
Ballet has always appropriated new physical possibilities, like Artifact's militaristic arm motions. What makes this ballet truly modern, I guess, is its sense of disconnectedness. Nothing lasts more than a few minutes. Each sequence stops abruptly or is interrupted and followed by a different grouping of people under different stage conditions. In one long ensemble section, the act curtain falls with a thud in mid-movement. The music goes on (Bach's Chaconne from the Partita in D Minor, played in a recording by violinist Nathan Milstein). When the curtain rises again the dancers are continuing as if nothing happened, but the lights are different. Now their shadows are thrown on the backdrop. This coup de théâtre happens about six or seven times, each time with a different visual surround or configuration of dancers.
Besides its generous deployment of the large ensemble, Artifact features duets for two couples (on opening night, Misa Kuranaga and Patrick Yocum, Kathleen Breen Combes and Eris Nezha). To Bach's extended variations, and Eva Crossman-Hecht's variations on Bach, they soar and whirl in precarious supported cantilevers and fast, leaning shapes. They seem to emerge out of the large ensemble and are absorbed magically back into it at the end of the Chaconne.
Forsythe did the lighting design. He was sitting in the audience opening night, giving clandestine cues through a microphone wrapped around his baseball cap. It seemed he was using the theater's whole array of possibilities, front lighting, side lighting, bold shafts from above, dim shadowy glows. Most of these effects obscured the dancers' faces, as if it was the effects themselves he wanted us to see. He also designed the stage décor and costumes, and wrote the oblique text spoken by Caspersen and whispered by Champion.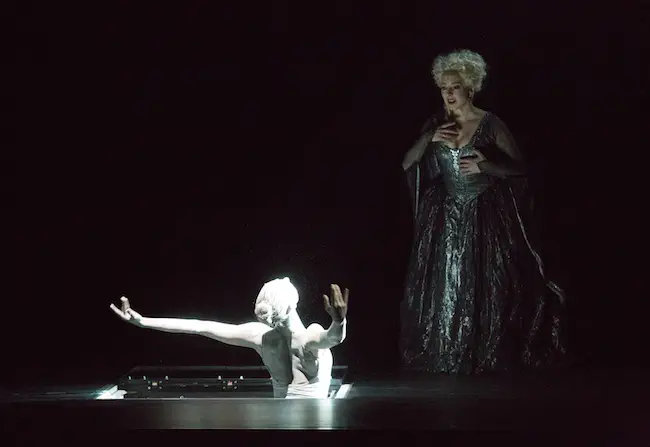 Forsythe relies on regular rhythms to ground his movement, and he even invented the two-chorus dialogue of clapping, gestures, and vocal sounds that cue Casperson's big monologue in the second act. Standing in place and beating or clapping a succession of steady tattoos, the men's and women's groups gradually close in on the speakers. "I know I said sand but I meant to say dust," Caspersen says, and later yells, to an unresponsive Champion. Her lines get more insistent and less coherent.
In the final section, the ensemble spreads out; the metres of their clapping phrases seem to grow irregular against the accompanying bells and drumbeats. Caspersen wanders among the dancers reciting her lines with melodramatic urgency. They line up in seven or eight rows facing the audience, filling the stage. The lights dim. In one more inversion we hear Champion's voice advising us to "Step . . . outside."
Forsythe is an American. Formerly of the Joffrey Ballet, by the time he made Artifact he'd been in Germany for a decade — he danced and choreographed for the Stuttgart Ballet before going to Frankfurt. I think of Artifact as an heir of German expressionism, with its dramatic lighting effects, the use of the voice as a musical device, the corps' stiff anti-balletic gestures, and the atonal Webernian piano pieces by Eva Crossman-Hecht that accompany the first and last parts. On a more frugal scale, it shares the theatrical gloss and quasi-narrative pretext of Pina Bausch's Tanztheater, which was rising to international fame and influence in Germany during the same years.
George Balanchine died a year before Artifact was made. Forsythe's ballet leapt into a great void. Some critics were eager to proclaim him the heir apparent, the father of ballet's future, as if the future needed a Balanchine succession to survive. But, from our perspective now, that succession has fallen to more conservative talents like Balanchine's successor at New York City Ballet, Peter Martins, and to classical devotees like Christopher Wheeldon, Alexei Ratmansky, and Justin Peck. You might say Artifact is Forsythe's Balanchine departure. Since 1984 his choreographic work has gotten more mysterious, less balletic. He'll be working with Boston Ballet on a choreographic residency for the next four years, and we look forward to the next developments.
---
Internationally known writer, lecturer, and teacher Marcia B. Siegel covered dance for 16 years at The Boston Phoenix. She is a contributing editor for The Hudson Review. The fourth collection of Siegel's reviews and essays, Mirrors and Scrims—The Life and Afterlife of Ballet, won the 2010 Selma Jeanne Cohen prize from the American Society for Aesthetics. Her other books include studies of Twyla Tharp, Doris Humphrey, and American choreography. From 1983 to 1996, Siegel was a member of the resident faculty of the Department of Performance Studies, Tisch School of the Arts, New York University.