The Druid Theatre Company staging shows what amazing things happens when a group of artists work together fully and completely in the service of telling a powerful story.
The Beauty Queen of Leenane by Martin McDonagh. Directed by Garry Hynes. Scenic and costume design by Francis O'Connor. Lighting design by James F. Ingalls. Original music by Paddy Cunneen. Sound design by Greg Clarke. Produced by Druid Theatre Company and Arts Emerson, staged at The Paramount Center, Washington Street, Boston, MA through February 26.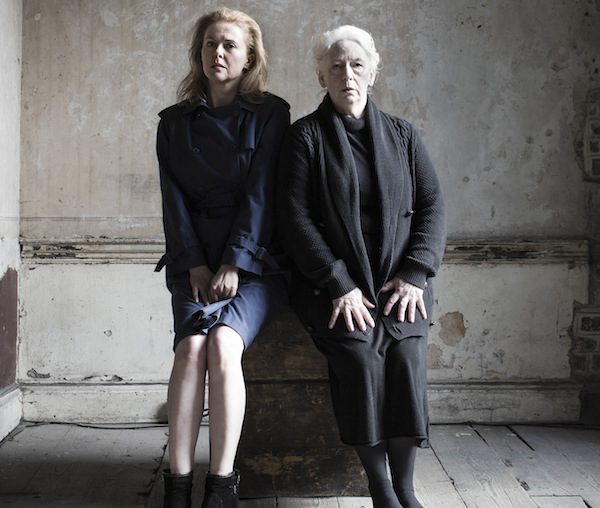 By David Greenham
The promise on the outside of a box of four packets of Complan Tasty Chicken Flavour Soup is "All the Goodness of a Balanced Light Meal." It's simple to make, just pour the powder of one packet into a mug, add hot water, and "stir with a whisk or a fork." The modest comforts of tasty Chicken Complan is at the core of Martin McDonagh's hilarious and heartbreaking play, and we know the characters are in trouble from the very first because the Complan is lumpy.
Lumpy Complan will not do for Mag Folan (played with twinkle-eyed genius by Marie Mullen). And her 40 year-old daughter, Maureen Folan (a magnificent Aisling O'Sullivan), has reached the end of her patience serving it day after day. She long ago lost interest in the texture of the broth, along with everything else to do with Leenane, a tiny village in western Ireland.  McDonagh, the multi award-winning author of plays The Cripple of Inishmaan, The Lieutenant of Inishmore, The Pillowman ,and the highly anticipated Hangman,  has written a brilliant script that explores the slow-burning anguish of paralysis, which is dramatized from the moment the lights first shine on the decrepit rocker where Mag sits for much of the in-action.
Galway's Druid Theatre Company hasn't been standing still; it has been doing superb productions for over 40 years. The Guardian has called them "one of the world's great acting ensembles." It was with a production of the very same play in 1998 that the company cruised onto Broadway, walking away with four Tony awards – including Mullen's 'best performance by a leading actress' for her turn as Maureen. When she suggested it would be fun to revisit the play playing the role of the mother, Mag, the company jumped at the idea. Maybe it's a gimmick, but "feck it," it works.
At the heart of this black comedy is a tale of small town blues. Ray Dooley (the brilliantly scattered Aaron Monoaghan) tells us "in Leenane you can't kick a cow without some bastard holding a grudge for 20 years." The misty, rain-soaked community is so closely knit that "everyone knows everyone's business." Everyone is watching everyone else as he or she sinks into the sod. Maureen is stuck taking care of the aging Mag, her misanthropic mother. Ray is the bored-to-death provincial voice of the past; he bitterly remembers the swingball that Maureen confiscated many years ago. Only his older brother Pato (the charming and refreshing Marty Rea) has escaped, but he still can't seem to really get away. He hates his construction job in London as much as he hates the lack of employment in Leenane. On this particular day,  the dense moss of Leenane parts, at least a little. Pato, on a visit home, connects with Maureen at a going away party for a visiting "Yank" and his daughters. Although they haven't spoken in 20 years, Maureen invites him back to the house, and they have an almost perfect time.
In one of the funniest moments of the production, Mag is deliciously shocked when Pato walks down the stairs the next morning. He was going to sneak out, he says, but "we're all adults here." Hardly. Mag and eventually Maureen empty their personal trash right in front of him. It's a brilliantly constructed scene in which mother and daughter mutually sabotage the other. This is the kind of personal mayhem  from which you know they will never recover. And they never do.
The second act begins with Pato's hilarious and sweet letter to Maureen. He confesses his love, his understanding of her past, and his hope that Maureen will move with him to Boston, where he's been offered a job by a "Yank" relative. He sends that letter, with others, home to Ray to deliver them. He warns Ray that he should not trust Mag to deliver the missive, that he should put it directly into Maureen's hands. Of course, it doesn't happen that way and the play embraces disappointment, sorrow, and worse for everyone except Ray, who at the last moment finds his "feckin' swingball" right there on the grimy bookshelf in the house. The denouement doesn't so much wrap up the story as push the entire internecine explosion off a cliff.
Acclaimed Druid director and co-founder Garry Hynes' direction nimbly serves the play's demonic demands, its funny, crushing, "car wreck" sensibility. We're horrified at much of what we see and hear, yet can't look away. There are a few moments — Ray's handling of Pato's letter, some foreshadowing regarding the fireplace poker — that seem overdone. But these are minor matters. The acting is what matters, and it is spot-on.
Rea's Pato is sweetly charming and unassuming as he flirts with Maureen. And sitting alone, when he recites the letter at the top of the second act, is breathtaking: when he exhales at the finish it is like no other moment in the production.  Monaghan's Ray evokes a farcical despair: it's fun watching him reject circumstances he hasn't the tools to change. But the play belongs to the women, of course, and they are marvelous. O'Sullivan's Maureen is a ticking time bomb. At times, the character's anger and frustration nearly paralyze her; yet the actress always adds a touch of amusing absurdity. The 'morning after," when she's clinging to Pato, the better to crush her mother's spirit, provides a dramatic experience of what can only be called downright joyous evil. Asked why she buys Kimberley's Biscuits – a generally hated dry ginger cookie filled with marshmallow  – Maureen admits "I only get them to torment me mother." Mullen's Mag is sharp and manipulative. Her vocal range here is astonishing — she playfully gambols from guttural grunts to the sweet, high pitched whispers. She does right by the role of what must be one of most memorable evil mothers in theater history.
I've never been to the western coast of Ireland, but O'Connor's run-down stone interior sets the scene with convincing verisimilitude. So much so that on the night I attended two women stood at the foot of the stage to marvel. "I could be at home right now," said one. They are sisters from a town near Galway. "That looks a lot like my mother's house," one explained. Right down to the pictures of John and Robert Kennedy on the wall. "The Kennedys on one wall and the Pope on the other," she recalled, "those pictures are hanging in my mother's kitchen this very day." The other explained that the sink, the stove, and even the small curved electric heater were the same as the ones from her childhood. "We lit our cigarettes on that exact heater," she confided. The lighting, sound, and costumes were tailored perfectly to fit this discordant study of lost and broken dreams.
Another virtue of this production is its testament to the power of a close-knit theater company. It's not very often in America that we see the depth of true ensemble work. The Druid Theatre Company staging shows what amazing things happens when a group of artists work together fully and completely in the service of telling a powerful story that usefully challenges the smugness of comfortable, mostly middle class and above, theater audiences. It is a voyeuristic look at what, at first glance, would seem to be a very different world. But there's enough curdled humanity in The Beauty Queen of Leeane to touch us while it pokes at our fears of coming failure and retreat, politically speaking. We ache for these characters, stuck in statis. And desperately hope we don't end up in the same place.
---
David Greenham is an adjunct professor of Drama at the University of Maine at Augusta, and is the Program Director for the Holocaust and Human Rights Center of Maine. He spent 14 years leading the Theater at Monmouth, and has been a theater artist and arts administrator in Maine for more than 25 years.