Pianist Denis Kozhukhin does right by Brahms and an all-Saint-Saens disc that, at its best, is a winner.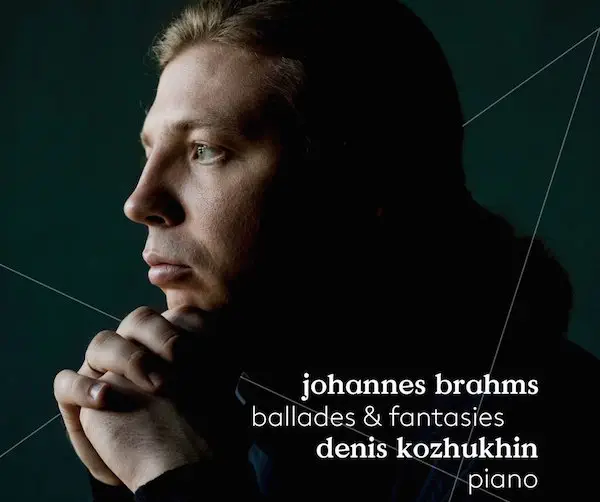 By Jonathan Blumhofer
Looks can be deceiving. Brahms, for instance, was always an imposing presence: even in pictures of him when he was young, he looks like a no-nonsense sort of fellow (by the time he got old, he looked downright gruff). His music sometimes matches that monumental semblance. It can be tough to get beneath its surface. But, once you do, there are untold riches and subtleties to be found.
In appearance, pianist Denis Kozhukhin has more than a little in common with the young Brahms. He's a big guy with a serious mien. And he has a head full of flowing hair. But to hear him play is to experience some of the most thoughtful, sensitive, and focused pianism out there. His new recording on Pentatone, built around Brahms's op. 10 Ballades and op. 116 Fantasies, demonstrates that, on disc at least, he's more than a flash-in-the-pan sensation: Kozhukhin is, like his contemporaries Daniil Trifonov and Kirill Gerstein, a furor pianist.
If you doubt this, check out his beautifully-voiced reading of the Ballades. Its second and fourth movements, especially, are filled with all sorts of potential pitfalls: various levels of rhythmic dissonance, dense textures, fluctuating phrases, and the like. In Kozhukhin's performance, it's all elucidated with gleaming clarity: the long, unfolding coda of the second Ballade, for instance, offers a textbook essay in achieving hypnotic balance in this repertoire.
There's also an intensity to Kozhukhin's playing that doesn't transfer to disc all that often: the inwardness of a live performance that keeps you on the edge of your seat – especially in quiet moments – is very much present here, too. Give the last Ballade a listen, if you doubt this.
The seven Fantasies, published five years before Brahms' death, let Kozhukhin showcase his power a bit more. He makes torrid work of the three Capriccio movements. All are storm-tossed, especially the second (no. 3). The dancing leaps and incessant pedal points of the other two (nos. 1 and 7) combine physical weight a compelling gracefulness.
But even in these Fantasies, it's the delicate passagework that stands out most movingly. The gentle outer thirds of the second-movement Intermezzo sing with plaintive tenderness. And the last set of three – highlighted by the second and fourth Intermezzos (nos. 4 and 6, respectively) – give free rein to Kozhukhin's poetic sensibilities.
The disc starts off with a reading of Brahms's Theme & Variations, an 1860 reworking of the slow movement of his op. 18 String Sextet. Kozhukhin's is a performance that's slightly fast (just over the ten-minute mark) but, most of all, stylish and soulful.
---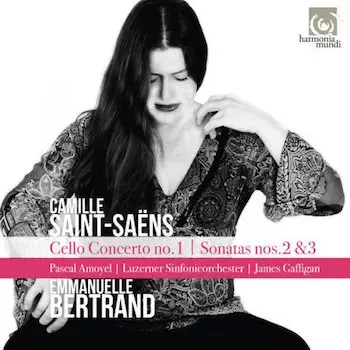 If only Camille Saint-Saens had, like Brahms, been a ruthless self-censor. During his lifetime, the German master was infamous for his stubborn, critical ways. But he left behind a catalogue with nary a wrong note over its many pages. Saint-Saens, on the other hand, lived and wrote for the moment. His body of published music is enormous – over 300 pieces in every major genre – and, while quite a few forgotten scores (like the Symphonies nos. 1 and 2 and Africa) are neglected for no good reason, a good number are.
Take the Cello Sonata no. 2. It dates from 1905, the same year that saw the premieres of Schoenberg's Pelleas und Melisande, Mahler's Kindertotenlieder, and Debussy's La mer. You'd never guess that from what Saint-Saens wrote. Actually, maybe that's not fair: the third movement has some welcome touches of contemporary (i.e. ca. 1900) harmony (sevenths and the like). But the bulk of the other three movements demonstrate the triumph of glittering, facile technique over any sort of meaningful expression.
What's a performer to hope for with such a piece, then? Well, if they're any good, they can make the most of its better moments and at least partly bring life to the rest; hopefully the former leaves a stronger impression than the latter. Cellist Emmanuelle Bertrand and pianist Pascal Amoyel are very good players, indeed, and that's basically how they approach the piece on their new, all-Saint-Saens disc for Harmonia mundi.
And, generally speaking, they succeed, though it's hard to deny that the music's got lots of padding. The best moments of the second movement – the third, fourth, and seventh variations – shine bright. The finale is plenty zesty and the last couple of pages, especially, come off resoundingly. If the Mozartian grace of the opening movement seems totally out of place for something from the early 20th century, at least Amoyel's recurring runs are as feather-light as they come.
More interesting is the unfinished Sonata no. 3, which here gets its premiere recording. In it, Saint-Saens' writing is a bit more satisfying: the opening movement is sweeping and lyrical, while the second is both playful and dreamy. Largely absent are the empty gestures of the earlier Sonata and the feeling of filling time with busy passagework. Yes, the textures are still Classical, but the melodic writing is more direct and the harmony somewhat more chromatic. Lyricism and color are Bertrand and Amoyel's bread and butter, and they play to those strengths, nowhere more so than in the warm, beautiful second (and last) movement.
To open the disc, Bertrand delivers a smart, turbulent performance of the Cello Concerto no. 1. Hers is a propulsive reading, one that pulls and prods the solo line, shaping its phrases with an eye to the big picture. Her partners in this, James Gaffigan and the Luzerner Sinfonieorchester, follow Bertrand's every move, providing her a robust, tightly rhythmic accompaniment. It's a winner: Saint-Saens, here at his best, played to the hilt.
---
Jonathan Blumhofer is a composer and violist who has been active in the greater Boston area since 2004. His music has received numerous awards and been performed by various ensembles, including the American Composers Orchestra, Kiev Philharmonic, Camerata Chicago, Xanthos Ensemble, and Juventas New Music Group. Since receiving his doctorate from Boston University in 2010, Jon has taught at Clark University, Worcester Polytechnic Institute, and online for the University of Phoenix, in addition to writing music criticism for the Worcester Telegram & Gazette.