Gustavo Dudamel takes over the reins of the Vienna Philharmonic Orchestra's annual New Year's concert; a disc of chamber music by eighty-seven year old composer/conductor Andre Previn.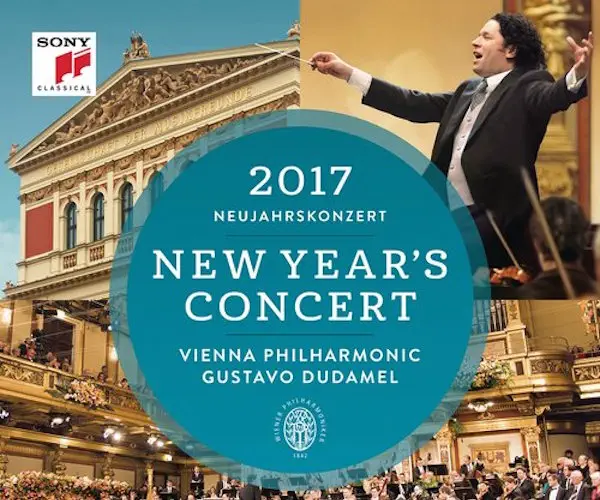 By Jonathan Blumhofer
It had to happen sooner or later that the Vienna Philharmonic Orchestra (VPO) would pass the baton – literally – of the leadership of its annual New Year's Concert to the younger generation. So it was that the thirty-five-year-old wunderkind Gustavo Dudamel, music director of the Los Angeles Philharmonic and an increasingly frequent VPO collaborator, got the call for 2017.
Of course, the VPO could probably play most of this Strauss-heavy repertoire perfectly well in its collective sleep. But there are better New Year's Concerts than others and, if this one (released on Sony Classical) doesn't reach the summits Karajan, Abbado, and Kleiber climbed between 1987 and '92, the playing's anything but rote. There's plenty of energy, style, and shine in these performances, especially over the concert's second half. Indeed, I'd say that Dudamel's effort ranks among the better ones turned in in the last fifteen or so years by the likes of Maazel, Harnoncourt, and Jansons.
It helps, no doubt, that Dudamel knows a thing or two about nimble dance rhythms. The several galopps and schnellpolkas on the program – So ängstlich sind wir nicht!, Winterlust, Auf zum Tanze!, and Tik-Tak, in particular – really sparkle. As for the waltzes, you'll probably never encounter a better-sounding or -played performance of Carl Michael Ziehrer's Hereinspaziert! as Dudamel and the VPO turn in here. Similarly, Emile Waldteufel's Les Patineurs comes across more strongly than usual. Johann Strauss's Mephistos Höllenrufe and Tausend und eine Nacht don't disappoint, either – especially the latter, which was brilliantly done by Carlos Kleiber in 1992.
Where things don't work so well isn't always Dudamel's fault. Franz Lehar's Nechledil-Marsch is a faceless, martial affair, after all. And Strauss's Die Extravaganten is one of his less-inspired efforts. If Dudamel doesn't seem to have as firm a grasp of Franz von Suppé's style as one might like – his Pique Dame Overture is sluggish and four-square – at least that's just one piece out of a healthy twenty on offer.
Like last year, there are eight New Year's Concert premieres on this program. Some, like Pique Dame, are a bit surprising (given Suppé's occasional prominence at these events). A few, like the Lehar march and Die Extravaganten, aren't particularly distinguished, musically. But the rest – which include the "Mondaufgang" from Otto Nicolai's Die lustigen Weiber von Windsor, Les Patineurs, Strauss's Rotunde-Quadrille and a couple of polkas – prove welcome, charming additions. Would that there had been a bit more on tap from Johann Strauss I as well as his sons, Josef and Eduard, (not to mention Josef Lanner), but there's always next year, which (for what it's worth) will be helmed by the reliable septuagenarian Riccardo Muti.
---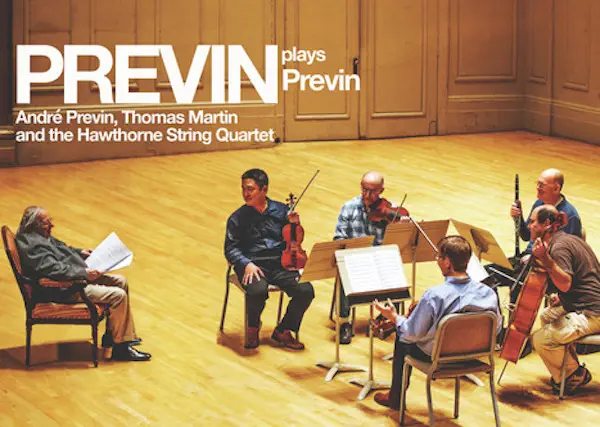 Now eighty-seven, Andre Previn isn't conducting nearly as widely as before. But he remains very active as a composer, as a new recording (for Terezin Music Foundation) of his Sonata for Clarinet and Quintet for Clarinet and String Quartet attest. Of local interest, both pieces on the disc have a connection to the Boston Symphony Orchestra (BSO): the Sonata was written for the Orchestra's principal clarinet, Thomas Martin, and the Quintet for Martin and the Hawthorne String Quartet, a chamber group made of BSO string players.
The Sonata dates from 2010, though it may as well have been written in 1940. The music's filled with spiky dialogues, burbling energy, and the occasional cinematic tune. It sounds like something Prokofiev might have written had he been born in America, steeped in jazz, and based in Hollywood during the '30s.
That said, it's a charming piece, good-natured and, in few spots, quite touching. Its short first movement sets the mood with a jaunty, sparkling conversation between clarinet and piano: it's like stumbling upon a witty, intelligent discourse already in progress. The second movement is darker, more subdued, and given to longer stretches of lyrical writing for the clarinet. A brief, bluesy "Interlude" leads to the finale, whose high spirits echo the atmosphere of the first movement.
The performance here, taped live at the Sonata's premiere in Prague, is lively and strong in those outer movements, impassioned and moving during the middle ones. Its only real flaw is that, sonically, the piano sounds a bit back on the stage, not front-and-center enough.
Previn's Quintet is, stylistically, cut from similar – if less overtly jazzy – cloth. The first of its three movements is marked by disjunct, rollicking melodies that give way, suddenly, to a more somber mood about halfway through. That atmosphere is maintained in the melancholy second movement, which, again, features some involved, soulfully lyrical writing for the clarinet. The worries of that movement are swept aside, though, in the finale, which is, essentially, a spastic series of dances.
The recording, again taped live (this time at Symphony Hall), is better-balanced than the Sonata. Martin and the Hawthorne's dig in to the Quintet's many angular moments while eloquently mining the considerable depths of the slow movement. If neither score is, exactly, a masterpiece – like most Previn works, each have stretches of dry patches – both are masterfully written and welcome additions to their respective genres. One hopes, like their composer, they're granted long lives.
---
Jonathan Blumhofer is a composer and violist who has been active in the greater Boston area since 2004. His music has received numerous awards and been performed by various ensembles, including the American Composers Orchestra, Kiev Philharmonic, Camerata Chicago, Xanthos Ensemble, and Juventas New Music Group. Since receiving his doctorate from Boston University in 2010, Jon has taught at Clark University, Worcester Polytechnic Institute, and online for the University of Phoenix, in addition to writing music criticism for the Worcester Telegram & Gazette.