Odyssey Opera's first commercially-released album is a fun showcase; Boston Modern Orchestra Project delivers an excellent performance of Four Saints in Three Acts.
By Jonathan Blumhofer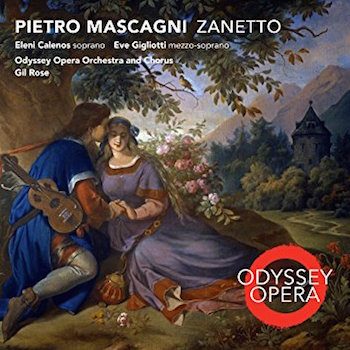 You've got to hand it to Pietro Mascagni: he knew his stuff. And by "stuff" I mean Verdi, Puccini, Leoncavallo, and Boito – and Tchaikovsky, too. The fingerprints of each are all over Zanetto, his 1895 one-act "lyric scene" that forms the bulk of Odyssey Opera's first commercially-released album.
Written five years after Cavelleria Rusticana, it shares a few qualities with its predecessor; its plot, though, isn't one of them. Set outside Florence, it tells the melodramatic tale of Silvia, who's foresworn love, meeting and (gasp) falling for the minstrel Zanetto. Through pride or folly, she won't reveal who she is to him (Zanetto is, of course, searching for the beautiful Silvia) and, as the opera ends, she literally sends him chasing after the dawn.
It's quite silly. Or, perhaps, typically operatic. Either way, there's some fine music in it, even if none of it approaches the richness and drama of Cavelleria. There are two great arias – Zanetto's short "Cuore, come in fiore" and Silvia's "Senti bambino!" – both of which are referenced throughout the score. Mascagni's rarely at a loss for an interesting melodic turn or a smart change in the scoring, though there are some scenes that might have benefited from some judicious surgery. Oh well.
The performance is, as is common for Odyssey, admirable. In the title role, Eve Gigliotti, is an impassioned, urgent Zanetto. Elena Calenos sings Silvia with big tone and, in her uppermost register occasionally comes across stridently. Still, she imbues the part with lots of personality. Gil Rose draws a supple account of the score from the responsive Odyssey Opera Orchestra and the Odyssey Opera Chorus sings with impressive tonal chops in the a capella "Introduzione."
Closing out the disc is a reading of the "Sinfonia" from Mascagni's La Maschere. It's a trite piece, one that sounds a bit like a vamp on the overture to Ruddigore in more than a few places, but a fun showcase for the Odyssey Orchestra, all the same, who eat it up.
---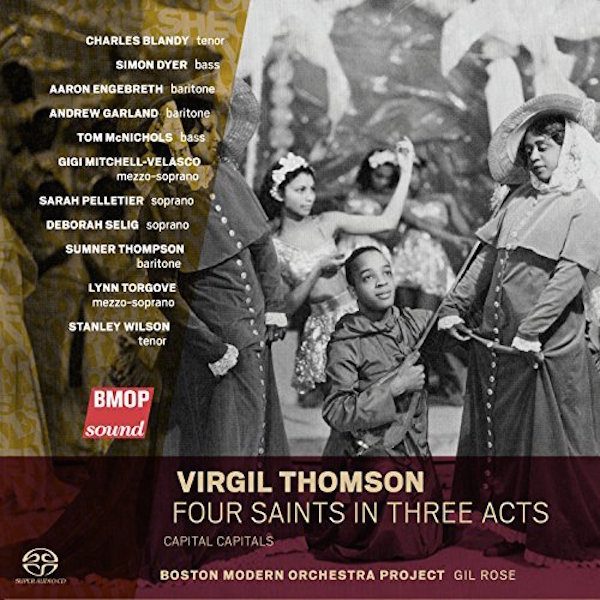 It's hard not to take Virgil Thomson the Music Critic seriously. The composer of Four Saints in Three Acts, though? Well, that's another story entirely. Thomson wrote the opera with Gertrude Stein between 1927 and '28. Stein's libretto is famous for its fascination with wordplay and lack of a narrative, though the opera's story (such as it is) concerns the lives of Ignatius of Loyola and Teresa of Avila – plus their assorted friends and colleagues, real and imagined.
While the text is often regarded as a parody of itself (its most-notorious lyric, "Pigeons on the grass alas," appears in Act 2), Thomson's score is a kind of loving parody of 19th-century "flyover country." It affects simplicity, recalling hymn tunes, chorales, marches, political songs, and other genres of a bygone age. And, while it succeeds in its chief aim – making Stein's text intelligible – the score doesn't illuminate or reveal anything much deeper. Thus the experience of listening to the piece can be a bit frustrating: a depiction of theatrical purgatory in which nothing – play, music, drama – progresses, develops, or exists for any discernable reason.
Perhaps that's the point. And, of course, there are canonical works that feature some of the same tendencies. Tristan und Isolde and Parsifal are, largely, dramatically inert. Even more so is Pelleas et Melisande. But there's more going on beneath the surface in Wagner and Debussy than there is in Four Saints. For all its ingratiating charm, it's a piece that, the more time you spend with it, the sooner you wish it would be over and done with. At least that's my experience with it.
That said, there's no faulting the excellent performance of Four Saints turned in on a new release by the Boston Modern Orchestra Project (BMOP), conductor Gil Rose, and a consistently impressive roster of singers. Taped live in 2013, this is as vibrantly played and sung a reading of Thomson's score as you're likely to hear. Gigi Mitchell-Velasco and Sarah Pelletier sing the dual roles of St. Teresa with warmth and energy. Aaron Engbreth is a silky smooth St. Ignatius. As the narrators, Lynn Torgove and Tom McNichols sing with clarion diction and halcyon tone.
Equally ridiculous but somewhat more satisfying is Thomson's setting of Stein's "Capital Capitals," which fills out the album. An homage to Provence, it's set in a recitative style that isn't far removed from the simple fashion of Four Saints. Like in the bigger piece, the words all come across strongly though the music's insouciance – perhaps because it's less abstract and doesn't dawdle – has more staying power.
Again, everything's sung and played extremely well by the ensemble of Charles Blandy, Sumner Thompson, Andrew Garland, Simon Dyer, and pianist Linda Osborn. Together, they make a lively, characterful ensemble and their panache carries the day.
---
Jonathan Blumhofer is a composer and violist who has been active in the greater Boston area since 2004. His music has received numerous awards and been performed by various ensembles, including the American Composers Orchestra, Kiev Philharmonic, Camerata Chicago, Xanthos Ensemble, and Juventas New Music Group. Since receiving his doctorate from Boston University in 2010, Jon has taught at Clark University, Worcester Polytechnic Institute, and online for the University of Phoenix, in addition to writing music criticism for the Worcester Telegram & Gazette.