Amazingly, Isabelle Huppert's career is peaking at an age (63!) when many actresses find themselves struggling to stay employed or challenged to find interesting roles.
Things to Come, directed by Mia Hansen-Løve. At Kendall Square Cinema, Cambridge, MA
Elle, directed by Paul Verhoeven. At the Kendall Square Cinema, Cambridge, MA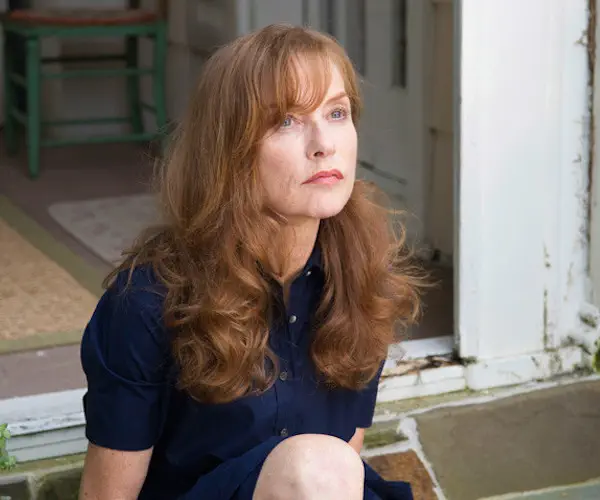 By Peg Aloi
With her chiseled features, wiry frame, and russet-colored hair, Isabelle Huppert was poised to be (yet another) French actress principally known for her iconic natural beauty. Yet her smoldering sensuality has rarely served as the focal point for her portrayals: there is plenty of mercurial calculation behind those large green eyes. Not glamorous like Deneuve, or otherworldly like Adjani, actresses of her generation, Huppert has chosen to specialize in projecting, despite her being physically slight, a kind of earthy power. Her more recent roles — inhabiting middle-aged women on the cusp of danger or transformation — have made her a force to be reckoned with. Amazingly, her career is peaking at an age (63!) when many actresses find themselves struggling to stay employed or challenged to find interesting roles.
Her first performance to attract attention was probably 1984's Entre Nous, a Diane Kurys film set in Germany in 1942. It was the story of  two women whose life circumstances find them forging a tumultuous friendship. In Claude Chabrol's WWII drama Story of Women, she garnered  critical acclaim for another controversial role. Huppert plays a woman who makes her living performing abortions for French women impregnated by the German occupying forces. Indeed, most of Huppert's significant parts inevitably put her in complicated relationships with women; for example, her role in Michael Haneke's The Piano Teacher (2001) generated incendiary commentary (as Haneke's efforts do), when she played a woman with unusual sexual proclivities who had a borderline-incestuous connection to her own mother. In Haneke's harrowing Amour (2012), Huppert is Eva, the daughter of a woman (Emmanuelle Riva) who has had a stroke. Eva finds that her own selfish stress about the event prevents her from providing nurturing support to her parents.
This year sees Huppert at the top of her game in critically acclaimed roles in two very different French films; one is a subtle slice-of-life story (Things to Come), the other a thriller that's been labeled a "rape revenge drama," among other things (Elle). Both performances are being hailed by critics, but while Things to Come is garnering widespread accolades, Elle is the source of considerable notoriety, generating reviews whose descriptions refer to the film as a "brazen rape revenge comedy." Elle's director, Paul Verhoeven, may be Dutch, but he's best known for directing American films, such as Robocop, Showgirls, Total Recall, and Basic Instinct. Given his previous Hollywood films, it is not surprising that some may ascribe prurient motivations to a filmmaker who made a name for subversive films that challenged (or exploited) conventional notions of women as victims. This is Verhoeven's first French film and, to give credit where it's due, he seems to have engaged with Gallic sensibilities with apt skill. The film's humor and subtlety balance its obvious outrageousness, but one can understand why some viewers feel nothing but ire.
But we're here to talk about Huppert, aren't we? And it is her performance as Michelle, a high-powered entrepreneur who owns a video game company she runs with her best friend Anna (Anne Consigny), that drives this dynamic thriller. The film's opening segment is shocking: over the opening titles, the voices of a man and woman — apparently in the throes of carnal bliss — give way to a visual that belies what we thought we heard: Michelle is on the floor of her dining room, and a man dressed in black, wearing a ski mask, has apparently just attacked her. He climbs off and exits hastily through the back door, while she lays there silent and barely moving. We wonder what we've just seen; is this a loving couple who have just staged a mutually pleasurable sex fantasy? Or were the woman's screams an expression of pain and terror? We have our answer soon enough, when we hear Michelle calling to have her locks changed, and see her soaking in a bath tub,  blood coating the soap bubbles.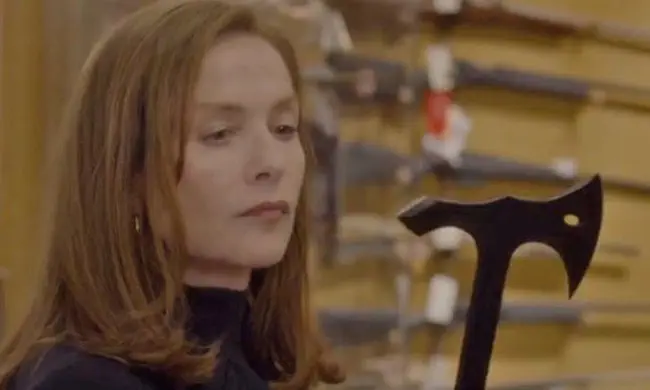 Still, Michelle does not appear unduly traumatized; she takes reasonable measures to stay safe (including buying some scary hardware implements) and, in an effort to determine who her assailant was, applies her wily powers of deduction in ways that put pressure on some of her employees and neighbors. The film takes some unexpected turns and is quite suspenseful, but the real (and subversive) thrill is seeing how Huppert's cool-headed protagonist manipulates the people around her, which involves us in putting together the pieces of Michelle's traumatic past, which pivots around an unconscionable crime she witnessed as a child. Michelle's mother (Judith Magre) in particular is fascinating: glamorously decked out, flirtatious and vain, she has a romance with a much younger man and is the target of Michelle's disdain.
Huppert's character in Things to Come also has a problematic relationship with her mother. Nathalie (Huppert) seems to lead a sheltered, intellectually rich life. She teaches and writes books on philosophy; she spends time with her near-adult son and daughter and seemingly devoted husband. But things begin to unravel when Nathalie's mother (Summer Hours' Edith Scob) starts to display increasingly erratic behavior. Nathalie seems to find her mother's growing neediness publicly embarrassing, but she generally treats her parent with affection and kindness. As Nathalie's staid and reliable life begins to break down, it seems as if we're being set up for a jolt into a more daring storyline. But the film's even pace and psychological nuance place us in a strikingly realistic world, one in which painfully difficult life passages follow their own patient rhythms. The direction by Mia Hansen-Løve is steady and restrained, much like Nathalie.
The characters in these films are very different, but Huppert's emotional directness and physical energy drive both performances. Whereas Michelle is at times perverse and occasionally reckless, Nathalie is grounded and risk-averse. Still, both women face difficult circumstances with courage and a kind of agile grace. Older women in cinema are frequently caricatured or dismissed as ineffectual. This season brings us some splendidly strong women characters who are tossed, via personal chaos, into full-blown existential crises (see Krisha, 20th Century Women, and The Witch, for example). In these performances, Huppert crystallizes what many sophisticated filmgoers wish to see more of: middle-aged females whose sexual vitality and survival skills are far from faded, but utterly and plausibly authentic.
---
Peg Aloi is a former film critic for The Boston Phoenix. She has taught film studies for a number of years at Emerson College and is currently teaching media studies at SUNY New Paltz. Her reviews have appeared in Art New England and Cinefantastique Online, and she writes a media blog for Patheos.com called The Witching Hour