A Man Called Ove's darkness and humor are balanced artfully, a merit one often sees in Scandinavian film.
A Man Called Ove, directed by Hannes Holm. Screening at the Kendall Square Cinema, Cambridge, MA.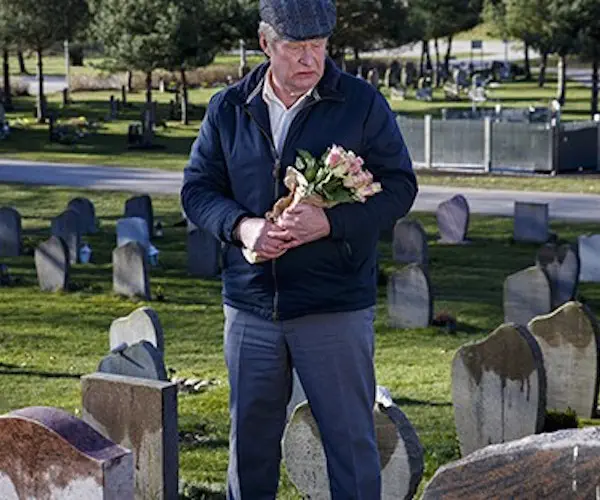 By Peg Aloi
Those who enjoy Scandinavian cinema may recall a sweet and rather erotic film from 1998 called Under the Sun, in which a 40 year old man who has always lived with his parents on a farm, suddenly finds himself alone and lonely. Olof has never kissed a woman, is overweight, illiterate, gruff, and socially awkward. He hires a beautiful young woman to be his housekeeper, and, somehow, convinces her to teach him the ways of love. Played by Helena Bergström, Ellen is convincing as a compassionate young woman who is charmed by Olof's innocence and, as he opens up, his burgeoning charms. Played by Olof, Rolf Lassgård (a popular television actor in Sweden) is a revelation as a simple man whose laconic character, once ignited, flares with confidence and passion.
We see shades of Olof in Lassgård's portrayal of Ove, a grouchy middle-aged man who scolds everyone for not following rules and refuses offering even small acts of kindness to his neighbors. We learn early on that Ove's wife Sonja has died rather recently; he visits her graveside. He makes sure to inform her that she only got a double bouquet of roses because he had a coupon. When Ove loses his job as an engineer at the railroad he's worked at for forty years, he methodically goes about preparing to commit suicide. He is foiled again and again by distractions in his gated community, mainly by a couple, Parvaneh and Patrik (Bahar Pars and Tobias Almborg), who have moved next door with their two young children.
Parvaneh, pregnant with her third child, is witty and jovial, and befriends Ove against his wishes, convincing him to teach her to drive. He agrees because he can't stand seeing anyone do something so incompetently. She also gets him to babysit her two daughters, a task he flounders at until he shows himself to be a natural. In a different film, Ove's exposure to this kind family might enact a more immediate transformation; but filmmaker Hannes Holm finds both the humor and the pathos in teasing out information about Ove and what has turned him into such a jerk.
Ove's suicide attempts continue: he dons a starched blue suit and tries to hang himself in his living room, but is repeatedly interrupted, and continues to promise Sonja he will join her soon. Small things, visual reminders mostly, prompt Ove to recall his childhood and adolescence, and his and Sonja's courtship. Ove's father, widowed when his mother died young, worked for the railroad as well, and dies tragically on the very day Ove gets hired to work there. Then Ove, while contemplating his demise by jumping on the train tracks, rescues a man who falls on the tracks because he's having a seizure. A local journalist tracks Ove down (again, during a suicide attempt) to do a story on his heroism, and mentions researching him and the extraordinary life he has had. He avoids her and retreats into more reminiscing.
As Ove begins to spend more time with Parvaneh, who is growing frustrated with his stubbornness and cynicism, he begins to open up about Sonja. Played by Ida Engvoll, Sonja is an attractive and outgoing woman who seems Ove's complete opposite. He is embarrassed by his humble job cleaning trains, and admits to her his house has burned down, leaving him homeless. But Sonja doesn't give up on him. They marry, and Ove's orderly ways complement her blithe energy. More tragedy strikes, but they weather it all, somehow. Ove has not always been an anti-social curmudgeon; repeated instances of heartbreak have beaten down his essentially steadfast character.
Some viewers may dismiss this film as sentimental; it has a heart-tugging quality that depends on a use of flashbacks and some plot points to support a redemptive narrative. But the film's darkness and humor are balanced artfully, a merit one often sees in Scandinavian film. It is early spring when the story begins, a sere landscape punctuated with daffodils. The land of the midnight sun is emerging from endless night, and Ove's rebirth is not unlike the cold landscape coming slowly alive, coaxed by warmth and light. Life becomes possible again. It is a potent metaphor for us at a time when, at the cusp of late autumn and an interminable election season, curmudgeonly coldness and cruelty seem to be blocking out the sun.
---
Peg Aloi is a former film critic for The Boston Phoenix. She has taught film studies for a number of years at Emerson College and is currently teaching media studies at SUNY New Paltz. Her reviews have appeared in Art New England and Cinefantastique Online, and she writes a media blog for Patheos.com called The Witching Hour.