"I'd be happy to start making a new record tomorrow, but I don't know if we've all decided what the next move is."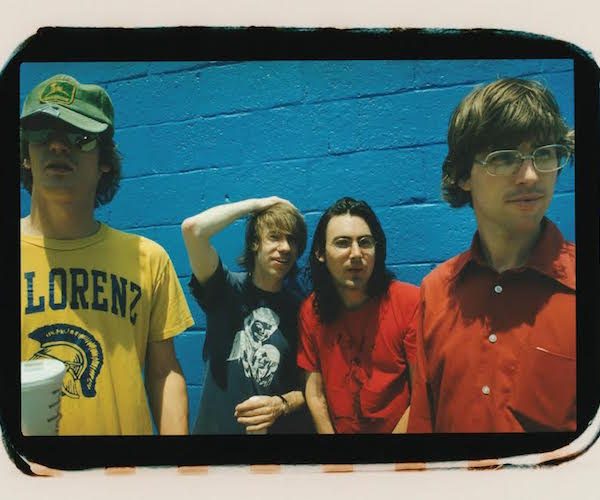 By Blake Maddux
"I used to go to Boston all the time when I was younger," says Jay Ferguson of the Canadian quartet Sloan. "There's always been good record shopping there."
This Friday (October 15), Ferguson will come to town not to shop, but to perform with his bandmates of 25 years — Chris Murphy (bass, drums, guitar, piano, vocals), Patrick Pentland (guitar, bass, keyboards, drums, vocals), and Andrew Scott (drums, guitar) — at Brighton Music Hall. The stop is part of a North American tour in celebration of the 20th anniversary of the release of the band's album One Chord to Another. Just as they did in 2012 for the birthday of 1992's Twice Removed, Sloan has released One Chord to Another in a deluxe vinyl edition that includes demos, outtakes, and a live LP.
Ferguson (guitar, bass, drums) spoke to The Arts Fuse by phone shortly after finishing a show in Fredericton, New Brunswick.
---
Arts Fuse: The live LP that comes with the deluxe edition of One Chord to Another includes a cover of "Dignified and Old" by Boston's The Modern Lovers. If Sloan recorded an all Boston artists cover album, whom would it include?
Jay Ferguson: We could probably do a few Modern Lovers. Some of us are big Modern Lovers fans, like Chris for sure and me included. I don't know The Cars super well. I sort of got into them late. I sort of knew Heartbeat City (1984) when it came out, but then I didn't get the first album (1978) until like last year or something. We could do a Cars song. Maybe we would do a Pixies song, but that's one band that I kind of liked when I was in university but they didn't really hold for me like a lot of other bands of that era. I know that everybody loves them. Are The Lemonheads considered to be from Boston? I guess we could do a Lemonheads' song. Is Boston from Boston? (laughs) I don't know Boston very well, but I guess I knew "More Than a Feeling," so I would put Boston in there for me personally. Are Gang Green from Boston? I always thought they were from Boston. [Yes, originally from Braintree.]
AF: Will the 20th anniversary huzzahs continue with deluxe editions of Navy Blues in 2018 and Between the Bridges in 2019?
Ferguson: I guess we could. It would make sense. We could also make, eventually, a box set for our first album, which is called Smeared. We have a lot of ephemera and outtakes and things like that that would make, I think, a really nice set for hardcore fans. We've already been talking about a potential Navy Blues one. Whether it will come out on the exact anniversary or not, I don't know exactly what we're going to do next. But we could make it land in 2018. Part of me would really like to make new music, to be honest. I'd be happy to start making a new record tomorrow, but I don't know if we've all decided what the next move is. This campaign and the one that we did for Twice Removed have been successful, so I think we could continue to do more, for sure.
AF: Given that the four of you have been together for a quarter-century, would the band break up if any member decided it was time for him to leave?
Ferguson: I don't know if we've ever really considered that, but it would definitely be difficult to continue without someone because everyone contributes. Everybody writes songs, so it would be difficult to imagine if someone did want to do that, yeah.
This might be a ridiculous thing to say, but even just the fact that The Rolling Stones, who are all — except Ron Wood — in their 70s and they have a new album coming out. Granted, it's a bunch of covers, but to me they're almost forging new ground. What other band of 70-year-olds are still touring and making new records? It's uncharted territory, really. I'm a big Rolling Stones fan, and I find it inspiring that they're continuing.
AF: You opened a few shows for them in Boston about 10 years ago, right?
Ferguson: Yeah, we did two. We played with them in Halifax, Nova Scotia, as well. That's why Boston is memorable for us, because that's where we met The Rolling Stones! So that was pretty exciting.
Oh, you know who else I like from Boston? Juliana Hatfield. When we were opening for the Stones I could see Juliana Hatfield in the second row, and I remember waving at her and her waving back. That was really nice, yeah.
AF: Three years has been the standard amount of time that passes between new Sloan albums since the release of Parallel Play in 2008. Since you released Commonwealth (my Arts Fuse review) in 2014, can fans expect to hear new material in 2017?
Ferguson: We don't know what we're going to do next. Like I said before, we still thinking about maybe doing another reissue or we may continue to try and do some more One Chord shows into next year because it's been a successful campaign. We do have a Christmas single coming out. That has been recorded and is being pressed. It will be like a limited-edition Christmas 7" of two original Christmas songs, one that Chris wrote and one that I wrote. That'll be available from our website before Christmas.
AF: Do you have any recommendations for Americans who actually make good on their threats to move north of the border if Donald Trump wins?
Ferguson: (laughs) Come on up here, yeah. Come on up and spend your tax money up here, for sure. Canada's beautiful. There's lots of room. But Trump's not going to win, so you'll be fine, but come on up to Canada anyhow, even just for vacation. It's beautiful.
---
Blake Maddux is a freelance journalist who also contributes to The Somerville Times, DigBoston, Lynn Happens, and various Wicked Local publications on the North Shore. In 2013, he received an MLA from Harvard Extension School, which awarded him the Dean's Prize for Outstanding Thesis in Journalism. A native Ohioan, he moved to Boston in 2002 and currently lives with his wife in Salem, Massachusetts.