Spectrum is a stylish, intelligent, and enjoyable disc played by a couple of musicians from whom we can expect continued big things in the future.
By Jonathan Blumhofer
What can one say about Jan Vogler's recent recording (from Sony Classical) of solo cello music by Tchaikovsky? That it's smartly-played is to be expected: Vogler's an intelligent and capable musician and he doesn't fail to deliver here. The famous Variations on a Rococo Theme sing sweetly and clearly. There's lovely dialogue between soloist and orchestra (here the warm, vibrant Frankfurt Radio Symphony conducted by Andres Orozco-Estrada) in their conversational exchanges, not to mention plenty of energy that's tapped over the course of the score's near-twenty-minute duration; the closing pages are particularly exciting.
And there's a nice intensity to Vogler's playing of the Serenade mélancolique and Souvenir d'un lieu cher, both heard in his arrangements for cello (as opposed to violin) and orchestra. It's all good and fine: none of it's particularly risky, mind you, either the programming or the interpretations, but the playing is solid and winning.
Where things rise above average, though, is in the closing performance of the Souvenir de Florence, Tchaikovsky's late sextet for strings. Here, Vogler and friends (members of the Moritzburg Festival Ensemble) turn in a reading that burns hot. The opening waltz really rips – the group's articulation of the opening theme, for one, is furiously energetic – and their take on the third movement has lots of personality. If the finale, generally, might have benefited from a slightly brisker tempo, it at least doesn't feel overly forced, and the great slow movement offers opportunities for just about everyone to showcase their lyrical sensibilities; none of the players disappoint.
---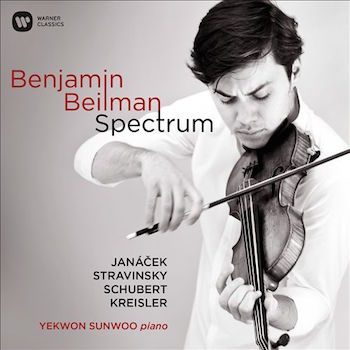 For an album that's consistently at that level of the Souvenir de Florence, check out Spectrum, violinist Benjamin Beilman's fine new record for Warner Classics that pairs music by Schubert, Janacek, Stravinsky, and Kreisler. It's a disc that's played with interpretive savvy and commanding chops: here's a player whose confidence and musicality shines through each of these disparate pieces in a powerful way; he's an artist with something to say and he's not afraid to broadcast it loudly.
That's evident, in part, from the relative freshness of Beilman's program. The most familiar item on it, Schubert's Violin Sonata in A major, isn't overly played — or represented too much on disc. And Beilman makes a striking case for it, playing with spirited lyricism and a rhythmic energy that palpably carries through its slow, quiet moments, too.
These same qualities are likewise apparent in his responsive traversal of Leos Janacek's gritty Violin Sonata and his lithe, effervescent reading of Stravinsky's brilliant Divertimento. The latter is a particular treat to hear: culled together from Stravinsky's ballet Le Baiser de la fee, itself an adaptation of little-known music by Tchaikovsky, the Divertimento lacks little for charm and high spirits. But Beilman takes the music seriously and his performance, in turn, seriously engages. So, too, does his account of Fritz Kreisler's Viennese Rhapsodic Fantasy, a charming, nostalgic homage to Kreisler's hometown. It might as well be Beilman's, too, for all the Wienerisch schwung and élan with which he imbues the piece.
Throughout, Beilman is partnered with (far more than merely accompanied by) pianist Yekwon Sunwoo, whose accounts of the keyboard parts are as fully involved, emotionally and technically, as the violinist's. In all, then, Spectrum is a stylish, intelligent, and enjoyable disc played by a couple of musicians from whom we can expect continued big things in the future.
---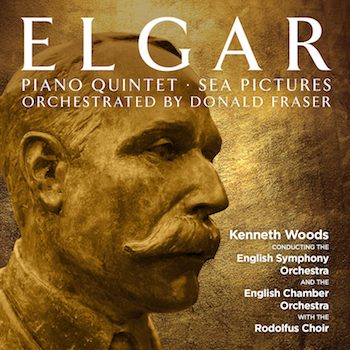 There's a 20th- and 21st-century market — not a big or terribly successful one, but a market all the same — for reworking the music of great composers after their deaths, either to suit the times or to somehow expand their reach. The best of these (to my mind, generally by Arnold Schoenberg) tend to succeed through some combination of sheer extravagance and a total departure from the restraints of a given composer's sound world. Rarely, though, does orchestrating Brahms in the style of Brahms or Mahler in the style of Mahler lead anywhere promising: the end results tend to sound warmed over and thin – the musical equivalent of a tumbler full of water with a drop of whiskey, rather than the other way around.
So that makes the success of Donald Fraser's engrossing and triumphant orchestration of Edward Elgar's Piano Quintet all the more impressive. Fraser was certainly aided in his project by the symphonic scope and the orchestral quality of the original Quintet; he also benefited from his study of Elgar's orchestration of Bach's Fantasia and Fugue (which hails from shortly after the completion of the Quintet). The end result is essentially Elgar's Symphony no. 3 (or no. 4, if you want to fit Anthony Payne's completion of Elgar's sketches for his projected Third Symphony into the count): mighty, stirring, and often touchingly beautiful.
Fraser's Piano Quintet, though, proves a more satisfying contribution to the Elgar canon than does Payne's important but sometimes maligned, effort. This is due, in large part, to the fact that Fraser was working here with music entirely written by Elgar. Even so, crafting an orchestration to the piece that does it justice, in Elgarian terms, is a tricky business. Elgar was a brilliant, often inspired handler of the orchestra: not only his symphonies (most notably in the Second), but also parts of The Dream of Gerontius and shorter works like In the South, are marked by a colorful, inventive command of instrumental resources.
But Fraser seems to have internalized most of Elgar's tricks. There are judicious moments of tambourine and snare drum to color his percussion writing. Elgar's penchant for splitting his violins in half – one section playing tremolo, the other not (for instance) – is echoed here, to delicate effect. There're plenty of passages of heroic, agile writing for brass. And so on. In all, Fraser's is a smart, convincing adaptation.
It's played to the hilt on Avie's new recording by the English Symphony Orchestra conducted by Kenneth Woods. The disc's liner notes speak of the players' excitement in rehearsal and performance and that comes across palpably here. The big, tragic first movement stirs and weeps, while the second powerfully recalls the haunting slow movement of the Second Symphony. And the finale, if (like in the original chamber version) it runs a little bit too long, offers playing of vigor and real catharsis.
Alas, the album's filler, Fraser's refashioning of Elgar's marvelous song cycle Sea Pictures, is less successful. The biggest problem here is that there's really no justification for converting the original, for contralto solo and orchestra, into a piece for chorus and orchestra, in the process jettisoning Elgar's fine orchestration of the first. Maybe the idea was to give this unduly neglected gem a bit more of a wider audience and greater opportunities for performance. But the end result, ably performed here by the Rodolfus Choir and the English Chamber Orchestra (again conducted by Wood), lacks the brilliance of the original as well as some measure of its directness.
Oh well. At least the Quintet proves a magnificent revelation. That's more than enough, in and of itself, to justify this album.
---
Jonathan Blumhofer is a composer and violist who has been active in the greater Boston area since 2004. His music has received numerous awards and been performed by various ensembles, including the American Composers Orchestra, Kiev Philharmonic, Camerata Chicago, Xanthos Ensemble, and Juventas New Music Group. Since receiving his doctorate from Boston University in 2010, Jon has taught at Clark University, Worcester Polytechnic Institute, and online for the University of Phoenix, in addition to writing music criticism for the Worcester Telegram & Gazette