The Bangs are masters in sending up the gelatinous sentimentality of popular culture, embracing it at the same time.
DanceNOW Boston at the Dance Complex, Central Square, Cambridge, MA, on June 10 and 11.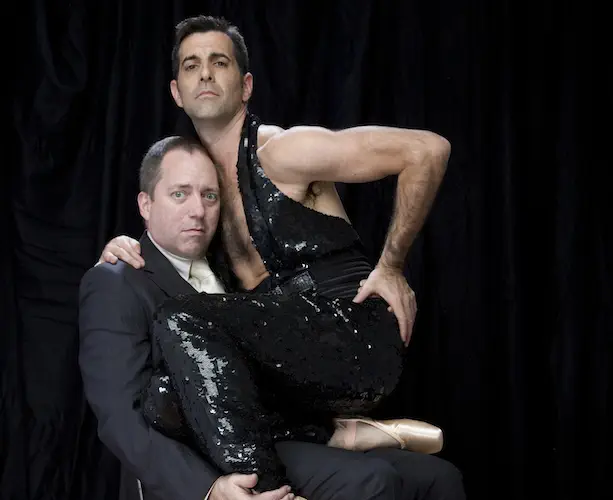 By Marcia B. Siegel
When Ryan P. Casey and his best confederate Nicole Chaput swung into their talking-tapping dance Coming Out of our Shel Friday night, the floor under my chair began to vibrate. Casey had introduced the DanceNOW Boston performance, thanking Dance Complex executive director Peter DiMuro for spearheading the transformation of the street-level Studio 7. It's now a swell new dance studio with a floor that answers the bams and stomps of just about anything that may go on.
DanceNOW Boston is the brainchild of David Parker, whose Bang Group and invited guests started the series at Oberon in Cambridge two years ago. Like the Oberon performances, the two evenings at the Dance Complex featured short dances with the audience seated at tables cabaret style. After Casey danced a brief solo, he and Chaput were joined by Elana Harvey for an up-tempo big band number (Gatsby's Groove). Then the Bangs did excerpts from their 2010 take on Hollywood romance, Misters and Sisters.
Amber Sloan and Nic Petry swooped through a fake-Viennese waltz by Richard Rodgers. The Bangs are masters in sending up the gelatinous sentimentality of popular culture, embracing it at the same time. Parker and Kazin have been watching the duo with feigned benevolence. They come center to sing "In My Own Little Corner" from the Rodgers & Hammerstein Cinderella. Kazin wears toe shoes. He bourrées around Parker, who's wearing tap shoes and rattles off an obbligato. Neither of them misses a note or a step as they strip off their jeans to reveal costumes that are meant to be glamorous: Kazin in a sequined mini-dress, Parker in biker shorts with fishnet tights, a big white shirt and a pearl choker. (This classic was filmed in 2013 at the Fire Island Dance Festival.)
But this isn't all. Kazin and Parker acquire character shoes and poufy red fans to reconstruct "Sisters," the Rosemary Clooney-Vera Ellen duet from White Christmas. Sloan and Petry, in suits and ties with bare feet, hover around them as the potential suitors in Irving Berlin's lyrics. ("No one comes between me and my sister.") At one point the Sisters interject the sarcastic first line from Stephen Sondheim's "There's always a woman." Anna Ebbesen's recorded piano made a perfect, intimate accompaniment to the songs.
Six women in dark blue, dusty purple and black layered dancewear circled and spiraled in an excerpt from Kelley Donovan's The Body Becomes the Messenger. I didn't see the full dance when it was shown this spring at the Complex, but the 15-minute excerpt Friday night was satisfying. I admire Donovan's work. She's making modern dance choreography that's organically developed and personally expressive, and has a formal shape to it, a rare combination these days.
The piece began very slowly and built into a series of climaxes and letdowns. Women rolled into the space one at a time. After they rose to standing, they began gently whirling on their own axes. Studio 7 doesn't leave much space for big dancing activity, with the cabaret tables around the edges. I'd noticed that Sloan and Petry seemed to be holding back in their Rodgers waltz. Donovan was using 6 women, and when they were all in action there were some near-collisions. They moved with the inner focus that tells you the dancer is aware of the space around her but isn't headed for anything specific.
Though they didn't make eye contact, their movement — spirals and circles led by extended arms and elbows — brought them together. They began lifting and carrying one another in strange positions. The action got more intense and speeded up, then seemed to subside. The pairs reassembled into trios, then a series of solos. Suddenly they were lined up facing the audience and going through a long series of unison gestures which I thought might have been a movement phrase they'd all shared and used individually. They began running back and forth, making stamping turns just in time to avoid crashing into the audience. Then they all left.
Michael Figueroa's choreography makes me mental: divide was as eccentric as its title. The anti-choreographer and his cohorts Marissa Molinar, Claire Johannes and Jessica Smith, engaged in a series of apparently unrelated tasks and games. Some of them involved repetitive stepping patterns that went on a long time. Some of them might have been variations invented by the dancers themselves. While three of the group were in action in the performance space, a fourth would appear outside the audience area, doing some of the phrase material in a faint blue light, deliberately splitting the audience's attention. They quietly infiltrated the audience; if you turned around in your chair, you could see a commotion going on. I don't know if this was planned, or if it was an impromptu response to the tight conditions.
Figueroa read a bunch of instructions about how the dancers and the audience were to behave toward each other. He danced a solo while the women in clusters marched up to members of the audience and aimed loaded water pistols at them. I didn't get fired upon but possibly some of the patrons did, because later Figueroa offered towels to the sprayed.
After all this, the four of them formed a circle and began a phrase in which they recited the names of each move — and each move had a name — while they performed the moves nonstop. There was an air of 1965 relentlessness I remember from Twyla Tharp's early work, and Yvonne Rainer's and David Gordon's. After a long time, the dancers suddenly fell down in exhaustion, but Figueroa announced they weren't done yet, they still had some minutes to go. So they scrambled up into another test. Facing each other in an ever-expanding circle, they did a stamping phrase that required them to shout their names exactly on the beat. Unlike their postmodern dance ancestors, they were very good-natured about it all.
---
Internationally known writer, lecturer, and teacher Marcia B. Siegel covered dance for 16 years at The Boston Phoenix. She is a contributing editor for The Hudson Review. The fourth collection of Siegel's reviews and essays, Mirrors and Scrims—The Life and Afterlife of Ballet, won the 2010 Selma Jeanne Cohen prize from the American Society for Aesthetics. Her other books include studies of Twyla Tharp, Doris Humphrey, and American choreography. From 1983 to 1996, Siegel was a member of the resident faculty of the Department of Performance Studies, Tisch School of the Arts, New York University.