Lawren Harris is determined to present a static vision of the top of the continent, a version of nature that is stylized, austere, immobile, and eternal.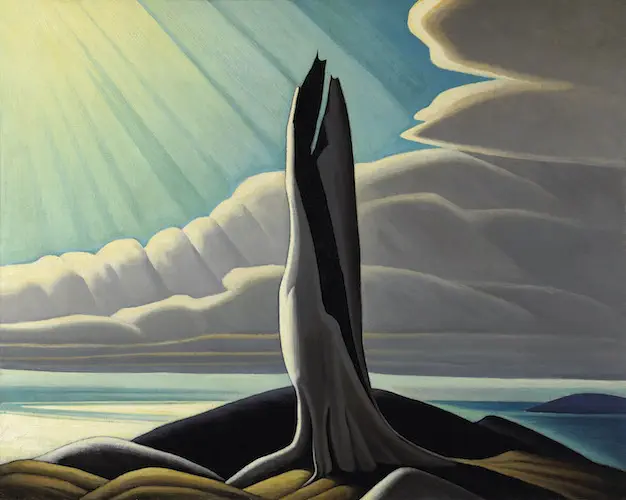 By Kathleen C. Stone
The new show of Lawren Harris paintings at the Museum of Fine Arts, Boston (through June 12) is full of contradictions. The work celebrates nature, but the artist's vision tends toward the unnatural. His scenes of the out-of-doors have a closed, almost airless, quality about them. Though Harris studied in Europe and lived in the United States, he is not well known outside his native Canada. Now, though, he is being lifted into the stratosphere of celebrity status on the wings of Steve Martin: actor, musician, art lover and, for present purposes, curator.
The MFA exhibition concentrates on Harris's work of the 1920s, a period during which he founded the Group of Seven and painted landscapes of Lake Superior, the Canadian Rockies, and the Arctic. He started out creating urban scenes of Toronto and writing poetry, but when he turned to landscape he strove to capture a deeply spiritual view of the natural world. At one point, he made this comment about the wilds that he painted: "The top of the continent is a source of spiritual flow that will ever shed clarity into the growing race of America."
One of the early paintings, Above Lake Superior, from 1922, is filled with incongruity. Its vantage point is a hilltop, looking down on the water. In the foreground sit brown and white palomino-patterned tree trunks; in the background lies a hill covered with a brocade of purple and green vegetation. Rippled white clouds fill the top of the picture plane and, at the bottom, snow-covered tree roots thrust toward the viewer. Given these various elements, the artist had plenty of opportunity to create depth of field, but the image is strikingly flat. The brushwork of oil paint on canvas is conspicuously smooth while the outdoor forms are heavily stylized. Harris saw power in nature's austerity, and the way he renders the scene, where any sense of movement or growth is absent, is steely to the point of severity. There is a sense that wild forces are being held under an almost puritanical control.
Harris was born into an Ontario family whose wealth came from the manufacture of agricultural equipment. As an adult, he joined the Theosophical Society and embraced its tenet that life is about the quest for the spiritual. The role of painting was to simplify nature, to evoke the purity of its fundamental forms. This dual outlook (aesthetic/religious) is exemplified in the 1926 painting North Shore, Lake Superior. A solitary tree trunk, devoid of branches and stripped down to a spare, hollowed out form, suggests a holy icon standing before a solid bank of clouds. Rays of sunlight stream down from the upper left corner — illuminating a slender slice of the tree, they can only have come from heaven. It is a mystical vision in which forms drawn from nature have been shorn of their natural 'feel.'
Harris usually started with plein air pencil sketches of a scene, followed by several small studies in oil. He then moved on to the large canvas. The show includes several sketches and a good number of studies, and it is in the latter that we see nature in a more vibrant state. In one, purple rainclouds dash across the sky, and we almost feel as though we should be running for cover. The scene is more accessible than the finished work that hangs nearby. Another study, Eskimo Tent, Pangnirtung, Baffin Island, is the only work (except for one in an adjacent gallery) that suggests a human presence. While we do not see the Eskimo family, we do see its tent, an intricate structure of rectangles, presumably animal skin, stitched together.
The intriguing (and confounding) thing about Harris's work is that indigenous people lived in the locales he painted, but he did not want to show them. Similarly, while he was fully capable of drawing a dynamic scene, whether it be of moving clouds, dappled sunlight, or wind-whipped water, he didn't choose to give us that kind of energetic setting. Instead, he is unwavering in his determination to present a static vision of the top of the continent, a version of nature that is stylized, austere, immobile, and eternal.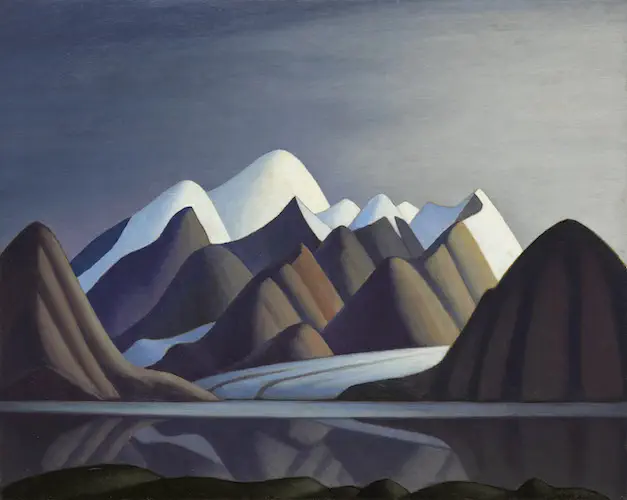 In 1930, Harris boarded a government supply ship to spend two months in the Canadian Arctic. Before departing he wrote, "I hope to get loosened up and somewhat freed from my solidifying inhibitions and more into exultation for a time." The studies and paintings that came out of that trip are indeed looser and more joyful. The study with the Eskimo tent is one of them. So, too, is the painting Mount Thule, Bylot Island. Warm brown colors predominate, sunlight suffuses the sky as it might have on a summer afternoon in the Arctic, and the air feels as though it could move. In the gallery, I felt a definite shift in mood when I came to the Arctic paintings, after the earlier scenes of Lake Superior and the Rockies.
Harris admired the American artists Rockwell Kent and Georgia O'Keefe, and his work shares affinities with both. His abstract, flat patterns depict nature carefully observed, in the vein of Kent. And they both brought an acute sense of spirituality to their work. But Kent, unlike Harris, often enhanced the spirituality of a place by adding a human figure — sometimes archetypal, sometimes small and insignificant, but a presence that acknowledged humankind's respect for nature.
In 1934, Harris again changed his work. He left his wife, entered into a complicated second marriage, and moved to the United States. While living in Santa Fe he was exposed to the work of O'Keefe and his work, like hers, became increasingly abstract. He never enjoyed the public traction with his abstractions that she did with hers, and he remains best known for landscapes from the earlier period.
In a gallery adjacent to the main exhibit, additional Harris works are shown in the context of his American contemporaries – O'Keefe, Arthur Dove, Edward Weston, Charles Sheeler, Marsden Hartley. When it came to non-representational depictions of the natural world, his approach overlapped with theirs, but he was singular in making work that was cold, hard, and spiritual — iconically Canadian.
---
Kathleen C. Stone is a writer pursuing her MFA degree, a lawyer who earned her JD many years ago, and, even before that, was a student of art history. Her blog can be found here.