Violinist Patricia Kopatchinskaja and conductor Teodor Currentzis are two of the most interesting figures in classical music today so, on the surface, the pairing offers some potential for shared insight.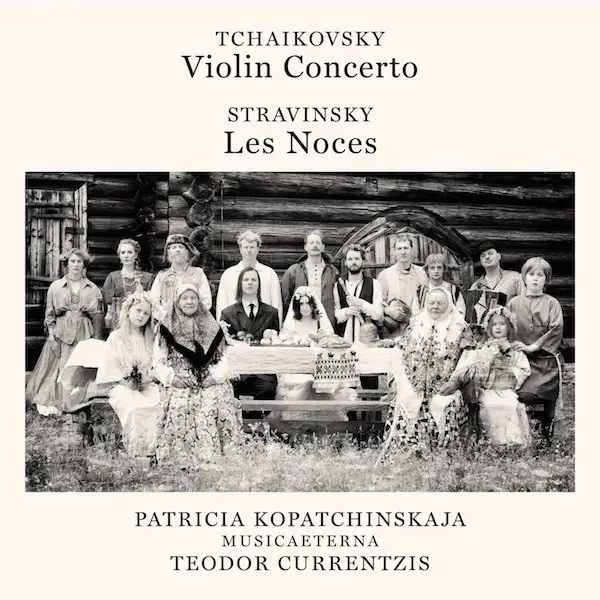 By Jonathan Blumhofer
There are certainly closer points of intersection between Tchaikovsky and Stravinsky than the former's Violin Concerto and the latter's Les Noces (Le baiser de la fée being perhaps the clearest of them). But these two strange bedfellows are what Sony Classical's given us in a new recording with Patricia Kopatchinskaja, MusicAeterna, and the daring, unpredictable Teodor Currentzis.
Of course, Kopatchinskaja and Currentzis are two of the most interesting figures in classical music today so, on the surface, the pairing offers some potential for shared insight. After all, pretty much nothing the violinist or the conductor does can be labeled complacent. They're willing to go all-out and take risks and, even when things misfire, they do so with much confidence: you know that these two, at least, believe in what they're doing. So it is on this album, one whose program is puzzling on its face and, sadly, turns out to be even more of a head-scratcher after listening to it.
First, the good news. This disc offers a fantastic performance of Les Noces. Currentzis draws an impressive degree of clarity from his soloists and the MusicAeterna chorus, not to mention the quartet of pianos and trio of percussion accompanying them. Textures are remarkably clear but always forceful: indeed, the whole performance is marked by a kind of driving, earthy energy that can pack a ferocious level of elemental terror (like at the end of the second scene).
This is a performance, too, that very well captures the shifting moods of the wedding celebration the music depicts: the hijinks, the silliness, the nervousness, the sadness – all of that comes across with immediacy here. No doubt part of the reason for this is Currentzis' all-Russian cast. Stravinsky considered Les Noces his most Russian score, and the singing and playing on this album give that perspective some weight. Soprano Nadine Koutcher and tenor Stanislav Leontieff bring clarion brilliance to their several moments in the spotlight while bass Vasiliy Korostelev capably alternates the imposing command of his low register with the striking agility of his falsetto (that last in the finale). The chorus sings flawlessly.
Equally impressive is the instrumental ensemble, which coolly navigates the music's shifting rhythmic patterns and manages to layer them in such a way so that nearly everything that's going on can be heard. On the whole, then, this is a fine, invigorating reading of Les Noces, one that truly demonstrates just how innovative and forward-looking a composer Stravinsky was in the years just after The Rite of Spring.
And then there's the Tchaikovsky Violin Concerto. Now, I'm all for fresh approaches to the pillars of the repertoire: Heaven knows there are too many straightforward, uninspired, and downright boring recordings of most of the pieces that comprise it with which to begin. That said, any fundamental rethinking of a canonical work needs to accomplish at least two related ends. First, it needs to clearly fulfil some expressive goal. Second, a new interpretation needs to be able to make the case for itself on its own merits. In this performance, Kopatchinskaja doesn't manage either.
At least her intentions seem noble: the album's otherwise pretentious booklet (written as pair of gushing letters between violinist and conductor) reveals that Kopatchinskaja used to think the Tchaikovsky Concerto represented little more than "moronic violinism" but now thinks she sees a way to make the piece "relevant to our own time." I might not have used the former phrase, myself, to describe the work, but I get where she's coming from and there's nothing wrong with somehow blasting away the cobwebs on a warhorse like this one to give it a new lease on life.
And it's not as though her ideas on the piece aren't interesting: they are. In fact, at times she's downright provocative and that, in itself, isn't a bad thing. Kopatchinskaja's buffed the solo part to such a degree that any hint of accrued traditional residue is absent. What remains, above all, are the music's technical challenges and Kopatchinskaja's up to all of them: the runs of double- and triple-stops, thirty-second notes, and so on, are all easily within her grasp. As a performer, she conveys a fiery, lively spirit and that quality suits not a few of the folk-inflected passages in the Concerto's outer movements.
But, on the whole, it's hard to shake the feeling that she has something against the piece and her not inconsiderable talents seem consistently misapplied in this reading of it. Tchaikovsky, after all, isn't Bartók or Kurtág: what makes his music work is the balance between the folk-like innocence of his finest melodies and the rigor of the (mostly) Classical forms he employed. In his Violin Concerto, melody and lyricism are given pride of place and, for the interpreter, ought to be of primary importance.
You wouldn't necessarily guess that from Kopatchinskaja's take on it. She seems to want to treat Tchaikovsky as she would, say, Gerard Grisey, focusing on the fundamental elements of sound as they might be mined from the notes rather than celebrating the music's abundant lyricism – what critic Virgil Thomson called "the Grand Line." It's an unfortunate choice, because the Concerto doesn't really support such an approach: it wasn't designed to and, at the worst moments in this reading, the results are downright ugly.
For instance, I honestly can't recall another performance – recorded or live – where the final time through the finale's folksy second theme sounds so distorted and grotesque. The same is true of the improvisatory-like section that introduces that movement's first theme. What's the end goal of such a tack? Beats me. Kopatchinskaja seems to think that the natural allure of Tchaikovsky's melodic writing negates its ability to speak to a contemporary audience so she disfigures it. The result, though, isn't appealing: rather, it's a caricature – and a rather nasty one at that.
At least there are a few bars in both of those passages in which the dynamic level rises above pianissimo: for much of this performance, Kopatchinskaja knocks the written level of the soft dynamics down a peg or two. As a result, one spends significant time in this recording straining to hear the soloist (this is especially true during the second movement). Rather than imparting any new insights into the score, this tactic comes across as indulgent. Perhaps it would have worked better had soloist and orchestra balanced their playing a bit more closely. But they don't and it doesn't.
In the many fast passages, there's a spastic quality to Kopatchinskaja's playing that doesn't seem to serve any purpose other than to demonstrate how quickly she can get through these pages. While speed alone in this piece isn't bad, her articulation of various figures doesn't really fit the character of the music. The closing runs in the finale are played so crisply that the notes barely have time to speak. That section sounds rushed and clipped and the playing undercuts the movement's sense of drama. Ditto the many staccato passages in the first movement: in them, Kopatchinskaja's assertiveness tends to get the better of her, culminating in playing that, to these ears, conjured the curious image of a scythe (Kopatchinskaja's fiddle) slicing through a field of wheat (the notes). And it had about that level of aural appeal.
On the whole, phrasing is square and deliberate, tempo alternations sometimes arbitrary (Kopatchinskaja takes the score's many piu mosso indications liberally, but seems to ignore the moderatissimo and poco piu lento ones), and the score's lyricism is all but an afterthought. Heifetz, for all the velvety sleekness of his playing, at least tapped the soul of this music. Kopatchinskaja doesn't. Her performance is, ultimately, cold and distant. Currentzis and MusicAeterna turn in a rhythmically taut and sometimes very lovely accompaniment – the woodwind solos in the first movement and throughout the second are quite nicely done – but the orchestra can't redeem this effort.
No, what we have here is a conundrum. In the Tchaikovsky, Kopatchinskaja seems to be trying to make a square peg fit into a round hole and her performance falls flat on its face. In the Stravinsky, Currentzis takes the music at face value and finds in it a vital life force pulsing beneath an austere armor. At the end of the day, there's surely something admirable in the conviction behind both performances. In the case of the former, though, like Anne-Sophie Mutter's misguided account of this same Concerto from 2003, those principles probably aren't enough to make you want (or need) to experience hearing it more than once – if that.
---
Jonathan Blumhofer is a composer and violist who has been active in the greater Boston area since 2004. His music has received numerous awards and been performed by various ensembles, including the American Composers Orchestra, Kiev Philharmonic, Camerata Chicago, Xanthos Ensemble, and Juventas New Music Group. Since receiving his doctorate from Boston University in 2010, Jon has taught at Clark University, Worcester Polytechnic Institute, and online for the University of Phoenix, in addition to writing music criticism for the Worcester Telegram & Gazette.