Given the rise of radical Islamic terrorism, Disgraced is nothing if not timely.
Disgraced by Ayad Akhtar. Directed by Gordon Edelstein. Staged by the Huntington Theatre Company at the Boston University Theatre on the Avenue of the Arts, Boston, MA, through February 7.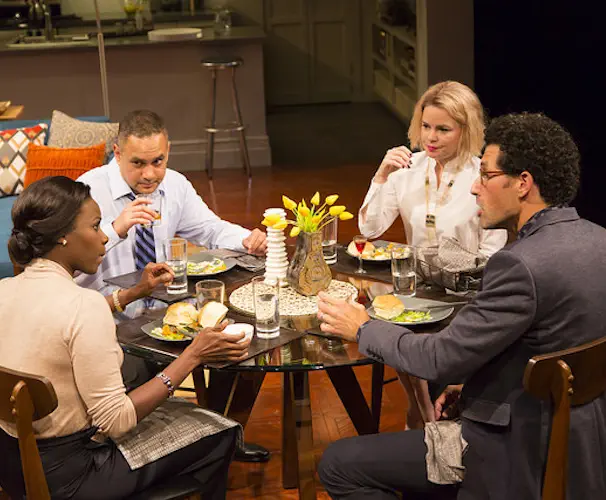 By Helen Epstein
It's easy to see why this one-act, 90-minute Pulitzer Prize-winning play by novelist and screenwriter Ayad Akhtar is being produced at ten major regional theaters this season. It's slick, funny, knowing, and in this time of radical Islamist terrorism, ever so "timely" — a multi-cultural Who's Afraid of Virgina Woolf? set on Manhattan's Upper East Side, with nods to David Mamet, Tom Stoppard, and Yazmina Reza.
The five-character domestic drama is built around the travails of Amir Kapoor, an ambitious Manhattan mergers and acquisitions lawyer (whose Indian surname disguises a Pakistani family background) married to an ambitious (blond, WASP) painter named Emily. Emily, who adores and appropriates Islamic visual art, is trying to interest (dark-haired, Jewish) museum curator Isaac in her work. Ambitious Isaac is married to an equally ambitious (African-American) Jory, Amir's fellow law associate who, like him, is on track for partner at their (largely Jewish) firm.
The play opens, intriguingly, with Emily finishing off a portrait of Amir, in a pose that references Velasquez's famous portrait of Juan de Pareja, the 17th century painter's Moorish slave and studio assistant. Is her husband Amir Emily's partner, escape from her own culture, life model, her "very own personal Moor?" Is he the object of a western woman's gaze or subject? Unlike a similar scene in the film The Danish Girl, where a husband posing for a portrait painted by his artist wife leads to a profound inquiry into the nature of gender and sexuality, Disgraced leads to an increasingly drunken dinner party and schematic presentation of the conflicts between religion, culture, family (and escape from culture and family), passing, assimilation, appropriation and the lasting power of tradition.
The play's action is triggered by Amir's young nephew Abe (given name, Hussein), who tries to enlist his uncle's help on behalf of his imam, who has been arrested. Savvy ambitious Amir knows this could mean trouble for him at his largely Jewish firm. He argues that he's in mergers and acquisitions now, no longer the public defender he once was. But Emily and Abe insist that Amir help out in the imam's defense and his subsequent acquiescence and presence in the courtroom is mentioned in the New York Times.
All this set-up requires a lot of clunky exposition. That explanatory dialogue is followed by conversations that make the dramatis personae seem more like mouthpieces for cultural points of view and stereotypes than credible characters. Between foodie comments on the trendy bakery where Jory has bought dessert, and the fennel and anchovies Emily has put in the salad, there is talk of the Talmud, the Koran, the Taliban, Benjamin Netanyahu, and September 11. As more alcohol is consumed, inhibitions fall away and the conversation moves into more volatile and dangerous territory.
What is director Gordon Edelstein trying to bring out in his second production of Disgraced, which he directed at the Long Wharf Theatre with some of the same actors? "One of the most significant themes of the past 20 years in Western culture is the confrontation of Judeo-Christianity with Islam," he has written. "This is a play that deals face to face with the cost of assimilation."
In the Huntington Theatre production, all four of the multi-cultural quartet of characters are dealing with the cost of assimilation. Even WASP Emily is fleeing from her cultural upbringing. Each of the characters is given dialogue that require tonal variation and subtlety yet, at least on press night, all delivered overblown performances that caricatured rather than revealed the ironic complexity of their attitudes.
I wondered at Edelstein's choice of cast. It was sometimes hard to hear Nicole Lowrance's unconvincing Emily, and while Rajesh Bose as Amir had several moving and credible moments, he too often seemed disengaged. I sensed no personal chemistry between these two actors, who are cast as a young married couple, nor between the other stage couple. Why had these people married, I wondered? Shirine Babb's Jory seemed wooden and Benim Foster's Isaac generic. The only actor who performance was nuanced enough to stand out was Mohit Gautam as the young nephew Abe.
"Intellectual soap opera," were the words that came to mind as I walked out of Disgraced. But, given this play's raging popularity and the Huntington audience's enthusiastic applause, my companion and I were a clear minority.
---
Helen Epstein writes on the arts and is editorial director at Plunkett Lake Press.