Alan Rickman was that rare actor who was not a superstar, not a celebrity, but a gifted performer whose dependable, low-key intensity was punctuated with just enough hilarity or insanity to make his characters unforgettable.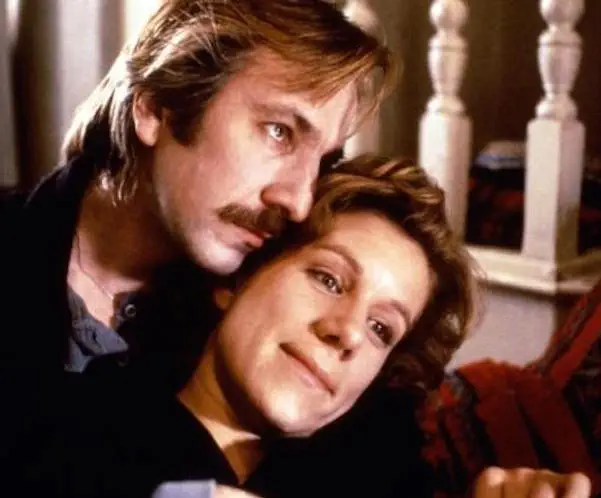 By Peg Aloi
Barely a month before his 70th birthday, veteran British actor Alan Rickman has died of cancer. Although known for portraying some delightful villains, such as Severus Snape in the Harry Potter films, as well as Hans Gruber in Die Hard (1988) and the Sheriff of Nottingham in Robin Hood: Prince of Thieves (1991), Rickman's portrayals of men in love were equally memorable.
Rickman first came to the attention of the arthouse cinema crowd in Anthony Minghella's Truly, Madly, Deeply (1990). It is an oddly sweet, funny love story about a pianist named Nina (Juliet Stevenson in one of her best roles) who is grieving the recent death of her husband, cellist Jamie (Rickman). She plays the piano one night, thinking of him, and he returns, accompanying her with his cello. At first shocked, she comes to accept that he really has come back in the flesh, although he is cold and exhausted and can't eat. It's a bittersweet story of passion and loss, full of humor (as when Jamie's friends from the "other side" show up to watch videos in their apartment, trying to choose between Five Easy Pieces or Fitzcarraldo). Rickman's muted intensity gives the role lush depth; as when Jamie blows on his cold fingers, trying to warm them up before he embraces Nina, or when he recalls to her the first time they made love, when they were both trembling so much they couldn't remove their clothes. He imbues the role with such warmth and tenderness it is no wonder she can't forget him; his goofy rendition of "The Sun Ain't Gonna Shine Anymore" is priceless.
Rickman's ability to embody ardent love got a playful turnaround in 1991's Robin Hood: Prince of Thieves, a Kevin Costner vehicle that might have been a flop if not for the handful of English character actors who saved the day, including Rickman as the manipulative, cruel Sheriff of Nottingham. In this version of the English legend, the Sheriff contrives to marry Maid Marian (Mary Elizabeth Mastrontonio). A witch, clutching Marian's belly, tells the Sheriff "she is ripe." Marian is kidnapped and married against her will, and the Sheriff, with barely controlled rage and lust, is determined to get her alone, saying "Do you mind? We've just been married!" His over-the-top performance won Rickman a BAFTA award for Best Supporting Actor, as well as prizes from The London Critics Film Circle and the Evening Standard.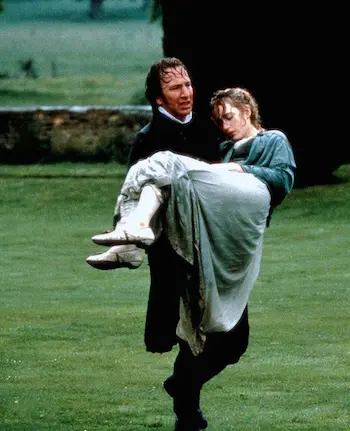 Rickman's amorous intensity is much more understated in his role as the wealthy and reserved Colonel Brandon in Ang Lee's Sense and Sensibility (1995). Brandon's first glimpse of Marianne Dashwood (Kate Winslet) is a revelation; his face freezes with sudden infatuation, and every time he looks at her the lines of his face seem etched with pain. Old enough to be her father, he is hopelessly smitten. This is Jane Austen, however, so the two eventually end up together, but not before Marianne has her heart broken by a rich young cad named Willoughby. Willoughby (Greg Wise) carries Marianne home after she twists her ankle on the moors, and the two fall in love. In a gorgeous parallel scene later, Brandon carries her home from that same place, after she has collapsed during a heartbroken search for the lover who spurned her. In his review for the Boston Phoenix I recall my then-editor Peter Keough capturing Rickman's performance eloquently, saying his heartache "seems to have seeped into his bones." I saw echoes of this performance in Tom Twyker's Perfume: The Story of a Murderer in which he plays the father of a beautiful teenage girl targeted by a serial killer in 17th century Paris. His helpless affection for her creases his brow and drives him to dramatic measures to protect her.
I am not such a fan of Love, Actually; it often feels manipulative to me, as love stories that take place at Christmas often do (well, except Carol). But what a cast! Rickman plays Harry, married to Karen (the always-excellent Emma Thompson), a man who, in a moment of weakness, buys a gift for a woman he may be thinking of having an affair with. He gets caught and his humiliation and remorse literally crumple him. But the role has lovely moments of humor as well, as when he tells a jewelry store gift wrapper "No bloody holly!"
Perhaps his most distinctive feature as an actor was his voice. He had the training to use his instrument in extremes of pitch and volume, but Rickman often chose a softer-voiced approach, lending modulation to moments that could easily have been loud or raucous. His speech often creaked with emotion, and there was a strangely lyrical quality to his voice that conjured up odd images: leather, or smoke, or thistles, or is it cognac? We had to lean in to hear him, narrow our eyes to guess what he was thinking. He shone in small roles, becoming a nimble character actor years before one earns that designation due to age. The year before he played the tyrannical Sheriff of Nottingham, Rickman seemed to whet his chops for the role by playing an ornery Australian land owner in the otherwise forgettable "western" Quigley Down Under. In Stephen Poliakoff's controversial 1991 film Close My Eyes, he is the overworked husband to a woman (Saska Reeves) who begins an affair with her estranged brother (Clive Owen). He is the sneaky-eyed Judge Turpin, a predator who fancies himself a lothario, in Tim Burton's Sweeney Todd: The Demon Barber of Fleet Street.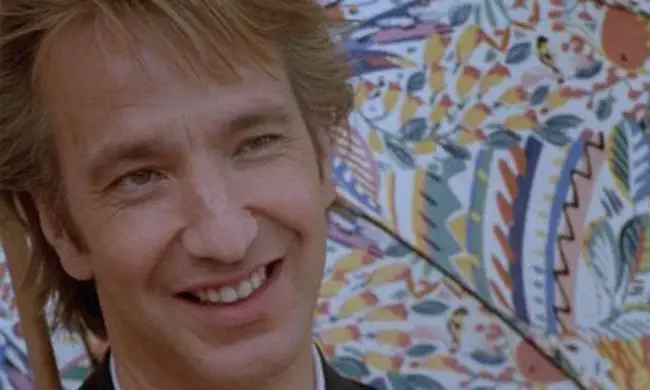 I have to say, one of my favorite roles was a voice part he did for television. He played a conceited, sexist, overbearing "King" of a Renaissance faire in the hilarious animated series King of the Hill. He brought a dramatic, stentorian Alan-Rickman wonderfulness to role. Things fall apart for the character at the end and we learn he is actually just a Texas local. Rickman nimbly dropped his Ren faire accent and became a drawling Southerner.
He was that rare actor who was not a superstar, not a celebrity, but a gifted performer whose dependable, low-key intensity was punctuated with just enough hilarity or insanity to make his characters unforgettable, often the only ones who stayed with you after other names and stories had faded. At a time when so many fine British actors seem to be hitting their prime in their sixties, seventies, and beyond (Michael Caine, Bill Nighy and Ian McKellen come to mind), Alan Rickman has gone from us far, far too soon.
---
Peg Aloi is a former film critic for The Boston Phoenix. She has taught film studies for a number of years at Emerson College and is currently teaching media studies at SUNY New Paltz. Her reviews have appeared in Art New England and Cinefantastique Online, and she writes a media blog for Patheos.com called The Witching Hour.