Concussion butts heads with the NFL; Point Break is pointless.
Concussion, directed by Peter Landesman. At theaters around New England.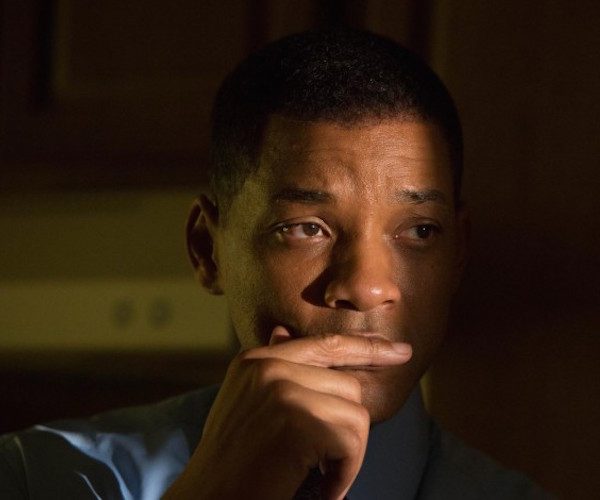 By Paul Dervis
If you listen to sports radio (Am I really asking the Arts Fuse readership that question?), you have heard subtle put downs of this film. It isn't true to what happened: Boston University, which headed up an early study on this subject, isn't mentioned; the doctor at the center of the story was really only a bit player; no one will bother to see this expose at Christmas (Note — the screening I attended was full); the National Football League doesn't give a damn about this movie (Oh, really?), and other disparaging remarks.
What you won't hear is just how absorbing this movie is.
The editor of Arts Fuse wanted it reviewed because he hates football. I wanted to do the review, because I love football. In the end, both of us are happy.
Dr. Bennet Omalu (Will Smith) is a Nigerian-born pathologist in Pittsburgh who dissects the dead and speaks to them in the process, asking for their help in discovering the reasons behind their demise. The body of Mike Webster is wheeled in. For those of you that do not recognize the name, he was a pivotal part of the multi Super Bowl winning Pittsburgh Steelers of the mid=seventies. He had a Hall of Fame career and was the idol of countless fans in Western Pennsylvania. But by the age of fifty he was a broken man. After selling off his Super Bowl championship rings, he ended up living in his pickup truck, sniffing glue, lapsing into mental incoherence. His dementia was labeled as a case of early onset Alzheimer's, but the good doctor is not convinced. Webster's brain showed none of the markers for the disease. It turns out that no less than twelve of Webster's fellow teammates have also passed away, all at too early an age. With the support of his boss, Dr Cyril Wecht (Albert Brooks), Omalu delves into the cause of these deaths and comes up with a condition that he calls Chronic Trauma Encephalopathy (CTE), a head trauma brought on by thousands of helmet-to-helmet collisions suffered by these players throughout their careers.
If Omalu thought the NFL would be grateful, he needed to think again.
One of the interesting aspects of this film is just how directly it shines a light on the corrupt agenda of the NFL. Here in New England we have had a first-hand look at the league's opportunism through its condemnation of our local quarterback with absolutely no poof of wrongdoing. When the NFL faces a major problem — medical, PR, etc — it is incapable of acting with integrity.
The NFL and their minions mount a character assassination campaign against the doctor and his study, at the same time that former players are begging to be examined. One of their main hatchet men, former head-bashing Chicago Bear Dave Duerson, lends credibility to the NFL's defensive assertion that there is no connection between the players past concussions and this dreadful disease. That is, until Duerson himself begins to display symptoms.
Will Smith has never been better, and he is surrounded by a fine cast of actors. Albert Brooks, always a pleasure to watch, is filled with indignant fervour. Alec Baldwin, as the former Steeler team doctor turned advocate for the research, is rock solid. And Luke Wilson, love him or hate him, is bang on as the oily NFL honcho Roger Goodell. Omalu's love interest turned wife is played with stoic power by Gugu Mbatha-Raw (Larry Crowne, Dr Who).
Concussion, written and directed by Peter Landesman, is like a well-made puzzle. When all the pieces are in place, and the solution is plain, the result is a stark mosaic of modern American culture, a corner-cutting, ethically empty money-making machine. It is an ugly sight.
——–
Point Break, directed by Ericson Core. At theaters around New England.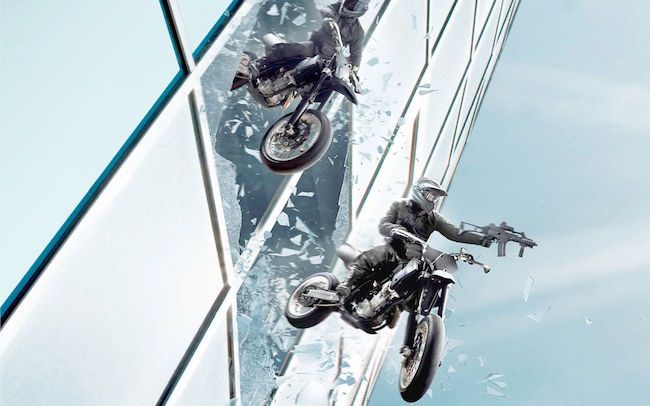 Talk about empty, money-making machines, this remake of the Keanu Reeves, Patrick Swayze 1991 movie is an exercise in totally unnecessary duplication. The original, though it has its fans, was hardly a masterpiece in filmmaking. The 2015 retread feels more like an ad for tattoo parlours than a movie. It loves its CGI and no doubt owes its existence to the international popularity of video games, examples of which are advertised in theatres before the trailers for future film attractions are shown.
The plot: a former extreme sport participant, who lost his best buddy to a foolish daredevil bike ride, turns FBI agent in search of a new breed of eco-terrorists who are committing heists around the world while jumping out of planes and other ridiculous acts of death-defying, dunderheaded derring-do.
Although Reeves and Swayze could hardly be considered top notch film actors, in comparison to Luke Bracey and Édgar Ramírez they are in the Marlon Brando, Paul Newman league.
Directed by Ericson Core (Is that even a real name?), his qualification for the job seems to be that he was the director of photography for the original The Fast and the Furious. Point Break is a fast, furious, and stupid way to waste your time …
---
Paul Dervis has been teaching drama in Canada at Algonquin College as well as the theatre conservatory Ottawa School of Speech & Drama for the past 15 years. Previously he ran theatre companies in Boston, New York, and Montreal. He has directed over 150 stage productions, receiving two dozen awards for his work. Paul has also directed six films, the most recent being 2011's The Righteous Tithe.