The unimportance of being too earnest.
Joy, directed by David O. Russell. Screening at cinemas around New England.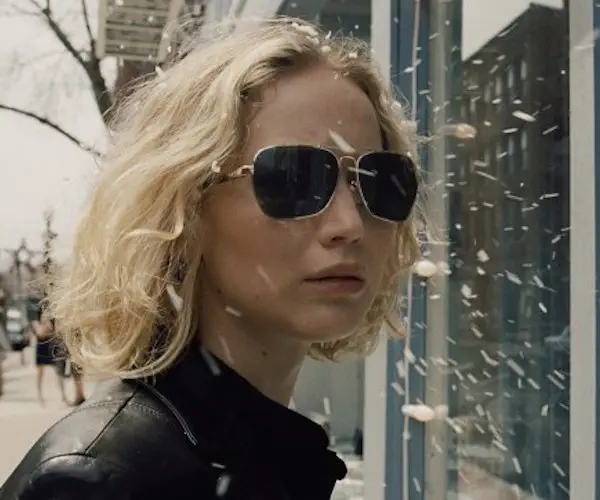 By Paul Dervis
Think Peyton Place meets Norma Rae. Joy is generally your standard true soap opera driven by a feisty female crusader, albeit that this time around her fight is for profits rather than better working conditions. And when all is said and done, the heroine wins…but does it make her any happier?
The narrative is based on the true life story of the woman who invented the "touchless" mop and sold it in the hundreds of thousands on QVC — the mothership channel for product-obsessed shut-ins.
The by-your-bootstraps narrative chronicles the trials and tribulations Joy endured in order to arrive at capitalism's pot of gold. Is this the season of the "almighty buck" or what? Not to mention that this is another in what seems to be an endless display of the cute and quirky American family.
Joy's clan is nothing if not dysfunctional. Her folks divorced when she was ten and her mom disappeared into her bedroom, watching endless hours of daytime dramas. Dad moved out whenever he found a girlfriend and moved back in whenever his partner of the month threw him out. Of course, her mom and dad hate each other with all their might. Grandma lives in the home too, dropping upbeat lines that would make the writers at Hallmark Cards blush.
Oh, and Joy also houses her own ex-husband, Tony, in the basement. He is a lounge lizard in search of a nightclub.
Get it? Joy is the only one here bringing in any cash, and there's very little of it. Joy's life really sucks….and it didn't need to be that way. Ten years earlier she had been named valedictorian of her graduating class: she had been accepted to a prestigious New England college, and had big plans for the inventions she had thought up. But all of these glorious promises went up in smoke when she decided to sacrifice her future for her family's very needy present.
And then she thinks up the mop.
A guy her ex-hubby had worked with (apparently there had been an interlude of gainful employment for him in the distant past), now runs the home shopping channel. She travels to QVC headquarters to pitch her idea.
Enter Bradley Cooper. Known here as Neil Walker. The guy gives it a shot; he demands 50,000 mops be produced in a few days, and gives Joy a chance at the big time. If the mop doesn't sell, goodbye. End of story, right?
Wrong.
Joy is nothing if not determined, and makes Walker give her cleaning product another try, this time with herself as the TV "pitchman." The rest is history…except for several other roadblocks that I will not bring up here.
After the success of Silver Linings Playbook, producers figured that Jennifer Lawrence and Cooper would be box office magic. Maybe they are. But you wouldn't be able to discern it from their shaky film chemistry here. It doesn't help that Cooper's screen time could have been filmed over a weekend.
It is Lawrence's film, and she does her damnedest to keep it afloat. But the script and direction by multiple Oscar nominee David O. Russell (the head of the aforementioned Silver Linings…as well as The Fighter) isn't quite sure what this film is supposed to be — a comedy? a melodrama?, a behind-the-scenes infomercial? Even with a cast filled with excellent, seasoned talent (Diane Ladd, Virginia Madsen, Isabella Rossellini, and former great actor now morphing into a hack, Robert De Niro), they have oh so little to work with.
This quintessential holiday uplift film is being relentlessly hyped; there are hopes of Academy Award nominations. The pitchman that could make that happen hasn't been invented yet…
—–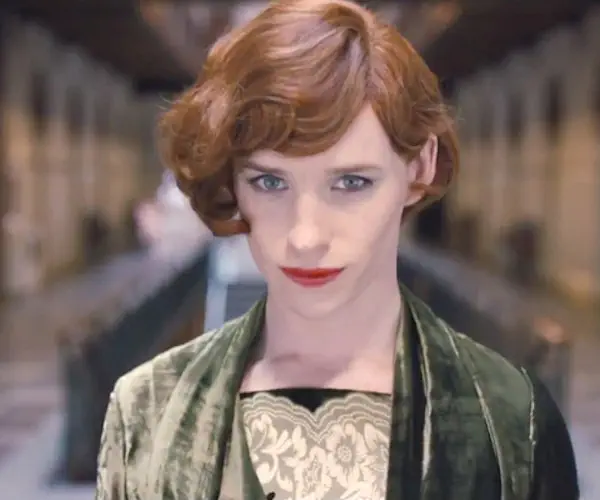 The Danish Girl, directed by Tom Hooper. Screening in cinemas around New England.
Talk about going back to the well! Last year Eddie Redmayne was cast as super-brain Stephen Hawking in the curiously well-received The Theory of Everything. Now he plays the first man to get a sex change operation in The Danish Girl. Okay, he's playing unusual characters that live on the edge of 'normal.' But the actor is doing it in projects that are dedicated to reassurance rather than danger. These movies could be classified as contemporary versions of the polite-to-a-fault Merchant/Ivory films. The Danish Girl has the feel of a soft-hued romance novel, all muted colours and tenderized lighting. And it is all so serious about its topic. Apparently, any signs of relaxation would show disrespect to our hero/heroine — everything is important.
Redmayne plays Danish painter Einar Wegener, who is happily married to fellow painter Gerda Wegener. Until, as a prank, she takes him to a social function in drag. Well, he likes the transformation…a lot. Einar begins to disappear into the feminine psyche of his alter ego, Lili. His relationship with Gerda begins to vaporize at the same time. Yet their love for one another remains unquestionably strong. Loyal, she takes him to countless doctors, most of whom want to lock him up. It is the late 1920s after all. Then they chance upon a sympathetic doctor in Dresden, Germany who has devised a way to change genders…but the procedure is risky and untried.
Einar is all in. Gerda not so sure. They take a chance and go to Dresden. You can guess what happens. Any other outcome and many of us would not know who Christine Jorgensen was.
Alicia Vikander (The Fifth Estate, Burnt) plays Gerda. She does a fine job adding substance to a rather thankless character.
Director Tom Hooper, known for other highly earnest films such as Les Miserables and The King's Speech, is once again ladling out inspiration. The Danish Girl could have been a provocative portrait; instead, it is nothing but a pretty picture.
---
Paul Dervis has been teaching drama in Canada at Algonquin College as well as the theatre conservatory Ottawa School of Speech & Drama for the past 15 years. Previously he ran theatre companies in Boston, New York, and Montreal. He has directed over 150 stage productions, receiving two dozen awards for his work. Paul has also directed six films, the most recent being 2011's The Righteous Tithe.