Andris Nelsons possesses a clear fondness for Slavic music and his Tchaikovsky performances in Boston have become (like his Shostakovich ones) can't-miss events.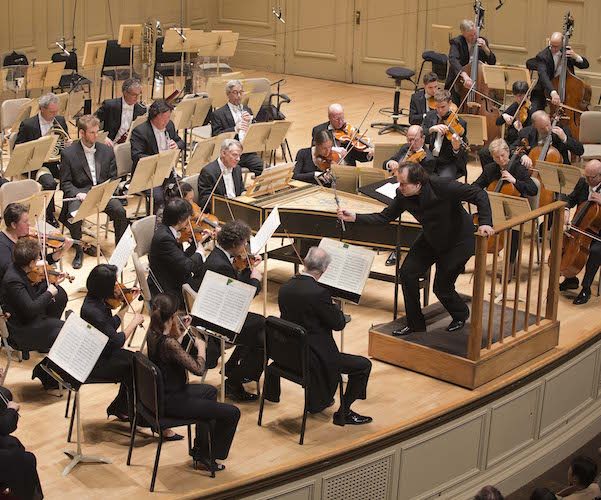 By Jonathan Blumhofer
The Boston Symphony Orchestra's (BSO) fall season seemed especially short this year (it only began on October 1), but, brief or long, it's been a conspicuously rewarding and impressive couple of months. Both characterizations were true of Saturday's 2015 finale, a concert dedicated to rarely heard symphonies by Haydn and Tchaikovsky, as well as Bartók's propulsive Piano Concerto no. 2.
Tchaikovsky's Symphony no. 1 has often been unfairly maligned. Scholar David Brown calls the finale "rhythmic[ally] stodg[y]" and "overblown." In a New York Times review just a couple of weeks ago, David Allen posited that the whole Symphony is "plain weak." Even Tchaikovsky, himself, described it as "in many ways…immature." But is it, really? Well, yes and no. The piece does ramble a bit. It shows its transitional seams, especially in the first movement, more than it probably should. Tchaikovsky wasn't always the most inspired spinner of motivic development and there's sometimes a dutiful quality to the writing. And, yes, the closing three minutes or so feature a dizzying succession of climaxes, each seemingly trying to outdo the last.
But you can lay these charges—and worse—at the feet of other pillars of the repertoire to little or no effect. The fact is, Tchaikovsky's First, sometimes subtitled "Winter Daydreams," has far more going for it than not. If its rhetoric isn't as confident or bracing as that of Tchaikovsky's later, more mature works, its expressive aim is clear, its melodic writing fresh, its scoring colorful, and its musical character fully engaging. In a good performance, these positives clearly (and by some distance) outweigh the negatives. Saturday's was a very good one, indeed.
Andris Nelsons possesses a clear fondness for Slavic music and his Tchaikovsky performances in Boston have become (like his Shostakovich ones) can't-miss events. His account of the First Symphony on Saturday was lively and well-paced, exulting in the music's play of light and shadow as well as its generous lyricism. The result was an impressively organic reading that, overall, emphasized the score's musical logic.
At the heart of the Symphony is its songfulness. Though Tchaikovsky incorporated just one actual quote of a folk song in it, his melodic writing throughout rarely strays far from the rhythms and contours of rustic Russian balladry. And the BSO is an orchestra that thrives on this style. The pseudo-variations in the second movement came over as a kind of endless, soulful melody that just kept unfolding, natural and unforced as ever. When the lyrical heart of the third movement rolled around, it seemed like a logical continuation of the second movement theme, interspersed by a pert, Mendelssohnian interlude.
In the outer movements, Nelsons drew out playing of high energy and vibrant color. The first movement's big climaxes—which more than hint, in their way, at the corresponding ones in the opening movement of the Fifth Symphony—were thrilling. And there was nothing stiff or pedantic about the finale, which drove forward with force and culminated in an exuberant conclusion.
Individually and collectively, the BSO delivered as convincing a reading of the score as I've heard. The trio of wind solos near the start of the second movement—by principal flute Elizabeth Rowe, principal oboe John Ferrillo, and principal bassoon Richard Svoboda—sang with sweetness and warmth. So, too, did the graceful trio of the third movement. The finale, in part thanks to Nelsons's brisk tempo, never lost its way, its counterpoint packing the same kind of momentum and excitement that you find in the last movement of the Violin Concerto or Fourth Symphony. In all, the reading was a blast. I look forward to Nelsons bringing the "Little Russian" and "Polish" Symphonies (as well as "Winter Daydreams" coming back) in future seasons.
Before intermission came an equally exhilarating performance, this of the Bartók. Yefim Bronfman, whose visceral power and musicianship at the keyboard seems to grow by the season (if not the day), was this weekend's soloist.
Like most of Bartók's music, the Second Piano Concerto features a strong attention to form and structure, the rhythmically driving outer movements framing a near-palindromic middle one. Saturday's reading neatly delineated its architecture, the impellent energy of the first and third movements powerfully checked by the stasis of the peripheral sections of the second. The heart of the latter sounded with delicate fire.
Throughout, Bronfman proved a marvel. There seemed to be no orchestral texture, however thick, he couldn't get his piano to sound over. And yet his playing wasn't just impressively muscular: it was thoughtfully shaped and phrased with care. In the icy piano-timpani dialogues that open and close the second movement, Bronfman elicited an impressive range of tonal shadings from the solo part, mournful one moment, glistening like crystal the next. In this you knew—for all the instinctual excitement of the fast passages—that Bronfman's was a very special reading; his identification with this piece total, uniquely locked in, and deeply concentrated.
For his part, Nelsons led the BSO in a vibrant, often animated, accompaniment. The first movement bustled and, if it wanted here and there for textural clarity, there was no questioning its vitality. In the second, the BSO strings' cool focus and distilled intensity all but stopped time. And the raucous finale, with its wild back-and-forths between piano and percussion (led magnificently by principal timpani Timothy Genis) was appropriately wild.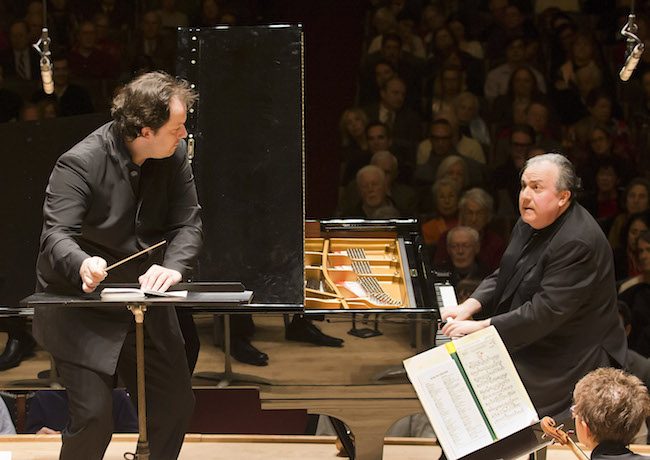 If any doubt remained about Bronfman's qualifications as a musical poet, they were soundly squelched by his encore, a fluent and eloquent account of Chopin's Etude in F (op. 10, no. 8).
Like Bartók, Haydn held a deep interest in Eastern European folk music, though none of it is very apparent in his Symphony no. 30 ("Alleluia"), with which the program opened. This is an early symphony, written in 1765 and only consisting of three movements (the last of which is a fairly substantial minuet). It has only been played by the BSO once before, in 1977.
They made a case for its charms on Saturday, especially in the finale, where balances really settled and John Gibbons's account of the harpsichord part could be best heard. The first movement was bright and suitably chipper, some ensemble disunity over fast string passages notwithstanding, and Clint Foreman's colorfully executed flute solos were a highlight of the slow second.
Saturday's concert began with the Air from Bach's Orchestral Suite no. 3 played as a memorial to Joseph Silverstein, the BSO's former concertmaster and assistant conductor, who died suddenly on November 21. This was about as non-period-performance a reading as you can get with a big string section and not a little vibrato. It sounded gorgeous. If anything, the songful, Romantic quality of the BSO's account of the Air called to mind Silverstein's own playing: elegant, unfussy, devoted entirely to the musical line and argument at hand. Even if he's no longer physically here, the orchestra's players seemed to be saying, he's still with us.
---
Jonathan Blumhofer is a composer and violist who has been active in the greater Boston area since 2004. His music has received numerous awards and been performed by various ensembles, including the American Composers Orchestra, Kiev Philharmonic, Camerata Chicago, Xanthos Ensemble, and Juventas New Music Group. Since receiving his doctorate from Boston University in 2010, Jon has taught at Clark University, Worcester Polytechnic Institute, and online for the University of Phoenix, in addition to writing music criticism for the Worcester Telegram & Gazette.