Veils moves from political rallies to private showdowns, from blog exposition to deft, direct, and sometimes swiftly nuanced dialogues.
Veils by Tom Coash. Directed by Leah C. Gardiner. Staged by Barrington Stage Company at the Boyd-Quinson Mainstage, 30 Union Street, Pittsfield, MA, through October 18.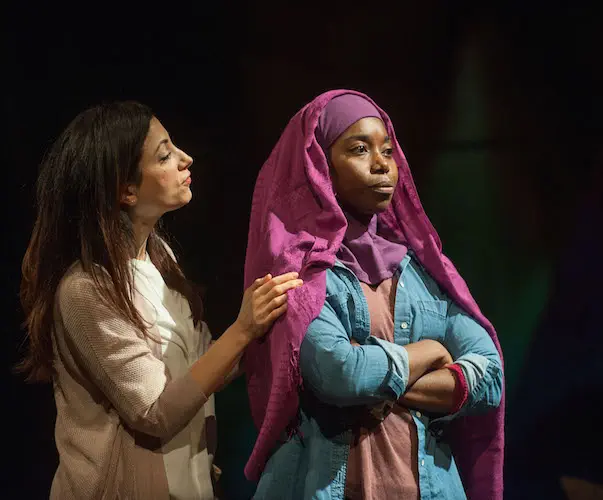 By Kate Abbott
In a dorm room, two young women are listening over their speakers to a woman singing about lost love: "I wait for you, but you never come." One has a book open, and the other translates the words of the song as she removes hair from her legs with a taffy-like mixture of sugar, water, and lemon, like waxing.
They are students at American University in Cairo in 2010. A local woman shares her home with an American, and their growing friendship and quiet semester are about to erupt with rallies and protests as the Arab Spring begins. The journey that follows is layered and adept, strongly written and viscerally powerful.
Stereotypes dissolve in the first few seconds. Intisar (Donnetta Lavinia Grays) is American and Muslim, born and raised. She comes on stage adjusting her veil in the mirror with a laughing thumb's up. She is in the airport, preparing to meet her new roommate and high with excitement. She is black, from a well-educated family in Philadelphia. And Samar (Hend Ayoub) comes on to meet her in skinny jeans, her hair long and loose over her shoulders, tweeting Intisar's arrival on her iPhone.
The set design is striking and simple. Sloping glass panes become the high windows of a dorm room in a tall building, or a set of screens. Digital images flicker on these screens during the scene changes—the images never distract from the characters and text's dramatic energy, but allow for quicksilver transitions, as an actor in the dark prepares to face the action and the set shifts invisibly around her.
Intisar comes eagerly to a new city in a new country. She has wanted for years to learn about her faith in a place where it is part of everyday public life. Here she can wake every morning to the call to prayer. Here she can look for a teacher and sense her faith alive in the streets. She feels as a Jewish woman might feel about coming to Jerusalem and hearing Hebrew spoken all around her.
But an imam refuses to speak to her because she is a woman. Students at the university violently protest the veil that she has always worn proudly.
Grays gives Intisar a rich depth of courage, anger, and compassion. After 9/11, when she was 13, Intisar's mother was strip-searched at an airport as she watched. For her family, nakedness can be seen as a violation: Choosing what to cover and what to reveal can give protection or dignity or intimacy. When Grays's Intisar tells that story on film—forceful and direct and half-afraid of the camera—for Samar's blog, the audience burst into spontaneous applause.
In Grays's hands, Intisar feels believably 20, full of fire. She is experimenting and vulnerable. Her passion for her faith is tangible, and she makes the call to prayer, the power of waking a city, incandescent and beautiful. She gives perspective while she gains it. She is seeing the United States from the outside for the first time—and looking at her family as an adult. Her relationship with her parents feels three-dimensional, warm, and strong. They can push back at her and hold her together at the same time, even when she is deeply frightened. Through Intisar, we feel her father's encouragement, and his natural worry and care as he lets her fly away into a country in conflict. We also sense her mother's bracing toughness, a willingness to take risks buoyed by memories of Civil Rights protests.
Samar feels familiar to anyone who has walked through an American college. She is brash and warm and eager—dancing in clubs and meeting friends for a take-out meal. Ayoub balances Samar's maturity and immaturity, moments of swigging coconut Malibu alternating with her ambition to become a journalist, particularly through her blog posts about the changing Egyptian political climate and her real fear that freedom can be lost.
Samar has depths, and Ayoub makes them feel real, though Samar's background and her thoughts often come through in flashes. She knows the Sufi community well enough to find Intisar a teacher. She can debate the text of the Quran and the history of the Iranian Revolution. She remembers her grandmother's stories of protests.
These glimpses of her mind and her life arouse curiosity—when she invites Intisar to celebrate a holiday with her family, what would that be like? What is she studying in college? When she passionately defends her right to be there, what does it mean to her? When Intisar accuses her of not acting like a real Muslim, she raises questions about how Samar thinks of her faith, how she has lived it, and what she believes. As the play goes on, Ayoub makes us respect Samar's grit and intelligence, and makes those questions all the more pressing.
The play moves from political rallies to private show-downs, from blog exposition to deft, direct, and sometimes swiftly nuanced dialogues. The screens floating above Intisar and Samar emphasize that this drama, playing out privately in a dorm room, is also playing out publicly in the city and on phones and televisions across the world. And that tension invigorates the show's central theme: A veil is a screen between public and private life. If a woman chooses to wear one, it can give comfort or style or self-expression, and if public opinion or religious law forces her to wear one, it can imprison her.
And this conflict in Veils comes through most forcefully not in a blog post or speech, but in moments of personal contact. When Samar sits shivering after her first invasive contact with police and Intisar wraps a blanket around her. When they look out at the tanks and the people outside their window shouting as the protest spreads—when the pair look at each other then, they have power enough to bring tears.
---
Kate Abbott, a writer based in Western Massachusetts, served as editor of Berkshires Week and then Berkshires Week & Shires of Vermont magazine, a year-round weekly arts and cultural publication in the Berkshire Eagle, Bennington Banner, and Manchester Journal newspapers from 2008 to 2015. She holds an MFA in fiction from the University of New Hampshire, and has published poetry in journals including the Comstock Review and Entelechy International. She enjoys talking with people, walking in the woods, playing contradance recorder, and writing about all three.