Jay Parini has provided an important slice of literary and cultural history, as well as a portrait of  a man, knitting together the many themes of Gore Vidal's life.
Empire of Self: A Life of Gore Vidal by Jay Parini. Doubleday, 480 pages, $35.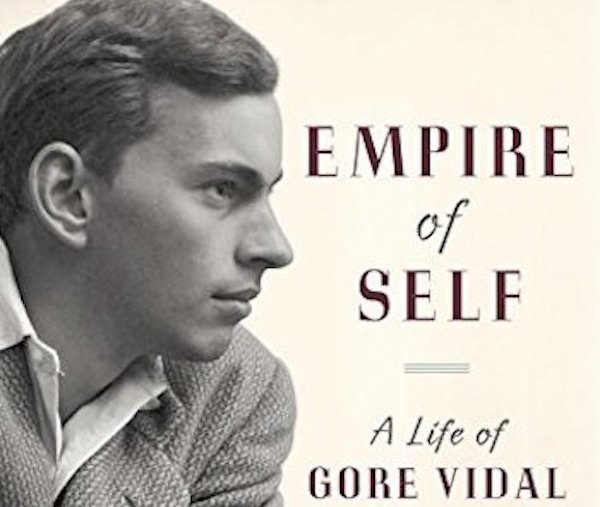 By Helen Epstein
Why read or write a biography of Gore Vidal?
The prolific and protean author (1925–2012) left over 80 volumes of writing—novels, plays, screenplays, teleplays, memoirs, collections of essays, political pamphlets—in which he makes his ideas about an extraordinary range of topics clear, elegant, bitchy, and fascinating.
Four biographical views of Vidal precede this one. The first was Gore Vidal: A Biography (1999) by Fred Kaplan, authorized by the subject, begun and abandoned by journalist Walter Clemons, and—at 864 pages—encyclopedic. In Bed with Gore Vidal: Hustlers, Hollywood, and the Private World of an American Master (2013) is described by its first-time author Tim Teeman as "a sexual biography," and delivers the expected in a brief 296 pages. Pink Triangle: The Feuds and Private Lives of Tennessee Williams, Gore Vidal, Truman Capote and Famous Members of their Entourage (2014) by celebrity biographer Darwin Porter weighs in at 700 pages. And Sympathy for the Devil: Four Decades of Friendship with Gore Vidal (2015) by Michael Mewshaw, more of an anecdotal memoir than a biography, rounds out the lot at 224 pages. As far as an assessment of Vidal's writing is concerned, in 1992 Jay Parini himself edited a collection of critical essays, Gore Vidal: Writer Against the Grain, with contributions from Harold Bloom, Stephen Spender, Catharine R. Stimpson, Richard Poirier, and Italo Calvino.
Given this context, why has Parini, a poet, biographer, novelist, and college professor, devoted so much time and thought to this latest Vidal biography? Because it is a labor of love, I surmise, and because he is discharging a debt. His friendship with Vidal began in the 1980s, when, in his 30s and on sabbatical in southern Italy, Parini and his family lived below a massive villa occupied by Vidal. "It would be fair to say, in a crude way, that I was looking for a father, and he seemed in search of a son," Parini writes in his introduction. "In the decades that followed, we spoke on the phone every week—for periods on a daily basis…He proved more than helpful to me as a young writer, reading drafts of my books, offering frank critiques and encouragement."
In the 1990s, Vidal asked Parini to take over the biography that Walter Clemons had begun, but Parini's psychotherapist wife, anticipating the disastrous impact that would have on their friendship, persuaded Parini to wait until Vidal was dead to write his version. Parini waited until the man had passed. The result, which he views not as a memoir but as "the story of Gore Vidal's extraordinary life and writing," comes off as a hybrid of memoir and biography, an intimate and empathic examination of one serious writer by another.
Gore Vidal, for those of a generation who did not grow up reading and watching him, was a celebrated American author and public intellectual, part of a generation of post-Second World War writers that included Norman Mailer, John Updike, and Saul Bellow. Unlike his peers, Vidal lived in and wrote about several disparate worlds: Washington, DC, Hollywood, New York, Rome—even Guatemala at first. He was emotionally involved with several women, lived for 53 years with a man, and favored frequent, brief, anonymous sex with males while claiming to be pansexual. Given the range of his life and work, and an extensive cast of friends and enemies, Vidal is not an easy subject. Parini has done an admirable job getting him right.
Vidal was born at West Point to Nina, the daughter of a senator from Oklahoma, and Eugene Vidal, a former football player from South Dakota who had graduated from the military academy and was, in 1925, the first aeronautics instructor at West Point. Vidal would retain a lively interest in West Point and the American military until his death.
Vidal's close relationship with his grandfather and his childhood in Washington, DC, made American history and politics another of Vidal's lifelong interests. His novels and plays often took politics as their subject. His political commentary was published in The Nation, the New Statesman, The New York Review of Books, and Esquire. In 1968, his debates during the Presidential Nominating Conventions with William F. Buckley made for classic TV, a contentious showdown memorialized in the recent documentary Best of Enemies. He campaigned for public office twice—first to the House of Representatives from Upstate New York in 1960; then to the US Senate in California in 1982.
At Exeter, the last of the series of boarding schools he attended, Vidal hung with the literary crowd, including John Knowles (author of A Separate Peace) and Robert Bingham (later a prominent editor at The New Yorker). He wanted to be a poet, was not fond of school, and was saved from university by the Second World War. Military service would allow him the time and space to write six novels before he turned 25.
His parents divorced, which enabled Vidal to establish a bicoastal life early on. His father remained in New York; his alcoholic and social-climbing mother, Nina, spent much of her time in Los Angeles, and set the stage for his deep, and sometimes deeply ambivalent relationships with an astonishing array of women (including Anais Nin, Eleanor Roosevelt, and Joanne Woodward). It was Nin who, in postwar New York, introduced Vidal to Truman Capote, which Parini—in one of many priceless quotes from Vidal—recounts as: "My first impression—as I wasn't wearing my glasses—was that it was a colorful ottoman. When I sat down on it, it squealed. It was Truman."
While Vidal dated and had sex with girls as a teenager in the late 1930s and early 1940s, his first and enduring love was an athletic and heterosexual prep school classmate Jimmy Trimble (killed in Iwo Jima), whom he memorialized in his third novel The City and the Pillar. Several of Parini's sources question whether this love was reciprocated in reality as well as in Vidal's imagination, but it remained a staple of his story until his death. Published in January 1948 in the US and later in the UK, The City and the Pillar was a commercial but not a critical success, and the young author sailed off to Italy to soothe his nerves.
In Rome and then Paris, he met a large cast of literary characters, including the writers Frederic Prokosch, Tennessee Williams, and Christopher Isherwood, and some of the society women whom he cultivated over the course of his life. By this time, Vidal understood that he required a considerable income to maintain the kind of writer's lifestyle he wanted. He liked owning and furnishing large houses, and bought his first one in Guatemala; his second, on the banks of the Hudson River; his third, in Ravello, Italy. Maintaining them and entertaining guests was expensive. He had ascertained that corporate life was out of the question for him, as were editing and teaching. He would, over the next decades, try pulp fiction, Broadway theater, television, and Hollywood screenwriting to finance his serious writing.
On Labor Day of 1950, Vidal met Howard Austen, "a carrot-topped Jewish boy from the Bronx," as Parini introduces him, who would become Vidal's companion for the next 53 years and play Alice B. Toklas to Gore's Gertrude Stein. While Vidal remained a sexually active gay man, who liked to say he never turned down an opportunity to have sex or to be on television, Parini writes that Vidal "thought of himself as a heterosexual man who liked to 'mess around' with men. It was a mental game he played and it contributed to an aura of manliness that surrounded him, marking his public behavior." That kind of disavowal allowed Vidal to more or less ignore AIDs until one of his family members died of it.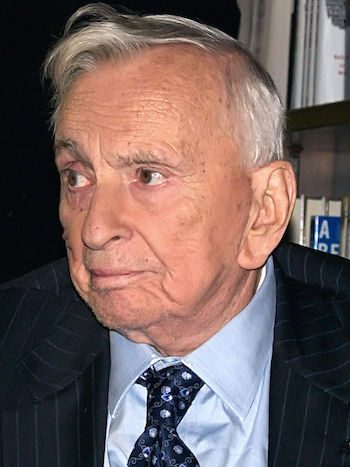 His sexual life, however active, took a back seat to his writing practice. Famously disciplined, Vidal wrote four or five hours every day, no matter where he was, who was visiting, or how much he had had to drink. He continued to write book reviews throughout his life; "Book reviewing became his very own Harvard," Parini writes. The biographer is excellent at showing us how and when he wrote in each of his houses and skillfully summarizes his many books. These include the historical novels Julian, about the Roman Emperor Julian the Apostate, Burr, Lincoln, Empire, and The Golden Age; and the satirical novels Myra Breckinridge, Myron, Kalki, Duluth, and Live from Golgotha. Parini offers glimpses of Vidal's work as a script doctor in Hollywood and a playwright on Broadway. He also surveys Vidal's extensive magazine work and tracks his television career.
Beginning in the 1950s and into the 21st century, Vidal made use of television to promote himself and his writing: "His cool manner and clever way of talking, combined with a deep knowledge of world affairs, made him an ideal guest on talk shows. He could drop names as much as he liked, and Johnny Carson, Merv Griffin, and Dick Cavett would never wince. He stood firm before William F. Buckley under the hot lights, and looked on with pity while Norman Mailer tied himself into knots."
If all this sounds like too much Vidal, it is. About two-thirds of the way through Empire of Self, I started to weary of him, even tiring of the juicy one-liners and corners of cultural history he shed light on, and noticed that I was reading dutifully rather than eagerly. I suspect the biographer had begun writing dutifully, too.
Vidal lived a long life (he died at 86). His partner Howard, who changed his name back to Auster from Austen before he died, predeceased him, and Vidal did not do well unpartnered. He died as a demented alcoholic who willed his estate to Harvard in what seems like a final public relations ploy. It's a prolonged and unaesthetic denouement. Parini has tried to write a judicious account of a man who pushed many envelopes. He has provided an important slice of literary and cultural history, as well as a portrait of a man, knitting together the many themes of his life, trying to find the right balance between their importance.
I admired Empire of Self: A LIfe of Gore Vidal. But Vidal's career peaked early and both his writing and many interesting relationships were sapped by his alcoholism. The biographer is left treading water, along with his subject. I felt exhausted by the time I finished reading. And sad.
---
Helen Epstein is the author of Joe Papp: An American Life and five other books of non-fiction, available as ebooks at Plunkett Lake Press.