John Taylor introduces readers to an amazing array of sensibilities and life histories in a babel of languages from an atlas of nations.
A Little Tour through European Poetry by John Taylor. Transaction Publishers, 298 pp., $34.95.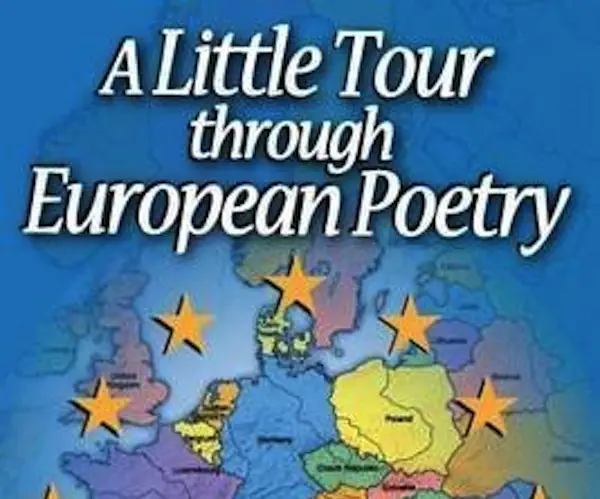 By Merrill Kaitz
Maybe poetry tourism is the next big thing; with John Taylor as our guide, it's a pleasure and a delight. A Little Tour through European Poetry is his second go-round leading an excursion on and off beaten paths to sample what current and recent European poets have been doing (Into the Heart of European Poetry was the title of his first jaunt). The new trip takes the form of 34 chapters, short essays really, detailing Taylor's adventures tracking down poets, their work, and their milieus. He visits and interviews many poets at conferences and readings. He visits the homes and haunts of poets no longer with us. Some of the most memorable moments involve his personal misadventures with hotels or travel connections. It's criticism as travel writing, and it's a lot of fun.
In a bookstore in Italy, Taylor is delighted to find books by Sandro Penna and Camillo Sbarbaro, and his comment suggests the dizzying breadth of his interest and appreciation: "…Two poets I had long admired because of the former's vivid erotic verse and the latter's meditative texts memorializing his search for rare lichens." Such is the range of this tour… and perhaps it should not be surprising, because poetry, after all, prowls the full range of human passions.
Most of Taylor's poets are living and will probably be more than a little obscure to American readers, but he also takes a few excursions in time, reviewing some classics and a few Nobel laureates. Well-known names, alphabetically culled from Taylor's excellent bibliography, include Vicente Aleixandre, Yves Bonnefoy, Odysseus Elytis, Friedrich Holderlin, Osip Mandelstam, George Seferis. Cavafy is a frequent point of comparison. But there are hundreds of newer names to whet a variety of appetites. Frequently, Taylor provides titles of translations and the names of small presses that publish them. Pretty much every poet is introduced with hot or her birth date in parentheses (and sadly, death date, where applicable).
The greatest joy of this tour is undoubtedly the abundance of well-chosen quotations. Often three or four to a page, they tumble after one another, pulling off varied poetic accomplishments. Frequently they "make our bodies so cold no fire can warm us," or disembody the tops of our heads…. or accomplish some new physiological feat that Emily Dickinson never thought of… to help us know we are truly in the presence of poetry.
This happened for me on the first page: a short poem By Klaus Merz (b. 1945) Taylor presents in its entirety:
Since five o'clock it's been raining
the horizon
makes no fuss
about this.Actually a love poem
has no need of weather
Darling.
It's a nice paradox. The rain, so unimportant compared to love, or at least, to OUR love, nevertheless takes up well over half the poem. Perhaps everyone knows how comforting it can be to be with one's love when it's storming outside, and lovers can ignore the outside world completely.
Another poet of love, in a lovely but ultimately sad chapter (because the poet committed suicide), is Lorenzo Calogero (1910-1961). Taylor skillfully tells the story of a poet neglected during his lifetime, yet revered afterwards, his work kept alive by a few enthusiasts. In fact, he cites an inspiring comment I'd never heard, spoken by Julien Gracq about Mallarmé: "it takes only 'fifty readers willing to be killed for a poet' to guarantee the glory of an oeuvre." Taylor suggests that Calogero's modernism, his linguistic difficulty, may have discouraged readers. Perhaps we can see why in this odd bit of syntax, but I was intrigued:
Even if I turn and return
I don't know how much she already was
or was tomorrow or is a tangle
of bodies?
The grammar may be confusing, but in this poignant chapter on Calogero, Taylor makes a strong case for him.
We encounter a lot of erotic poetry on this tour, by women and men, gay and straight. (my informal estimate would be that women poets make up some 40 to 50 percent of the volume). The subject matter as well is suitably diverse. Nature, death, philosophy, eternity, reality…. "The whole boatload of sensitive bullshit," as Ginsberg happily described it, take their turns.
The subject being Europe, and mostly the twentieth century, war, atrocity, and dislocation could not be ignored. One sample, lines from a poem titled "The Brazen Plagiarist" by a Greek poet, Kiki Dimoula (b.1931):
Of the unremitting civil war
between existing and ceasing to
between speaking and ceasing to
finallythe only winner is
that famous war correspondent
writing.
And naturally enough, the themes of love and war become entangled, sometimes inextricably. A fine example can be found in a poem by a Turkish woman, Sennur Sezer (b. 1943):
Now we recall the day of loving
Our kisses are cold and sharp
The wedding like a subtle ache…
A mere step from blind bullets
I taste your kiss like a knife.
This excerpt is in a chapter called "A Panorama of Turkish Love Poetry," which is a review of several anthologies of Turkish poems in English translation. It's remarkable how many anthologies, dedicated to every corner of Europe, Taylor finds. Sezer's lines appear in a gathering entitled From the Bridge from British translator George Messo. Taylor calls the collection, "A pioneering anthology of verse by twenty-two women writing today."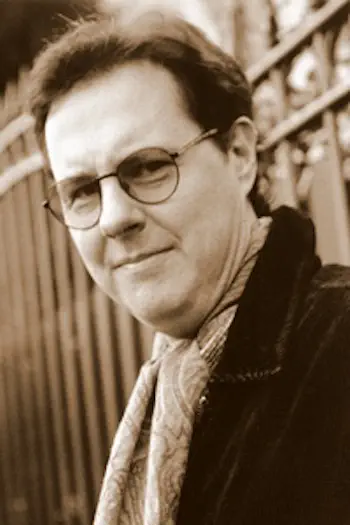 One of Taylor's great strengths is concreteness. The multiplicity of names and dates, publishers and addresses, towns and buildings, brings us right into the streets, apartments, bookstores, and libraries with him, helping us to hear the voices of the poets (whom he sometimes interviews). His weakness is reading with what could be seen as an excess of sympathy and imagination. A great appreciator, Taylor seems to like every poet in Europe, and nearly all of their lines. Once or twice he finds it interesting to say a negative word, but generally his reviews are raves.
Often he quotes lines that are relatively obscure, and Taylor is willing to run with them in a personal way, suggesting interpretations that may not always seem well supported by the texts. Practiced with knowledgeable intelligence, of course, this may not be a bad approach to reading poems. Anyone who has taught verse to classes of young people is familiar with the dichotomy. No, we tell them, words, lines, poems can't mean whatever you want them to mean. But on the other hand, when the line is difficult, ambiguous, obscure, aren't we inevitably invited to respond with our own feelings and experiences?
In any event, for a guided tour, it's exactly the right technique. Taylor introduces readers to an amazing array of sensibilities and life histories in a babel of languages from an atlas of nations. And makes it all accessible. It's impossible not to feel that we must return soon and acquaint ourselves more deeply with several of these poets — maybe two or three, or a dozen, or two dozen. Or maybe, there is one special one whom we must come to know well.
---
Merrill Kaitz is a poet, editor, and writing consultant. He wrote The Great Boston Trivia & Fact Book and published Zeugma, A Magazine of Poems (now defunct). He is co-translator of The Silence of the Beloved, poems by Korean Buddhist monk Han Yong-un, and has reviewed novels and poetry for The Boston Globe.