Derek Trucks of the Tedeschi Trucks Band brimmed with enthusiasm when he described how one show ended with Sharon Jones and the Dap-Kings horn players joining his own 11-piece ensemble for a raging Sly Stone medley.
The Wheels of Soul tour, at the Blue Hills Bank Pavilion, Northern Avenue, Boston, MA, on July 22. (The show starts at 6:30).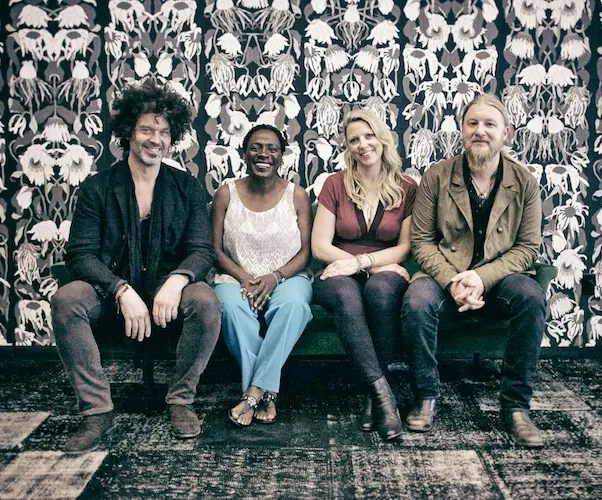 By Scott McLennan
For all the power and emotion he conveys through his guitar playing, Derek Trucks is a pretty stoic guy on stage. He's not one for banter or any other overt recognition that an audience is concentrating on his every move. At best, you may catch a slight grin cross his face when one of his collaborators in the Tedeschi Trucks Band uncorks a particularly inspired solo or melodic phrasing.
But get Trucks talking about music, and it's a whole other story. Reached by phone last month during an early stop along the Wheels of Soul tour that features the TTB, Sharon Jones and the Dap-Kings, and Doyle Bramhall II, Trucks brimmed with enthusiasm while describing how one show ended with Sharon Jones & the Dap-Kings horn players joining his own 11-piece ensemble (actually boosted to a dozen for this tour with the addition of singer Alecia Chakour) for a raging Sly Stone medley.
And Trucks was just as animated when he insisted how necessary it was for people to be at the shows early for Bramhall's opening set.
"This is a tour I'd buy a ticket to go see," Trucks says. "All three bands are very different, but we're dipping from the same wells."
Trucks and his wife Susan Tedeschi, the Boston-bred guitarist, singer, and songwriter, have often been compared to a modern-day Delaney and Bonnie since putting aside their respective solo careers in 2010 to join forces as leaders of a sprawling band that has three horn players, two drummers, a keyboard player who doubles on flute when the song calls for it, bass, and backup singers. The material is rooted in traditional R&B, blues, rock and funk, though their approach is forward-looking enough to honor the past without being trapped in it.
Like Delaney and Bonnie Bramlett, who surrounded themselves with such powerhouse players as Eric Clapton and Duane Allman in the late 1960s and early '70s, Tedeschi and Trucks are gracious hosts but run a tight ship; songs are emphasized over performers, resulting in less individual showboating and more tightly played, ensemble fireworks.
"The beauty of this band is that it can go in any direction on any night," Trucks explained. "We have more precision and clarity in between the spontaneous moments (compared to a jam band), but there are a lot of different backgrounds in the band, and we want to represent them all honestly."
Even though the TTB can unpack distinctly different sets night after night — especially because new songs from the band's forthcoming third studio album are expanding the concert repertoire — Trucks said he believes that live shows like Wheels of Soul, with multiple featured bands, are far greater than the sum of their parts. This is what happens, he says, when likeminded musicians spend some quality time together on the road and grow comfortable sitting in on each other's sets.
The idea for Wheels of Soul took root when the TTB toured with the Black Crowes and London Souls two summers ago. For this road show, Trucks immediately recruited Bramhall once he learned the former Arc Angel was putting together a new solo band. Bramhall has worked on various studio projects with Tedeschi and Trucks and contributed to some of the new TTB songs. Bramhall and Trucks, a masterful slide guitar player, were also teamed in Clapton's touring band in the mid-2000s.
Both Bramhall, 46, and Trucks, 36, were respectively in their teens when older mentors recognized and nurtured their talents. Jimmie and Stevie Ray Vaughan helped usher Bramhall into the spotlight, while Trucks' 15-year stint with the Allman Brothers Band at first served as platform for him and then evolved into a rejuvenating influence on the classic rock ensemble.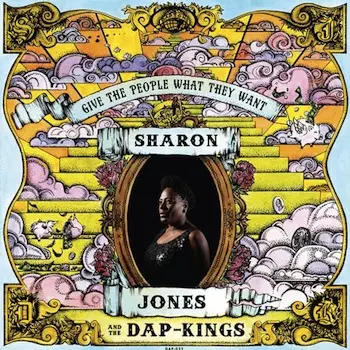 Tedeschi, whose guitar and vocal work in the TTB has reached dizzying heights, and Trucks affirmed their affinity for classic soul at the Boston House of Blues last winter when they had the great soul singer Lee Fields as the surprise opener at one show of a two-night stand. They backed him on a simmering cover of "Trying to Live My Life Without You."
Trucks said he and Tedeschi are friends and frequent collaborators with members of the Dap-Kings, young musicians doing their best to keep classic soul and funk alive, and knew Jones would be a good fit for this package tour.
Jones, 59, was a struggling singer (and full-time corrections officer) when her back-up vocals on a Lee Fields recording in 1996 brought her to the attention of the soul-revival Daptone record label.
Jones latest album, Give the People What They Want, was nominated for a Grammy last year, and her energy is off the charts as she returns to performing after undergoing cancer treatment two years ago.
"Sharon is a straight up soul revue, and it's a soul revue that's as good as it gets," Trucks enthused. "Our band is like a soul revue on a couple of hits of acid."
That description doesn't exactly sound like the kind of formula marketing Taylor Swift uses to fill stadiums. And that's sort of the point. The TTB and its fellow travelers are exploring themselves and the music as much as they are out to entertain.
"We're just interested in bringing together a group of musicians and seeing what we can do," Trucks insisted. "We're not playing to any demographics."
---
Scott McLennan covered music for the Worcester Telegram & Gazette from 1993 to 2008. He then contributed music reviews and features to The Boston Globe, The Providence Journal, The Portland Press Herald and WGBH, as well as to the Arts Fuse. He also operated the NE Metal blog to provide in-depth coverage of the region's heavy metal scene.