Looked at on his own terms Thomas Hart Benton is an American Master and deserves to be reconsidered.
Note: This is a response to Franklin Einspruch's Arts Fuse review of American Epics: Thomas Hart Benton and Hollywood, at the Peabody Essex Museum, Salem, MA, through September 7.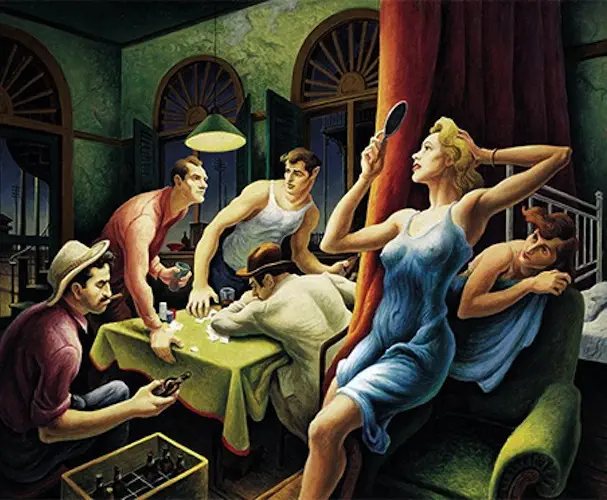 By Charles Giuliano
I have always found Benton to be one of the strongest and most interesting of the regionalist artists.
Viewing his mural projects in particularly evokes the film noir sensibilities of period pieces on Turner Classic Movies. The comparison to film is particularly apt as it was a subject of his work although rendered in brilliant and compelling Technicolor. Poker Night, the painting of A Streetcar Named Desire in the collection of the Whitney Museum of American Art, always stops me dead in my tracks. I love both the film version of the Tennessee Williams play and Benton's compelling rendering of it.
As an interesting aside it was sold to the museum by Benton's daughter, Jessie. I knew her in the 1960s as one of the many women of cult leader Mel Lyman and his family on Fort Hill in Roxbury. The Lyman Family also owns and maintains Benton's properties including Martha's Vineyard where his star student Jackson Pollock occasionally summered.
There is a WPA era Pollock that survives showing Benton's influence on Pollock. The seminal abstract expressionist stated that he chose Benton as a strong force to resist.
Considering how far off Pollock diverged from his master their mutual respect and affection is a testament to Benton's stature both then and now. It is a point that Franklin Einspruch either ignores or disrespects.
The author, who I met at one of Mary Sherman's events, is skillful and ambitious.
His approach is largely generational.
"There is no sin in art except to be boring. But didacticism is a big enough indulgence to count as a sin, or threaten to. American Epics: Thomas Hart Benton and Hollywood at the Peabody Essex Museum calls upon us to ask how much didacticism renders art intolerable, just as too much salt renders water undrinkable."
Boring! Really?
Indeed, salt is an apt word for an unwarranted and misguided attack opening a wound, as it were, in the critical reputation of a major American artist of an era that the critic displays no knowledge or understanding of.
There is a balance between critical and technical analysis.
"Benton had a plenitude of only one talent, the ability to model geometric form. His color was charmingly moody at best. His paint application was mostly unnoticeable and the exceptions tend to count against him. But his sense of chiaroscuro and volume were so strong that the other shortcomings don't matter much. The rich monochromes of early film landed on his imagination in a particularly resonant way, and his visual predilections explain why."
Excuse me! What Einspruch appears to be saying is that Benton's can't paint. His brief technical analysis implies that he has a greater understanding of painting than the rest of us.
Benton's approach was more inventive than straight up realism. He was not an avant-garde progressive, but Einspruch might have delved more deeply into the sources for Benton's style and complex approach to caricature and graphic design as well as compressions of space to create multi-valent narratives. It's likely that Benton's process began with the understanding of mural cycles like those of Giotto in Padua.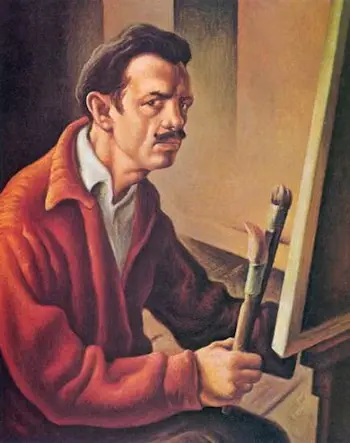 Benton was a part of an era of WPA supported mural projects all over America. There were also at that time great murals such as the Orozco cycle in the Baker Library of Dartmouth College as well as Diego Rivera's project which was destroyed in Rockefeller Center. Arguably Benton was the best of the many American mural painters.
Benton was serving the cause during the Great War. There is sameness to all propaganda art. I have always found Nazi art interesting.
There is the familiar conundrum of good art for a bad cause (Leni Reifenstahl) as well as bad art for a good cause (arguably, in Einspruch's review, Benton). I haven't seen the work that the critic discusses but it is surely generic for better or worse.
One must recall that the threat to democracy was palpable. American artists in all media felt that they were serving the cause of freedom. The protest art of any era tends to have a short shelf life. Exceptions would include works by Goya, Picasso, Otto Dix, George Grosz and John Heartfield. Perhaps we should add Ben Shahn, who, by the way, influenced the early graphic design of Andy Warhol.
Matthew Teitelbaum, the next director of the MFA, organized an amazing exhibition of the propaganda art of all political persuasions in the era of the two world wars. One came away with stunning insights about its commonality. While Hitler railed against "Degenerate Art" the Teitelbaum show revealed that Nazi artists appropriated such modernist ideas as collage, cubist space and the dynamism of futurism.
With the rise of the New York School there was an Oedipal need to kill the fathers of Regionalism and Social Realism.
Those of us who matured during the era of Clement Greenberg and Harold Rosenberg absorbed their disdain for the forms of American art that immediately preceded what Irving Sandler discussed as The Triumph of American Painting. There is also the Serge Guilbaut thesis of "How New York Stole the Idea of Modern Art."
In attacking Benton, one senses the post modern education of Einspruch.
Kids. What do they know?
Given enough time and distance, as well as the deluge of pluralism and post modernism, there is the luxury of going back and looking at the reactionary, illustrative, jingoistic and socialist art of the Great Depression.
There were some very great works and artists as is the case with all generations.
Those involved in the field of American art are aware of the many fine artists who predate the rise of the New York School. Benton is the tip of the iceberg that includes Grant Wood, John Stewart Curry, Philip Evergood, Jacob Lawrence, Jack Levine, Hyman Bloom, Romare Bearden, Robert Gwathmey, Mervin Jules, Mitchell Sipporin, William Gropper, Karl Knaths, Edwin Dickinson, Ben Shahn, Edward Hopper, Isabel Bishop, the brothers Soyer, Alice Neel and so many others.
Looked at on his own terms, Benton is an American Master and deserves to be reconsidered.
---
Charles Giuliano, Founder/Publisher of www.berkshirefinearts.com, an art historian and former writer/critic/editor for Art New England, The Boston Herald Traveler, Boston After Dark, The Avatar, and The Patriot Ledger. He taught at New England School of Art at Suffolk University, Boston University, Salem State University, UMass Lowell and Clark University