Aloha comes across as Cameron Crowe's baffling artistic suicide note to his adoring public.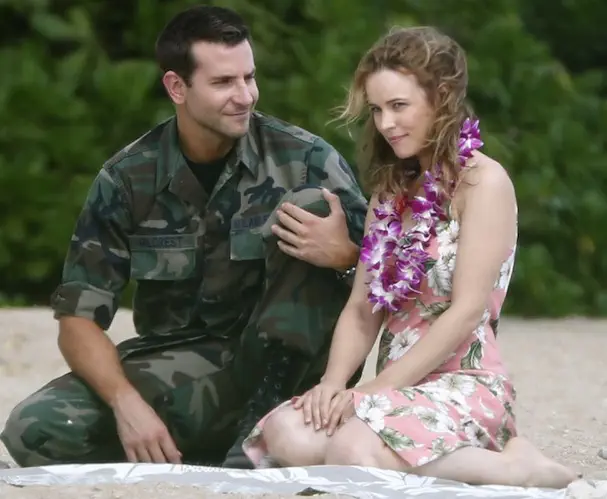 By Paul Dervis
Cameron Crowe.
He brought you Say Anything and Jerry Maguire. okay, we're not talking art films here, but for commercial ventures they were respectable successes on multiple levels.
He also helmed Vanilla Sky, a Hollywood version of an art film. Not altogether successful, but interesting nonetheless.
And he wrote and directed my personal favorite Crowe film, Elizabethtown. However, I appear to be the only critic who actually liked that movie.
And now he brings you Aloha, a film one could interpret as Crowe's baffling artistic suicide note to his adoring public. Is it that bad? Well….it had its moments. But you had to sift through an almost unintelligible storyline to find them. If not for a superior cast and I am sure a ridiculously high budget, Aloha surely would not have seen the light of day.
What was it about?
I'm asking myself that same question.
Bradley Cooper plays Brian Gilcrest, or Ryan Seacrest, or something like that. He is some sort of military hotshot who has gone off the rails. I am not sure Cooper himself knew much about the character he was playing; but he still managed to bring an affable, quirkiness to Gilcrest. Cooper, even in confusing wasteland, has talent and the chemistry to spare. And I, like countless teenage girls, find him loveable on film.
So he's not the problem.
Emma Stone, as Allison Ng, a military attaché assigned to babysit Gilcrest, is a bit harder to stomach. She plays a dedicated career officer who is half native Hawaiian. Upon meeting Gilcrest she is smitten by our hero. In fact, she hasn't been with him for two minutes and she is already jealous of a former lover of his. This is difficult to swallow, almost as much as her being half native. And Stone's performance is one-dimensional ….not that she had anything at all to work with.
The cast is rounded off with two strong actors given weak roles. Rachel McAdams plays Tracy, Gilcrest's old flame whom he abandoned (pregnant) a dozen years before. Maybe I should have offered a 'spoiler alert' before I mentioned that, but if anyone in the audience didn't see that coming, then they clearly were not paying attention…but then again, who could blame them? The fact that Tracy's oldest child was, in fact, Gilcrest's may be the only obvious fact in this convoluted tale.
And for those Bill Murray fans hoping to see yet another magical turn from this aging star, well, don't blink. His billionaire character Carson Welch is the personification of plot sweetener. When given some screen time, Murray does not disappoint. But if he needed more than a weekend in Hawaii, then I would love to see what's on the cutting room floor.
The best reason to see this film is that it is an attractive travelogue. The scenery, as they say, can't be beat. And the soundtrack was also superior.
But where the heck is the story here? And what is this film. A comedy? A love story? A tale of intrigue? Tell me, Cameron. Oh, right, you don't know either.
'nough said.
---
Paul Dervis has been teaching drama in Canada at Algonquin College as well as the theatre conservatory Ottawa School of Speech & Drama for the past 15 years. Previously he ran theatre companies in Boston, New York, and Montreal. He has directed over 150 stage productions, receiving two dozen awards for his work. Paul has also directed six films, the most recent being 2011's The Righteous Tithe.