Despite the neglect of the local media, the Boston blues scene is strong.
By Jason M. Rubin
It's no secret that Boston is crawling with musicians. With some of the nation's leading music schools in our midst, homegrown players are joined by great talents from around the country and across the globe who come here to hone their skills and get their start (many then go to New York City to make their fortune, but that's another story). Historically, Boston's music scene was dominated by classical and jazz music, as befits a city with such world-class venues as Symphony Hall and Jordan Hall – while a whole book could be written about the legendary jazz clubs in the Greater Boston area of days gone by, such as Lennie's on the Turnpike, the Jazz Workshop, Paul's Mall, Storyville, and the 1369 Jazz Club.
In the 1960s and 1970s, folk and rock made inroads in Boston, with Club 47 hosting such legends-in-the-making as Joan Baez and Bob Dylan, and local bands like the Remains, the J. Geils Band, Jonathan Richman, Aerosmith, Boston, and the Cars achieving regional and national fame. Yet all the while, blues music has been treated as a sort of bastard stepchild of the local music scene. If it labors in the dark, away from the media's gaze, it is not for lack of quality players or places to play or radio stations devoted to the genre.
To help promote the local blues scene, the Boston Blues Society was founded in 1988. Based in Norwood, MA, the nonprofit acts as a sort of clearinghouse of information about the music, and where and when it's being played both on stages and on radio stations in the area. Its website keeps aficionados updated on news and events, including blues jams.
The ins and outs and where and when of Boston's blues jams
Jazz has its cutting contests, where players duel each other in the battle to determine who has the better chops. Open mics are typically for acoustic musicians to present prepared material. A blues jam is something different. A host or house band will play an opening set to warm up the crowd and set the mood. Players wander in with their instruments and sign their name on a sheet. After the opening set, players are called up more or less at random, creating largely unplanned collaborations that work up a short set on the spot. Typically a guitarist or singer will call a tune, the drummer will count it off, and the makeshift group gets on with it, the frontline players taking turns soloing. Then those musicians step down and a new set of musicians are called up to execute a set.
According to the Boston Blues Society website, there are quite a few weekly blues jams in the Boston area (the website notes its listing might be out of date; I confirmed the following by cross-referencing the respective venues' own websites); among them are:
• Johnny D's in Somerville, Sundays from 4:30-8:30pm, hosted by the Matthew Smart Band or Dr. Grant & the Medical Marijuana Band
• Cantab Lounge in Cambridge, Sundays from 9pm to midnight, hosted by Hot Sauce
• Wally's Café in Boston, Mondays from 9:30pm to 2am
• Common Ground in Allston, Wednesdays from 8:30-11:30pm, hosted by the Matt Stubbs Trio
• House of Blues in Boston, last Friday of the month at 8pm, hosted by the Lights Out Blues Band
In order to delve deeper into the blues jam phenomenon, I will focus on the Common Ground and the Matt Stubbs Trio as examples of the scene.
Common Ground provides a level ground for players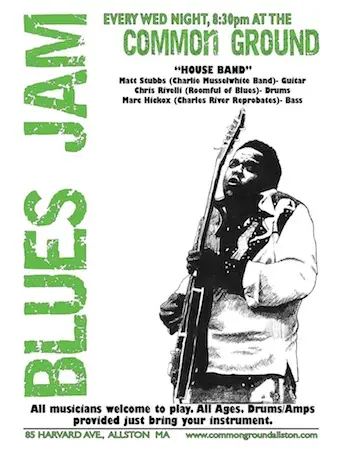 Born in Hampstead, NH, Matt Stubbs went to Berklee College of Music for one year, took a couple of odd jobs, and then decided to become a professional musician. His father had been a guitarist, and Stubbs began frequenting blues jams as young as 15 years old. He formed a band and then about nine or 10 years ago moved to Los Angeles. While there, he began playing with blues harp legend Charlie Musselwhite. Stubbs continues to record and tour with Musselwhite, playing 60 to 70 gigs a year in addition to maintaining his own trio.
After three years in L.A., Stubbs moved back to Boston and began hosting jams at various venues. He has been at the Common Ground for the last eight months. "It's nice to have a residency," he says. "I tour regularly with Charlie and my band covers for me when I'm away. Charlie plays mainly Chicago blues but I like a lot of different styles and with my trio I can blend my other interests, like surf music. Having the chance to play with Charlie and also do my own thing is great for me; it keeps me from getting stale."
When Stubbs' trio (which includes Mark Hickox on bass and drummer Chris Rivelli, who also is a member of Roomful of Blues) works the Common Ground jam, he understands his role is different than when he's playing a headlining gig. "Our job is to open for the jammers," he says. "It's not about me. That's why we just play a short set, maybe 30 or 40 minutes, and then get off. And we don't play again unless there's a shortage of players, which is rare."
At Common Ground, there are many longtime regulars and Stubbs knows them well, which helps him create workable combinations of players from the list of names and instruments. Stubbs notes that he might vary the lineup in order to combine a less-experienced player with nurturing mature musicians. I can vouch for the fact that newcomers of very modest talent are welcomed with open arms and ears. Also, at the Common Ground, though the jam technically goes until 11:30 p.m., it doesn't actually cease for the night until every person on the list has had a chance to perform.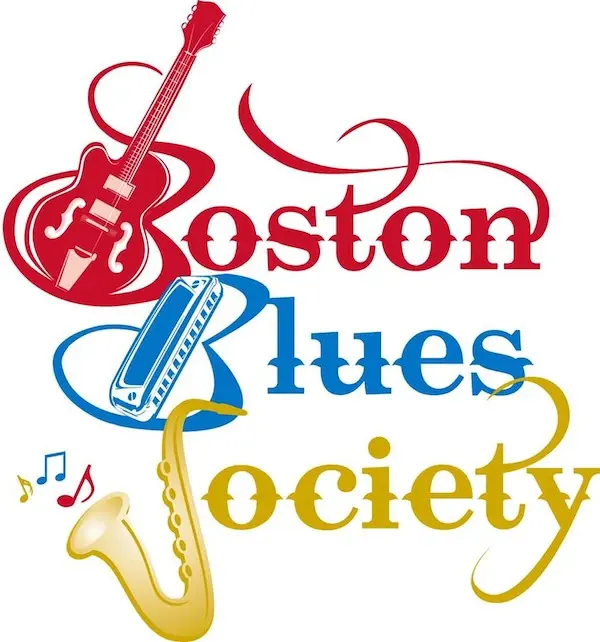 Working in the shadows, wailing into the night
Because blues jams around town occur on different nights of the week, many of the regulars at Common Ground have experience at other venues. They're all part of a scene that is up against more lucrative forms of entertainment so the venues aren't competitive with each other. You won't find a Common Ground regular arguing with a Johnny D's veteran about which jam is better; and while Stubbs has built a following of his own, he acknowledges that there are lots of extremely talented players around town. In fact, Stubbs enjoys featuring guests during his opening sets.
In that vein, the Common Ground has asked Stubbs to do a Sunday night residency (not a jam) at its new location in Arlington starting June 7. Each week, Stubbs' trio will perform with specially selected guests. The first Roots and Blues Sunday Session, as he calls it, will feature Dennis Brennan on vocals and harp, and Johnny Trama on guitar. Like the Wednesday night jams, the shows will start at 8:30 p.m. with no cover and all ages welcome.
All of which would seem to suggest that the blues scene in Boston is stronger than it appears. If it's less well documented than other styles in the area, if its players and venues are less well known, if it remains the kind of thing you either know about or you don't, none of the principals are complaining much. But for the curious, any given week when the sun goes down, one is likely to see someone with a guitar case slung over his shoulder step into a bar, put his name on a piece of paper, order a beer, and wait for his chance to add his music to the medley of the night. More of us should be around to listen.
---
Jason M. Rubin has been a professional writer for 30 years, the last 15 of which has been as senior writer at Libretto, a Boston-based strategic communications agency. An award-winning copywriter, he holds a BA in Journalism from the University of Massachusetts Amherst, maintains a blog called Dove Nested Towers, and for four years served as communications director and board member of AIGA Boston, the local chapter of the national association for graphic arts. His first novel, The Grave & The Gay, based on a 17th-century English folk ballad, was published in September 2012. He regularly contributes feature articles and CD reviews to Progression magazine and for several years wrote for The Jewish Advocate.