MOMIX proffers something for everyone: acrobatics, dance, theatre, and delightful visual deception.
MOMIX's Alchemia. Presented by World Music/Crash Arts at the Emerson/Cutler Majestic Theater, Boston, MA, May 8 through 10.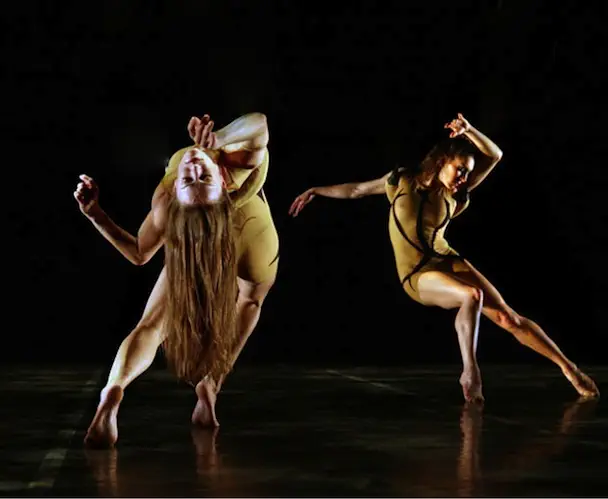 By Merli V. Guerra
Boston is in for a special treat this week when MOMIX debuts Alchemia, its latest exhilarating marriage of athleticism and eye-popping hocus-pocus. This Connecticut-based performance group describes itself as "a company of dancer-illusionists," and through the deft use of props, lighting, shadows, and the human body, the ensemble generates a whirlwind of astounding images. Those who have witnessed MOMIX in action will tell you that this is not your average dance company.
MOMIX has presented its spectacle-driven productions across five continents for more than 35 years. Its audiences have watched dancers seemingly hover in the air; fluid dances gracefully transitioning into impressive gymnastic feats; clever lighting creating an ethereal aura around the company's performers. When MOMIX takes over a theater, the troupe transforms the performance space from one scene to the next. At times, the stage is stark and vast; the dancers radiate into the empty space. On other occasions the stage turns colorful, filled with circus-like equipment and energy. MOMIX productions also boast imaginative uses of costuming and set design — the result is an interchangeable array of costumes-turned-props, lighting-turned-costume, and dancer-turned-magician.
Past productions include works such as Lunar Sea, in which the dancers glow in blues and greens while manipulating motion in a seemingly impossible manner; Botanica, which celebrates the four seasons while manipulating video projection, mirror play, and colorful props; and reMIX, a combination of impressive partnering and comedic twists.
Given the troupe's impressive illusionistic and acrobatic traits, it will come as no surprise that the company was started in 1971 by Moses Pendleton—founding member of the world-renowned Pilobolus Dance Theater. A similar boisterous energy can be found in MOMIX, which came along nine years later. Both companies have grown over the decades, receiving international acclaim.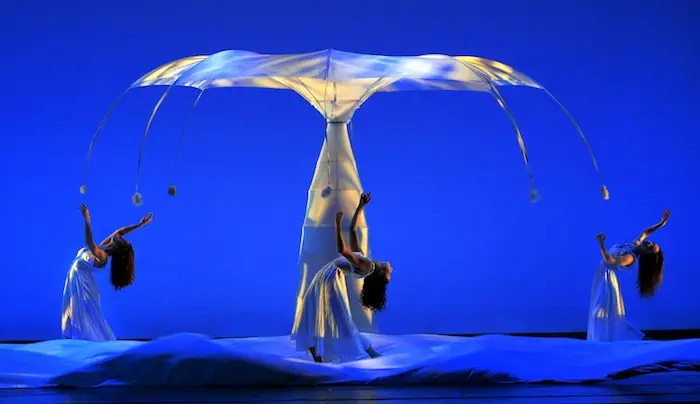 Pendleton has earned a coveted place in the choreographer hall of fame. A director, choreographer, and photographer, his dance work has traveled the globe and, to name a few of his honors, he has landed a Guggenheim Fellowship (1977), a Connecticut Commission on the Arts Governor's Award (1998), the Positano Choreographic Award (1999), the 2002 American Choreography Award for choreography in film and television, and most recently, an honorary doctorate of fine arts (2010).
Visually, Alchemia toys with notions of symmetry and opposition. The company introduces large props into the scene, ranging from pillars to curves, and gives the performers free range to roll, spin, and balance. Dangling dancers hover in a series of spotlights; glowing orbs seemingly waft through the air in reaction to a dancer's gestures; a woman in white twirls off the ground; the glowing outlines of figures human and abstract appear to defy gravity.
The production is based—as the title suggests—on alchemy. Science, symbolism, and mythology provides an enticing playground for Pendleton's creative mind. "For me," he explains, "[alchemy] is an aspirational art, more about the process than the product—the process itself is the philosopher's stone, involving creative stimulation of the elements of nature, or in my case, of dance theater: fire and water, earth and air, male and female, the heavy and the light, the light and the dark, in opposition and in union (the climax that alchemists call conjunctio)."
Alchemia embraces all of these traits and then some as it explores these four elements. The show also delves into the realm of nature, specifically into the complexities of metamorphosis.
---
Merli V. Guerra is a professional dancer with a background in ballet, modern, and classical Indian dance in the Odissi style, and an award-winning interdisciplinary artist with talents in choreography, filmmaking, writing, and graphic design. She is co-founder and artistic director of Luminarium Dance Company, production manager of Art New England magazine in Boston, and selects The Arts Fuse's weekly coming attractions for dance.