The three choreographers used the streams of sound as an opportunity to provide floods of movement challenges to the terrific dancers of the company.
Edge of Vision by Boston Ballet. At the Boston Opera House, Boston MA, through May 10.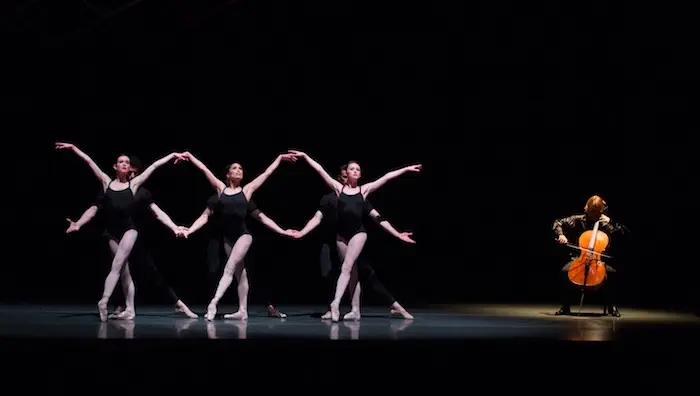 By Marcia B. Siegel
All three musical accompaniments for Boston Ballet's penultimate program of the season featured underlying streams of sound. The three choreographers treated this persistent, elusive resource in different ways, but all of them interpreted the music as an opportunity to provide floods of movement challenges to the terrific dancers of the company.
At the beginning of Jorma Elo's new dance, Bach Cello Suites, cellist Sergey Antonov was seated in a downstage corner of a darkened stage, a space enclosed with black drapes and a huge overhead grid (designed by company artistic director Mikko Nissinen). Not until Antonov had played the first movement of the Bach Suite No. 1 did any dancers appear. Finally, just as the music was ending, Kathleen Breen Combes and Jeffrey Cirio strolled on and the lights came up.
As the cello played the First and Second Suites, the dance rolled through changes and effects, sometimes filling silences between musical sections. The overhead grid tilted and changed colors (lighting was by John Cuff). Dancers came and went, with different partners. Soloists flashed in and out. Groups of dancers ripped through whirls and leaps, falling into and out of unison as if by accident. New groups entered as others were finishing.
Halfway through the piece, Cirio has a fast, spectacular solo. Before it's over, Elo himself emerges from the wings. He confronts Cirio, suggests moves that Cirio copies, then leaves again. From time to time the choreographer reappears. He does a solo of his own, combining ballet feats with expressionistic gestures. He singles out Breen Combes from a tight group made of the dance's five couples. He pushes her down to the floor, dances a few steps as the others withdraw, then raises her and leads her away protectively into the darkness as the lights go out. I thought he was taking on the role of teacher, mentor, and leader of the dancers, but he told an interviewer for the Boston Globe that he thinks of his character as Death. I don't know how to interpret this disclosure, or if the idea of the whole ballet will change when Erica Cornejo takes over the role in later performances. But there's really no reason Death has to be a male.
Elo mentions the age difference between himself and the cast. Maybe he's twice their age, but he looked fit on stage opening night, and he gave himself plenty of chances to show off his dancing chops. The role-playing would explain his curious alternation between classical moves and expressionistic gestures. But a 'Death and the Dancers' scenario wouldn't necessarily explain why he gave so little credence to the dance forms of Bach's music.
While I couldn't put all these pieces together, let alone match them with Bach, I thought this the most watchable of all the Elo dances I've seen. With only the ten dancers plus himself, he gave us plenty of big ballet dancing, interspersed with kinky gestures and moody departures from the vocabulary. Like all the other dances of his I've seen, Bach Cello Suites seemed to have more movement than it could contain, more ideas than could be structured, and more people arriving and leaving before I knew who they were.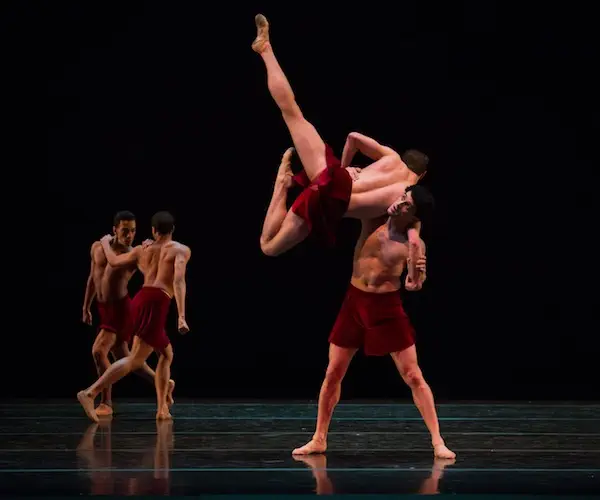 Since its premiere in 2008 Helen Pickett has reworked Eventide, adding a first movement for the Boston Ballet dancers. Set to Arabic sounding streams of saxophones and drumming by Philip Glass, Ravi Shankar and Jan Gabarek, the ballet also flows by in a torrent. Pickett, under the influence of William Forsythe, packs a classical movement language with prominent derangements and organizes it all into formal groupings. Eighteen dancers came and went in an inexhaustible flow. The leading women (Breen Combes, Erica Cornejo, Seo Hye Han and Whitney Jensen) seemed to have different temperaments, while the men (Paulo Arais, John Lam, Irlan Silva and Sabi Varga) executed feats of speed and elevation.
Pickett said in a promotional video that she sees the piece as representing three times of day, sunset, late dusk, and nighttime. She must be thinking of some urban environment, Tokyo maybe, or New York, but nothing romantic or pastoral as the dance's title implies. The ballet looked like a bordello at first, with red drapes and an ornate hanging lamp, and subsided into blackness and garish color-spattered projections. (Scenics by Benjamin Phillips, lighting by Cuff)
The closer, Celts, by Lila York, was by far the most popular piece on the program. Made for Boston Ballet in 1996, this big piece (for 30 dancers) pierces the Irish heart of Boston with its extruded step-dance vocabulary. Jeffrey Cirio was a kind of ringmaster, prancing and tumbling and flying, a sort of high-octane Michael Flatley if that can be imagined. Lia Cirio fearlessly threw herself at Lasha Khozashvilli after he flung her out at arms' length a few times in an athletic pas de deux. He later led a cadre of male dancers in a series of duet-combats. A second couple, Dusty Button and Eris Nezha, began on the floor. He turned and balanced on his own while she watched.
I thought I saw some influences from Paul Taylor, with whom York danced for twelve years, in Nezha's sinuous movements, and in the zany acrobatics of the men's dance. The music for Celts came from the Chieftains and Bill Ruyle; a lot of it sounded like Riverdance. York made her ballet a year after the advent of Bill Whelan's multicultural blockbuster, and it was like a refined version of that spectacular success. You can't resist the skirling and offbeats of this music, and Thursday night's audience couldn't wait to leap to its feet.
---
Internationally known writer, lecturer, and teacher Marcia B. Siegel covered dance for 16 years at the Boston Phoenix. She is a Contributing Editor for the Hudson Review. The fourth collection of Siegel's reviews and essays, Mirrors and Scrims–The Life and Afterlife of Ballet, won the 2010 Selma Jeanne Cohen prize from the American Society for Aesthetics. Her other books include studies of Twyla Tharp, Doris Humphrey, and American choreography. From 1983-1996 Siegel was a member of the resident faculty of the Department of Performance Studies, Tisch School of the Arts, New York University