Without being at all didactic, Michelle Dorrance reveres tap history by adapting traditional ideas, then resolving them unexpectedly.
The Blues Project. Dorrance Dance with Toshi Reagon and BIGLovely. Presented by World Music/CRASHarts, at the Institute of Contemporary Art, Boston, MA, March 13 through 15.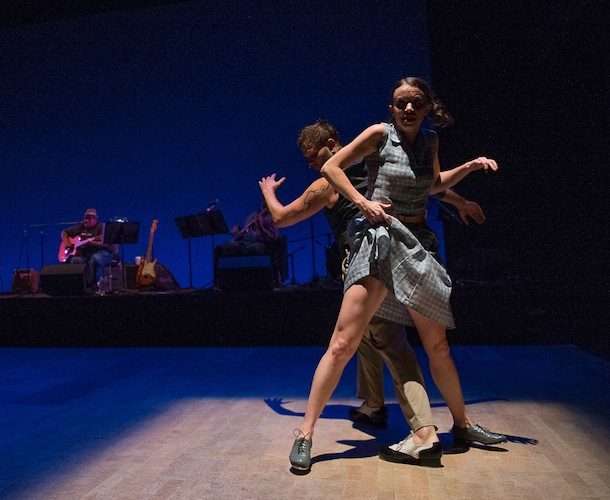 By Marcia B. Siegel
Michelle Dorrance gets better and better. Perhaps the first thing you learn about her is her generosity toward her teachers and colleagues. She lists Toshi Reagon and dancers Dormeshia Sumbry-Edwards and Derick K. Grant as collaborators, and credits contributions from the six other dancers, with African choreography by company member Karida Griffith and addiitonal input from break dancer Ephrat Asherie. Her long list of mentors begins with her mother, former ballet dancer M'Liss Gary Dorrance, and includes Boston-area tappers Dianne Walker, Josh Hilberman, and the late Jimmy Slyde. Sharing the spotlight with so many cohorts secures Dorrance's place in the legacy of tap, as both a contemporary art and a history of styles and steps.
When The Blues Project premiered two summers ago at Jacob's Pillow, it resembled what we saw at the ICA last week — with the same fast-paced program of numbers and most of the same dancers and musicians. But Friday night's edition was slightly different. It's in the nature of tap shows that the performers do their own inspired thing, but Dorrance has the unusual gift of being able to encompass diverse talents without submerging them in uniformity.
There are featured artists in the show. Dorrance, Sumbry-Edwards, and Grant perform solos, as do violinist Juliette Jones and percussionist Allison Miller, while Toshi Reagon's soulful guitar and vocals carry a large part of the musical freight. But they all take their places in bigger groups, so the show feels democratic, not like a star vehicle. Dorrance can choreograph ensembles that are visually interesting, but even in a unison number, all the people in it move like individuals. Whole groups of dancers can segue from choreographed togetherness to solos or singular duets.
Most tap soloists specialize in improvisational dialogues with musicians, but in Dorrance's work the dancers have such a close rapport with Toshi Reagon's band that they often dance between the beats; together the music and dance comprise one phrase.
Dorrance not only knows how to move a show along for an hour's duration, she reinforces this no-stars notion by varying the mood, scale, and population of the numbers. The Blues Project isn't a string of disconnected acts like an ordinary tap revue. Although the dance and music take many different styles, the show doesn't stop and go. One untitled number flows into another, pausing only for a breather while the audience applauds. Often one or two people remain on stage until the next group arrives. The two or three dancers who begin a song will be joined unobtrusively by three more.
I think Dorrance conceives of it all as a continuum, a journey through many types and tempi. All of the performers convey their eagerness to get on with it. The musicians look ready even when they're not playing. The dancers shoot out of the wings to start new numbers, and leave with reluctance. They dance their bows.
Dorrance is skinny like a grasshopper, a plain looking person in a cotton dress, with her dark hair twisted in a knot at the side of her neck. In one dance that she begins surrounded by three men, she taps with phenomenal speed and complexity, clutching her skirt as if it would fly off her. This gauche gesture becomes part of the choreography for an ensemble dance.
In a slow bluesy number Reagon laments "The man broke his word," and Dorrance comes down so hard on a cadence that the stomp jolts her body backward. A later downbeat sends her upward but doesn't release her from the ground. As the song winds down ("The truth cannot be heard," sings Reagon), she scrapes the floor with both feet around herself, an inversion of the tap dancer's levitating wing step.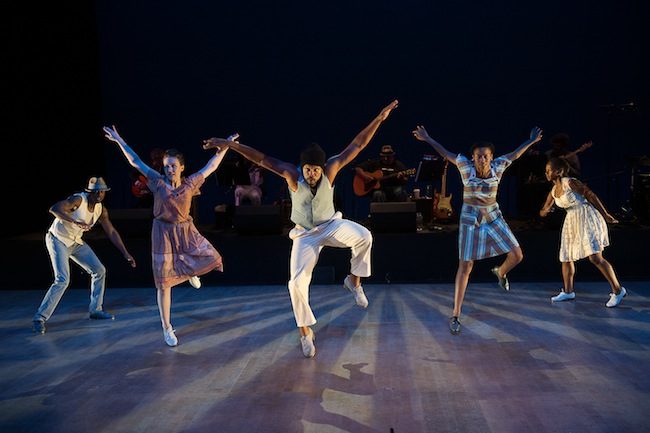 Derick K. Grant built his solo on sliding steps, forward, backward, with changing directions of the body, like a moonwalker on patrol. After a long sequence of brilliant tapping in changing rhythms, Dormeshia Sumbry-Edwards circled the stage very fast with tiny steps, looking as if she wasn't walking at all, but gliding above the floor.
Without being at all didactic, Dorrance reveres tap history by adapting traditional ideas, then resolving them unexpectedly. In one number a man and a woman danced in a spotlight; then another couple, then a third. But instead of this being a showcase for partners dancing, the couples were joined by the rest of the dancers. In another dance the group tapped in a tribal ring around a pair of soloists in the center. A bluegrass number began with Griffith and Byron Tittle shuffling in bare feet (the others had tap shoes on), and continued as Gabe Winns arrived with a washboard to scrape out an accompaniment next to fiddler Jones.
The show began with three groups of three dancers. To a steady drum beat, they held a three-way conversation, where every rap and rumble was repeated and added onto, so that the steps accumulated into a larger rhythm. Then the groups and the band mingled in extended variations. Averting the traditional call-and-response opening, which always implies a certain one-upping competition, the accumulation gambit engages each unit of the ensemble in building a corporate structure.
The Blues Project has such momentum that I kept thinking that every moment presents something never before seen. The truth is, Dorrance wants us to appreciate that each of the nine dancers and five musicians is unique. The company dancers all claimed their chance in the limelight when they gathered in a tight cluster with one of their number doing his or her solo out front. As they made way for each other with good natured rivalry, I understood once again the inclusivenes and the democratic possibilities of tap.
---
Internationally known writer, lecturer, and teacher Marcia B. Siegel covered dance for 16 years at the Boston Phoenix. She is a Contributing Editor for the Hudson Review. The fourth collection of Siegel's reviews and essays, Mirrors and Scrims–The Life and Afterlife of Ballet, won the 2010 Selma Jeanne Cohen prize from the American Society for Aesthetics. Her other books include studies of Twyla Tharp, Doris Humphrey, and American choreography. From 1983-1996 Siegel was a member of the resident faculty of the Department of Performance Studies, Tisch School of the Arts, New York University