The BSO's captivating performances of King Roger received unanimous rave reviews from the local press, to which I add mine.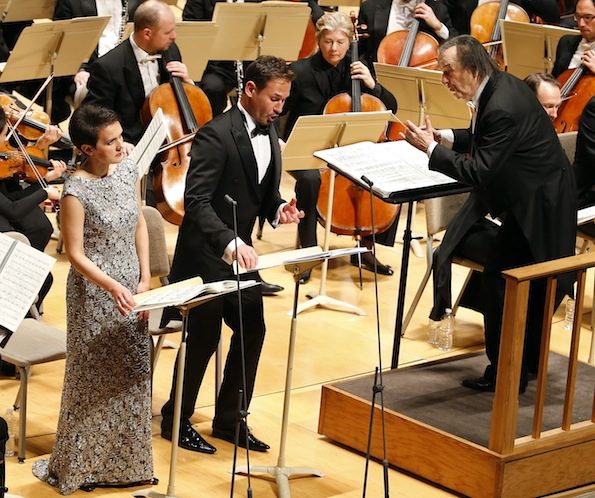 By Susan Miron
Charles Dutoit often brings unusually good programs with him when he guest conducts the BSO. But he will surely be long remembered – and most appreciated by those who heard them live – for the two brilliant performances last weekend of Polish composer Karol Szymanowski's opus 46 opera, King Roger. This rarely-heard, ninety-minute, three-act work, which premiered in Warsaw in 1926, has long been championed by Dutoit and expectations among many Boston musicians ran high.
The huge musical forces called for – the Boston Symphony, the as-always magnificent Tanglewood Festival Chorus (conducted by John Oliver), Voices Boston children's choir (Andy Icochea Icochea, conductor) and four soloists plus Dutoit out front (several soloists were elsewhere) — meant considerably expanded stage space. Several rows of seats in the hall had to be removed. The sound the combined forces created was positively heavenly, exactly what this ambitious score demands. Best known for his luminous Violin Concerto (championed by the late local luminary Roman Totenberg), Szymanowski (1882-1937) also wrote a Third Symphony which is performed on rare occasions. After experiencing this opera on Saturday night, I wondered about this work's neglect over nearly ninety years. Was it too expensive to produce, especially given the costs of its ballet scenes and scenery? Was it because King Roger was sung in Polish, thus requiring soloists with perfect Polish pronunciation? Who knows? The story is engrossing, and the singers, choruses, and instrumentalists made a strong case for this musically alluring and dramatically captivating piece, even without its dance sequences, which must add considerable color and drama.
Szymankowski's musical influences were, for starters, Wagner, Debussy, Rimsky-Korsakov, Scriabin (who was also fascinated by notions of spiritual transcendence), and Richard Strauss. (The ecstatic parts of King Roger are reminiscent of Ravel's Daphnis and Chloe, although Ravel is never credited as an influence).
The libretto, by the composer and his cousin, the distinguished Polish writer Jaroslow Iwaskiewicz, is inspired by the 12th-century Christian Norman scholar-king Roger of Sicily. The narrative surrounds him with fictional incidents inspired by Euripides's tragedy The Bacchae (interpreted through the prism of Nietzsche's The Birth of Tragedy). Briefly, Roger's enlightened realm is seriously threatened by the popularity of a charismatic shepherd (the excellent Lithuanian tenor Edgaras Montvidas), who preaches a pagan gospel of sensual delight and ecstatic release. The Queen, Roxana, and eventually King Roger himself end up following the hedonistic shepherd, who turns out to be Dionysus. Roxana tosses off her long cloak and appears as a Greek maenad. Roger, though transformed by the experience, rejects giving himself over completely to a life of the senses and sings an Apollonian hymn to the rising sun. Subtitles were helpful; my guess is that few in the audience knew Polish.
The first act is set in the interior of a Byzantine Cathedral; the second, the "Oriental" act, is set in the courtyard of the royal palace; the third, the "Greco-Roman act," takes place in the ruins of an ancient Greek theater. Without theatrical lighting, scenery, dancing, and acting, King Roger's enchantments must come solely through the power of its music, which, in this case, was played and sung sublimely. For those unfamiliar with Szymanowski's music, I can think of no better introduction than the BSO's performances, especially with its distinguished soloists. King Roger's particular intensity is due in large part to the anguish dramatized through the morally conflicted title character, who is based loosely, we gather, on Szymankowski, a homosexual who felt that he had to repress his identity in a hostile culture.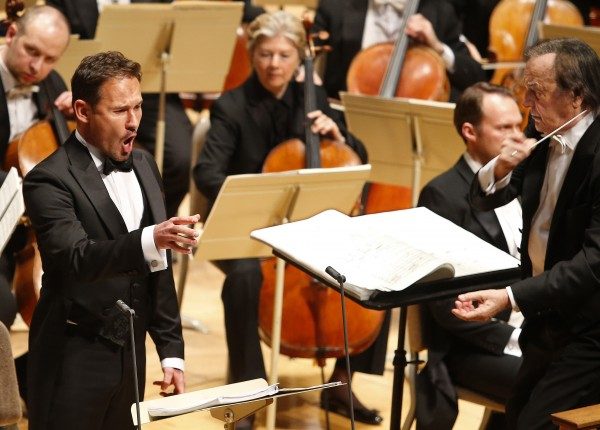 The distinguished Polish baritone, Metropolitan Opera star Mariusz Kwiecien, in effect owns the role of King Roger, having performed this opera all over the world. He was both vocally and dramatically forceful. His was but one of several gorgeous voices in an unusually solid cast: Yvonne Naef (Deaconess), Edgaras Montvidas (the superb Shepherd), Rafał Maijzner (Edrisi, an Arabian wise man), Raymond Aceto (the Archbishop), and Alex Richardson (tenor solo).
In interviews, Kwiecien has explained that King Roger, while it doesn't appear to be a "love story," explores a trio of bonds that are, if not downright erotic, fuse sexual and mystical desires. Queen Roxana, sung eerily in a stratospherically high register by soprano Olga Pasichnyk, falls under the Shepherd's influence and abandons King Roger. King Roger loves her, yet he is powerless to maintain the relationship. He is also "magnetized" by the shepherd's magical, seductive being. The opera ends with the shepherd transforming into Dionysus, a figure of brilliant light.
The performances of King Roger received unanimous rave reviews from the local press, to which I add mine. The audience loved it; Dutoit did us all a favor by bringing this gorgeous rarity to Boston. And, having only known Kwiecien from Met broadcasts, I am more of fan than ever. Bravo to all — the soloists, the BSO, and the two terrific choruses.
---
Susan Miron, a harpist, has been a book reviewer for over 20 years for a large variety of literary publications and newspapers. Her fields of expertise were East and Central European, Irish, and Israeli literature. Susan covers classical music for The Arts Fuse and The Boston Musical Intelligencer. She is part of the Celtic harp and storytelling duo A Bard's Feast with renowned storyteller Norah Dooley and, until recently, played the Celtic harp at the Cancer Center at Newton Wellesley Hospital.