Director Cristián Jiménez treats the melodramatic proceedings with an ironic sense of humor that manages to keep the maudlin at bay.
Voice Over, screening at Museum of Fine Arts Boston's New Latin American Cinema, Boston, MA, on March 14.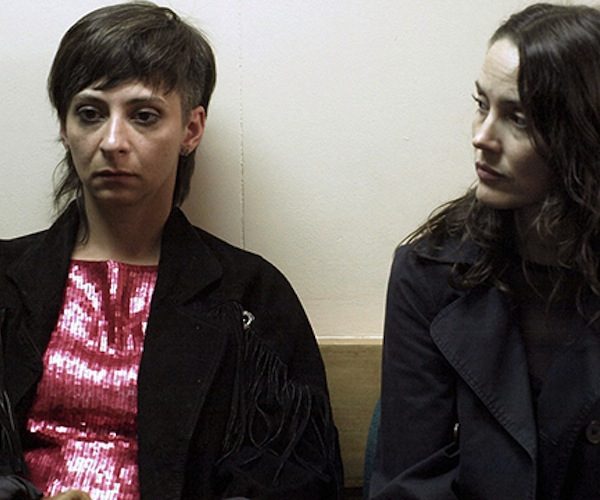 By Paul Dervis
The MFA's Latin American Film Festival continues with a Chilean offering, Cristián Jiménez's family opus Voice Over. It could be subtitled 'the climactic year of a middle-class household' or even 'How Sofia got her groove back.' Calling this a transitional period in Sofia's life doesn't begin to tell the story.
Sofia is a thirty-five year old sometime actress more often waitress who comes from a scholarly, well-to-do home. Her father, an academic, took early retirement. Her sister, Ana, is a PhD living in France with her new hubby and infant son. Mom is content with a boring life of leisure with wise old grandma to keep her company.
Oh, and Sofia is a mother of two precocious kids; big sister and adoring little brother who are forcibly being raised vegan even though they crave meat. The daughter dreams of the day she will be able to eat a lobster, her aunt's favorite food. Sofia and her husband have recently separated. She has custody of the children while he gets to keep the coveted family dog. When asked by her dad why the marriage broke up, Sofia tells him that their love was like a fine meal left out overnight — it smelled rancid in the morning.
Her separation is just the start of the domestic upheaval. First, the father takes his cue from Sofia and decides to leave mom. Ana, her family in tow, moves back to Chile to accept a teaching position at the local university. Sofia reluctantly has an affair with a married man who just about everyone says is no good for her. Finally, she decides to abandon the electronic creature comforts of the modern world…tossing her cellphone in the river and turning off her laptop.
Predictably, life unravels quickly. Mom has a health scare. Grandma, the family's sage, passes away. Ana seemingly regrets the move back home, but then who can really tell? She is a pessimistic person by nature, so maybe this is just the dismal world she always creates for herself. Ana's spouse is working on a research study, but he loses his funding. Dad offers to help out, but doesn't come up with the capital he promises. Mom holds out hope that her estranged hubby will return to her even as he struts his new girlfriend around town.
And there are rumours. The father didn't retire, he was let go because of repeated allegations of sexual harassment, something everyone seemed to know about except for his daughters and long suffering wife.
If this all sounds like a soap opera, well, in terms of  plot, it is. But director Jiménez treats the melodramatic proceedings with an ironic sense of humor that manages to keep the maudlin at bay. In addition, Voice Over takes the time to delve into the internal emotions of its characters — it doesn't dwell on their external pathos. A viewer is much more likely to laugh at their troubles than cry, and that is refreshing.
That said, Ingrid Isensee's Sofia is simply too drab to carry the piece and María José Siebald's Ana is one-note. The children come through, however, providing a welcome lust for life that lifts up the film,  enlivening one scene after another. In that sense, Voice Over becomes the kids' film. Maite Neira, as the girl, supplies the gumption that is missing from the adults' lives. Lucas Miranda, as the boy, is a joy to watch. The two create a diverse, complicated relationship that is refreshingly independent of their dour family members — the adolescents offer optimism while their elders are content to wallow in self pity.
What is to become of these people? I don't have much hope for the grown-ups, but the kids are another matter — they will get their taste of lobster before long, no doubt.
Oh, yes, and the film's title? It refers to the microphone and recording device that Sofia claims she is going to use to revive her acting career. She plans to record voice-over demos and send them out to rev up her job prospects. But, like everything else in her life, she lets them gather dust in an empty room.
---
Paul Dervis has been teaching drama in Canada at Algonquin College as well as the theatre conservatory Ottawa School of Speech & Drama for the past 15 years. Previously he ran theatre companies in Boston, New York, and Montreal. He has directed over 150 stage productions, receiving two dozen awards for his work. Paul has also directed six films, the most recent being 2011's The Righteous Tithe.