The first in what is surely going to be Blue Heron's memorable series of testaments to the neglected brilliance of composer Johannes Ockeghem.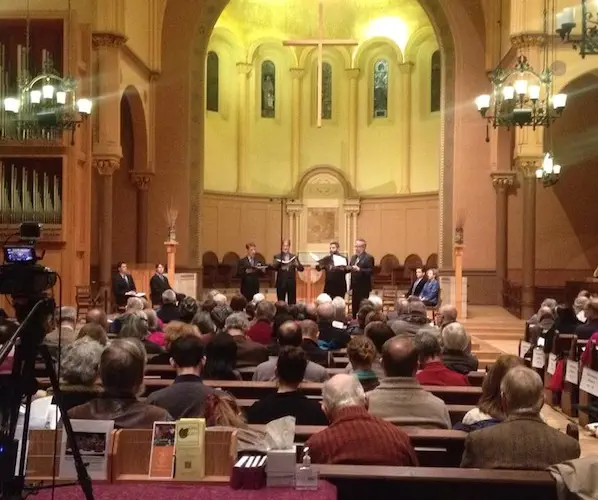 By Susan Miron
Saturday night was the kickoff of Blue Heron's massive project Ockeghem@600: Ockeghem, Binchois & Du Fay. I predict that most of this near-capacity audience will return for many of the installments to come. It was that thrillingly beautiful.
During this five-to-six year undertaking, Blue Heron will perform all the works of Johannes Ockeghem (circa 1410-1497). The series is the brainchild of Blue Heron's artistic director Scott Metcalfe, who discovered the composer relatively recently. "If you had asked me who Ockeghem was in 1990, I wouldn't have been able to answer," he explained to the Boston Globe. "By the 16th century, Ockegham had fallen out of favor, regarded as a sort of hyper-intellectual, hyper-artificial composer." Metcalfe has this to say about the appeal of Ockeghem's music:
It's extremely expressive. But it's also got this sort of technical challenge to it. I think he's constantly setting himself technical challenges to work against and see how far he can go. And he can go anywhere. The result is music that sounds so free and beautiful that you might never suspect the complexity of what's underneath.
Metcalfe has become a strong and persuasive proponent of the composer. He argues that Ockegham is an equal as a melodist and contrapuntalist to J.S. Bach: "In Bach everyone has satisfying parts; they're interesting in their own terms, but they add up to more than the sum of their parts. In Ockeghem it's the same." Ockeghem's music has been characterized as "mystical, irrational, cerebral, arcane" with "the miraculous effect of taking hold of and altering our sense of time."
The thoroughly engaging pre-concert lecturer, who will speak before all of the Ockeghem @600 concerts, was New England Conservatory's Sean Gallagher, Metcalfe's professor when he was in graduate school at Harvard. Gallagher serves as the advisor for this project. The two hope to convince people that Ockeghem is a neglected master and "how wonderful it is to listen to him." With this concert, they have gotten off to a spectacular start.
Like all of Blue Heron's programs, Saturday's line-up featured Ockeghem and two composers from the decades before him (Binchois and DuFay). The approach inevitably generates musical interconnections, providing plenty of evidence that Ockeghem didn't write in a vacuum. Ockeghem had "a golden bass voice" and his bass parts were elaborate creations, "doing their own thing."  He was also the first composer to write double digit mass settings (Ockeghem penned 13; Palestrina, for example, wrote 100). He wrote only four medium-sized motets with Latin texts and a number of songs, many of whose lyrics can be seen as Marian allegories.
Currently in its sixteenth season, Blue Heron generally uses one voice per part. Here, the remarkable voices were comprised of the troupe's regulars — Pamela Dellal, Mark Sprinkle, Martin Near, Owen McIntosh, Jason McStoots, Aaron Sheehan, basses Paul Guttry and Sumner Thompson. Each performer has established a distinguished career in early music: no question that this is a choir made up of Boston's finest soloists. (Aaron Sheehan, Jason McStoots, and Laura Jeppesen just won a Best Opera Recording Grammy for Boston Early Music Fesival's recent Charpentier recording).
The concert opened with the terrific countertenor Near singing, with utmost purity of voice, the rondeau "De plus en plus" by Gilles de Bins (called Binchois) (c. 1400-1460) accompanied by the evening's two instrumentalists, Laura Jeppesen and Scott Metcalfe, who were playing vielles (replicas of medieval fiddles). During the program Metcalfe also played a replica of a 15th century harp, while Jeppesen performed on a rebec, another sort of early fiddle. Metcalfe's illuminating program notes speculate on how Ockeghem and his predecessors,  Du Fay and Binchois among them, might have met. In any case, Ockeghem wrote several tributes to Binchois, which were performed during the program. "De plus en plus" (with its "arrestingly strange harmonies") was used by Ockeghem himself as the basis for the Mass that came next, "Missa De plus en plus." Ockeghem's ballade "Mort, tu as navré de ton dart" was written as an ode to Binchois, "the father of joyousness" and "model of goodness." Accompanied by Aaron Sheehan, Sumner Thompson, and Paul Guttry, Owen McIntosh gave a shimmering, unforgettable performance.
An intermission provided some needed downtime on earth after such heavenly music. The concert's second half featured instrumental renditions of Ockeghem's song "D'ung aultre amer," arranged by Johannes Tinctoris (c. 1435-1511), and "O rosa bella." But for this listener Ockeghem's glory lay in the vocal works. Pamela Dellal sang beautifully in Ockegkem's "La despourveue et la bannye," which quoted Binchois' preceding piece, "Pour prison ne pour maladie." Ockeghem's (relatively) famous "Missa De plus en plus" ended the first  of what is surely going to be a memorable series of  huzzahs to the genius of Ockeghem who, in large part thanks to Blue Heron and Professor Gallagher, is finally getting the recognition he so richly deserves a mere 600 years or so after his birth.
---
Susan Miron, a harpist, has been a book reviewer for over 20 years for a large variety of literary publications and newspapers. Her fields of expertise were East and Central European, Irish, and Israeli literature. Susan covers classical music for The Arts Fuse and The Boston Musical Intelligencer. She is part of the Celtic harp and storytelling duo A Bard's Feast with renowned storyteller Norah Dooley and, until recently, played the Celtic harp at the Cancer Center at Newton Wellesley Hospital.