With grace and wit, Alexander Calder's artwork integrated poetry and science, aesthetics and engineering.
Calder and Abstraction: From Avant-Garde to Iconic, at The Peabody Essex Museum, Salem, MA, through January 4, 2015.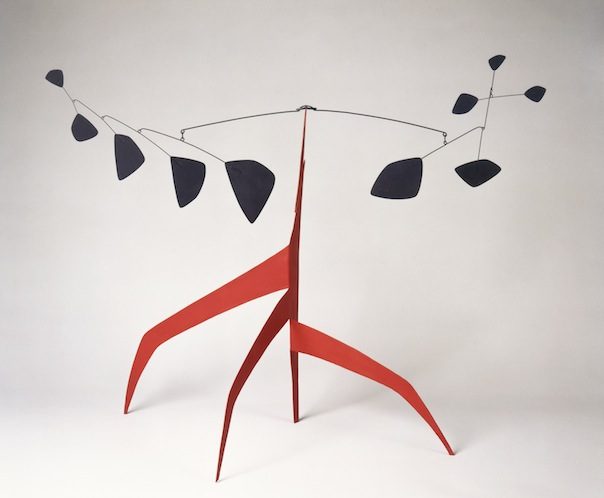 By Mark Favermann
A natural reaction is a smile, either external or internal, whenever anyone encounters a piece of art by Alexander Calder. His sculptural forms are that pleasurably visceral. By inventing the sculptural forms of the mobile and the stabile, he set modern sculpture apart from abstract painting and figurative sculpture.
For decades, critics have called Calder's sculpture wonderfully whimsical, delicately balanced, and visually animated. But they are much, much more. The superb exhibition at Salem's Peabody Essex Museum (PEM) features 40 of Calder's signature sculptures: it is the most comprehensive presentation of his work in the Boston area in decades. A visual treat, the exhibit brings together an impressive panorama of Calder's work, stretching from the early 1930s to late 1960s. Organized by the Los Angeles County Museum of Art (LACMA), in cooperation with the Calder Foundation, New York, the show celebrates the wide-ranging imagination of a master of 20th Century abstract form, offering a sensational overview of his strategically revolutionary approach to sculpture.
Alexander "Sandy" Calder was born into an artistic family in Lawnton, PA. His father, Stirling Calder, was a well-known figurative sculptor who created a number of public works, mostly in and around Philadelphia. His namesake grandfather, sculptor Alexander Milne Calder, is best known for the giant statue of William Penn on Philadelphia's City Hall tower. In 1919, Alexander Calder graduated from Stevens Institute of Technology in Hoboken, NJ with a mechanical engineering degree. Over the next few years, he held a variety of engineering jobs. Inspired by the sublime scenery of the Pacific Northwest, Calder decided to move back to New York to pursue a career as an artist, the family business. Enrolling at the Art Students' League, he briefly studied painting and drawing with Thomas Hart Benton, George Luks, and John Sloane.
Initially, Calder was a figurative painter, but in 1926, after he moved to Paris, his medium of expression changed. That transformation was partly due to his friendships with artists Piet Mondrian, Joan Miro, Jean Arp, and Marcel Duchamp. Mondrian's spare and geometric approach to total abstraction intrigued Calder, as did the organic shapes in the artworks of Arp and Miro.
In 1926, Calder also began to make toys. This led to the creation of his beloved Cirque Calder, a miniature big top (designed to fit into a suitcase) that was made out of wire, string, rubber, cloth, and found objects. A favorite entertainment of the avant-garde, Calder gave performances of the circus on both sides of the Atlantic. (Cirque Calder is often on view at New York's Whitney Museum of American Art.) Interestingly, Massachusetts' Berkshire Museum gave Calder his first public commission; he created two mobiles for the institution's theatre.
In 1931 artist Marcel Duchamp suggested to Calder that he call his new kinetic sculptures "mobiles." 'Mobile' means both 'motive' and 'a moving object' in French. The dual appellation was splendidly appropriate for Calder's distinctive sculptures. Over subsequent decades Calder developed a wide range of kinetic possibilities for these pieces. His creativity can is best appreciated by focusing on how and where he connected, balanced, and counterbalanced the shaped elements in the mobiles. Their considerable aesthetic joys and humor comes from his art's seductive invitation to change vantage points — the angle in which someone views a suspended or standing mobile changes its form and movement, generating different visual experiences.
Always experimenting and tinkering, the artist made his first outdoor sculpture in 1934 in his Roxbury, CT studio. At first, he used the same materials that made up his smaller indoor pieces. Calder soon realized that these standing mobiles were far too delicate to withstand the force of moderate to strong winds. Just making a sculpture larger didn't work: he needed to radically redefine his fabrication methods.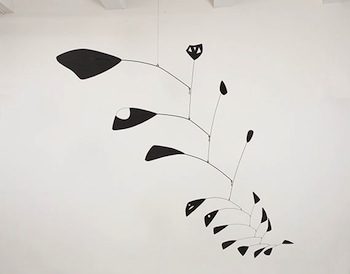 In 1936, he changed his working methods by creating small scale maquettes that would then be enlarged to monumental size. Rather than seeing these works as rough models for the larger finished pieces, Calder considered each (no matter what the size) a sculpture in its own right.
During the 1950s and '60s, Calder focused on monumental works. His numerous commissions for museum plazas, corporate headquarters, and government buildings are sprinkled throughout the world. Under his strict supervision, these stabiles (made primarily of quarter-inch carbon steel sheet metal) would be scaled up by fabricators. They would then be painted in industrial black or bright colors, often in his signature 'Calder Red' — a warm, rich Cadmium red. Calder's majestic stabile La Grande vitesse in Grand Rapids, Michigan was the first civic sculpture funded by the National Endowment for the Arts.
Though he was never formulaic, each piece by Calder was marked by his distinctive creative signature. His work exudes a sense of lyrical whimsy expressed through an elegance of form. His art is spare, but always — even with the stabiles — there is a stirring possibility of motion. It is this sense of possibility that explored so magnificently — he liberated sculpture from pedestals. Using an original visual vocabulary as well as innovative structural and conceptual frameworks, he even freed it from the ground. Through changes in form, line, volume, and spatial relationships, he pushed the capacity to visualize the physical beauty of pure abstraction. Add his strategic use of color, and there is another layer of beauty to appreciate.
Part of the charm of his work is the expectation of surprise, an insinuation of unpredictability. His delicate curvilinear constructions can be set in motion by air currents or stand erect, muscular promises of shifting form. With grace and wit, he integrated poetry and science, engineering and art.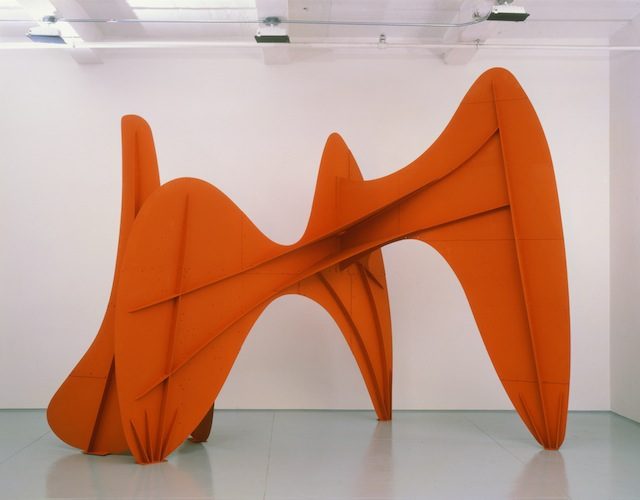 Just about every work in this well-organized show is brilliant, but there are several knockouts. These pieces would include 1934's 4 Woods (Diana) , an early work carved from wood; the elegantly spiked and undulating Un effet du japonais (1941) which is mounted on the floor; the devilishly wry mobile Little Face (1962); the fragile-looking but subtly balanced La Demoiselle (1939); the largest piece in the PEM show, La Grande Vitesse (1969); and the exquisite maquette for Storm King's Southern Cross (1963).
Calder and Abstraction:From Avant-Garde to Iconic is a special exhibition. Calder's large body of work is serious art consistently invigorated by intelligent wit. Elegantly beautiful and visually embracing, this is a show to absorb and to cherish… and to smile at.
---
An urban designer, Mark Favermann has been deeply involved in branding, enhancing, and making more accessible parts of cities, sports venues, and key institutions. Also an award-winning public artist, he creates functional public art as civic design. Mark created the Looks of the 1996 Centennial Olympic Games in Atlanta, the 1999 Ryder Cup Matches in Brookline, MA, and the 2000 NCAA Final Four in Indianapolis. The designer of the renovated Coolidge Corner Theatre, he has been a design consultant to the Red Sox since 2002.