The Real Thing's discussion of linguistic precision may be telling now in ways that dramatist Tom Stoppard may not have anticipated.
The Real Thing by Tom Stoppard. Directed by A. Nora Long, Liz Fenstermaker, Assistant Director. Presented by Bad Habit Productions at the Calderwood Pavilion at the Boston Center for the Arts, Boston, MA through November 23.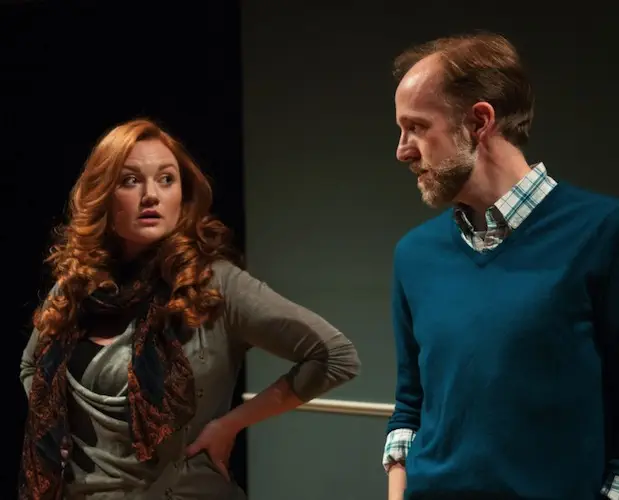 By Ian Thal
When the lights go up, we are treated to what appears to be a naturalistic bourgeois drama. An architect informs his wife, through a cleverly roundabout use of wordplay and misdirection, that he has become aware that her business trips to the continent have been cover stories for infidelities. Once the scene comes to an end, we learn that the architect and his wife are Max (R. Nelson Lacey) and Charlotte (Gillian Mackay-Smith), actors playing parts in a play called House of Cards, by Charlotte's husband, Henry (Bob Mussett).
While this sudden twist may have surprised audiences when The Real Thing premiered at London's Strand Theatre in 1982, it is no longer a secret — so the above paragraph is not a spoiler.
Charlotte has come out of the bath to find Henry obsessing – he is next week's guest on the long running BBC radio show Desert Island Discs, and he is trying to come up with a list of eight pieces of music that suitably reflect his reputation as an "intellectual playwright." The problem is that he has no real affection for classical music — his tastes run towards rock, though not respectable rock,  but the kind of pop purveyed by Wayne Fontana and the Mindbenders's "Um Um Um Um Um Um."
Max arrives and the two actors critique the already defensive playwright. Max finds his speech about the cultural conflict represented by the Swiss-made analog watch and the Japanese-made digital (it was the early 1980s after all) to be overly long and esoteric. Charlotte objects to Henry's inability to come up with a well-rounded female character. And she thinks the script's intellectual trappings feel fake. Max's wife, Annie, another actor, arrives. Henry and Annie are having an affair. When Max learns the truth he breaks down, though not before providing a pastiche version of Henry's play. By the end of the first act, both of these marriages have disintegrated.
The Real Thing was a transitional work for Stoppard. Beginning in the mid-'70s his writing had taken on an increasingly political bent after he become involved in human rights activism. He was also identified as an 'intellectual' playwright, known for his witty dialogue and a playfully absurdist style. The Real Thing signaled not only a shift towards naturalism, but it was the first of his major works to focus on romantic love (something that would become more commonplace in later scripts). It was the first of his dramas to seriously explore the pain of adultery. (Stoppard had previously used infidelity and sex in general as fodder for comedy.) Consequently, much of the criticism of the play has focused on its examination of passion, often downplaying its politics.
Of course, the ideological battle in The Real Thing is important. The play was written during the Cold War and reflects those tensions. Annie and Max have been protesting the proposed introduction of American nuclear missiles to the town where they have a weekend cottage (they freely admit that they are at least partially motivated by NIMBYism.) On their way to the protest, they encounter Brodie, a young Scottish soldier on leave. Brodie, a fan of Annie's television work, joins them. In the process, he sets fire to a wreath at the Cenotaph in Whitehall built to commemorate British dead from the First World War (inscriptions were later added to commemorate the fallen of WWII). He assaults two police officers when they attempt to arrest him for arson. Annie becomes involved with the Justice for Brodie Committee – and considers him a political prisoner.
The second act picks up two years later: Henry and Annie are married. Brodie, inspired that he has a famous actress advocating for his release, writes a play in which he is the hero – a script that, of course, has a role for Annie. Henry is enlisted to doctor the script, but he considers it drivel, filled with what he regards as the clichéd rhetoric of Marxism and anarchism. Annie, while performing a five-week engagement in Glasgow, enlists a younger actor and protégé, Billy (William Bowry) to play Brodie. The play is produced and is later adapted for television.
Critics have made much of the fact that Felicity Kendal, who originated the role of Annie, and Stoppard began a relationship after splitting up with their respective spouses. But those looking for parallels neglect the fact that their romantic partnership did not begin until nearly a decade after the premiere of The Real Thing – indeed, the play was dedicated to Stoppard's then wife, Miriam Stoppard. Parallels between Stoppard and Henry don't stand up to scrutiny. Though they both write for film and television to support their lifestyle, Henry is working on what  appears to be a space opera with campy dialogue, while Stoppard's earliest film credit is as co-author of the screenplay for Terry Gilliam's Brazil (mostly written in 1982).
What Stoppard and Henry have in common is a similar dedication to linguistic precision, and a distaste for simplistic political rhetoric. Though Henry's contempt may owe something to his bourgeois whiggishness, Stoppard's career indicates that his concern is at least partially rooted in his activism on behalf of and friendship with political dissidents in Central and Eastern Europe, (most notably Vaclav Havel and Pavel Kohout). Stoppard has been confusing less-than-thorough commentators for decades: Henry is essentially a self-parody.
Director A. Nora Long has chosen to embrace alley staging, which gives the production a welcome intimacy. Without curtains, changes in locale are created by the shuffling of modular furniture and the lowering and raising of chandeliers or luggage racks from the heavens by flylines. Consequently, Kevin Deane Parker, the black-clad assistant stage manager, plays a significant role in this production, inevitably becoming a minor character who shoos actors out of the way. This is a clever idea that only heightens the way the play and the plays-within-the-play shed ironic light on one another. Scenic designer Shelley Barish, costume designer Bridgette Hayes, and prop designer Helena Mestenhauser do a fine job of capturing the cool middle class life styles of the four main characters. By contrast, the costume for Debbie, the teenage daughter of Henry and Charlotte, actually looks like something a teenage punk or new waver would have worn at the time, her casual dress and shock of curls evoking Poly Styrene of the X-Ray Spex (perhaps a visual pun on Stoppard's own use of the word "polystyrene" in that particular scene.)
The cast is uniformly excellent, though Jones's and Bowry's shift from naturalism to a more classical style as the incestuous siblings in John Ford's 'Tis a Pity She's a Whore is particularly worthy of admirable note. The performers, guided by dialect coach Crystal Lisbon, do plausible work regarding their English accents (Bowry's Scottish accent, which he uses to play Brodie, and Billy's portrayal of Brodie, is his own.)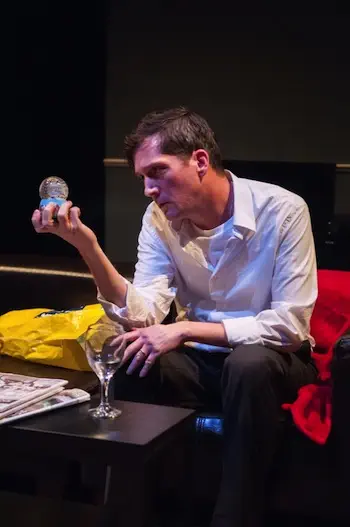 The question however, is whether The Real Thing is relevant. Some might see the action as dated given its Cold War background, which also informs the political atmosphere of much of Stoppard's writings from 1977's Professional Foul and Every Good Boy Deserves Favour to 2006's Rock'n'Roll. Frankly, the answer is that the script resonates splendidly today. The issue of whether Brodie is a courageous political dissident, a criminal, or a disturbed and narcissistic personality should resonate with anyone who has followed the current debates about Chelsea (formally Bradley) Manning, Edward Snowden, or Julian Assange. Meanwhile, the notion that vandalism or violence has a place in public protest remains fresh in light of  (for example) the recent attacks on synagogues and their congregations  that accompanied anti-Israel protests in Europe and to a lesser extent, North America.
The play also explores one of Stoppard's major (and most compelling) themes: the crucial role of language  in politics and aesthetics. When Henry – perhaps at the point where he most resembles his creator – savages Brodie's use of language, he is not just attacking the stale rhetoric of protest movements in the West, but, indirectly, the  propaganda of the police states of the East. The artful and respectful use of language he champions should not be dismissed as  elitism produced by and for the privileged (as Annie argues), but as a value at  the core of the humanist enterprise totalitarianism seeks to suppress.
In truth, Henry's discussion of writing may be telling now in ways that Stoppard may not have anticipated. When Henry distinguishes between the differences between writing for the theater and for television and film ("visual media") he is uncannily prescient about recent trends in playwriting. Today, many scripts resemble screenplays or TV pilots: some privilege an open-ended situation and setting over plot and thematic content; others are blatantly derivative of successful TV and movie genres; some even exploit visual images in ways that end up distracting the audience from figuring out the fundamental flaws in the narrative. (For example, the morbidly obese protagonist of Samuel D. Hunter's The Whale, or the ersatz-Rothko paintings of John Logan's Red.) The focus in new plays on showing rather than dramatizing curtails theater's ability to discuss ideas, systems, otherness, rhetoric, truth, and power. If only for this reason, The Real Thing continues to reflect (and critique) reality in valuable ways.
---
Ian Thal is a playwright, performer and theater educator specializing in mime, commedia dell'arte, and puppetry, and has been known to act on Boston area stages from time to time, sometimes with Teatro delle Maschere. Two of his short plays appeared in theater festivals this past summer. He has performed his one-man show, Arlecchino Am Ravenous, in numerous venues in Massachusetts and Rhode Island. One of his as-of-yet unproduced full-length plays was picketed by a Hamas supporter during a staged reading. He is looking for a home for his latest play, The Conversos of Venice, which is a thematic deconstruction of Shakespeare's The Merchant of Venice. Formally the community editor at The Jewish Advocate, he blogs irregularly at the unimaginatively entitled From The Journals of Ian Thal, and writes the "Nothing But Trouble" column for The Clyde Fitch Report.