Some fifty-five objects trace a legacy of casual brutality and white hegemony that is at the heart of Yale University's—and this nation's—founding.
Figures of Empire: Slavery and Portraiture in Eighteenth-Century Atlantic Britain, at the Yale Center for British Art, New Haven, CT, through December 14.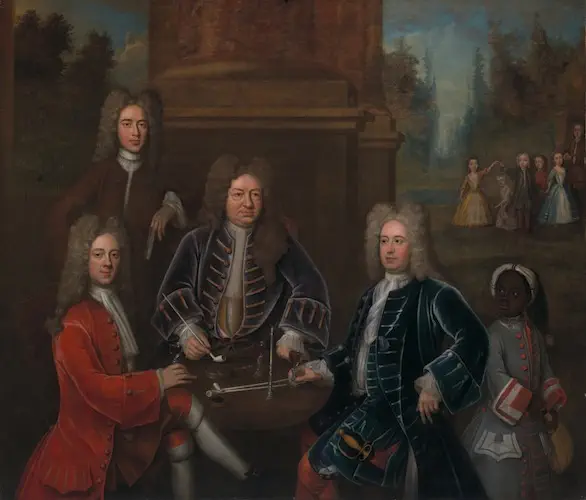 By Tim Barry
White people have a lot to answer for. And if the white people in question are of the group that the late Gore Vidal once termed "the owners of America," they really have a lot to answer for. Facing this topic head-on is a modestly scaled yet eye-opening exhibition, Figures of Empire.
New light is shed here on the images of slaves and servants who often appear in 18th-century English paintings, usually alongside their masters or owners. Yet the relationships between high and low remain open to speculation: this compelling exhibition raises a number of questions that it leaves unanswered.
Some fifty-five objects trace a legacy of casual brutality and white hegemony that is at the heart of Yale's—and this nation's—founding. Walking into the gallery, you meet straightaway a large 1708 group portrait that features the college's founding benefactor Elihu Yale. In one corner of the picture is a nobly dressed young African—with a silver collar and padlock around his neck.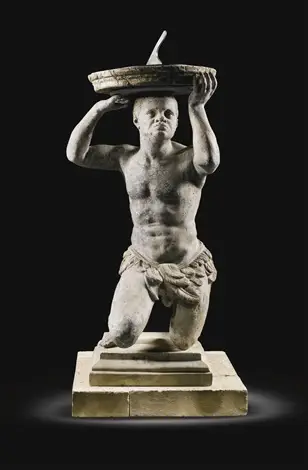 Nearby that disturbing tableau is a garden statue from 1708 that ratchets up the racist quotient. Attributed to John Nost I, Kneeling Blackamoor Supporting a Sundial depicts a nearly naked African who serves as the pedestal for a sundial. This lawn-jockey-like work stood in a Yale courtyard from 1933 until the 1970s. The circumstances of its removal aren't noted in the exhibition, but no doubt changing attitudes played a role.
A sharp young PhD candidate, co-curator Esther Chadwick, was around to answer my 'why this, and why now" queries. She explained that this 'post-Obama moment' has inspired new avenues of inquiry, helped along by the enormous popularity of movies such as Django Unchained and Twelve Years a Slave.
In a broader sense, visual arts exhibitions confronting issues revolving around blackness and inequality are becoming more frequent and receiving wider critical attention. Witness the careers of African-American artists such as Glenn Ligon, Lorna Simpson, Carrie Mae Weems (who just had a large retrospective at the Whitney Museum of American Art), and Kara Walker, whose wry and harrowing slavery silhouettes have made her an art world star.
For those of us not steeped in the world of English portraiture, the show is also a chance to experience an era of drawing rooms with ornate fireplaces, peopled by wigged dandies in silk and brocade. Our curator-guide pointed out that the portrait-commissions were priced out on a per-person basis, leaving open exactly why the rich paid to have the images of their African servants included. Were they showing off their valued household goods, equating a black footman with a silver candlestick or a Hepplewhite chair? Or is there any chance the servant was a beloved member of the house, almost a member of the family?
This 'Golden Age' of British art is "not coincidentally the high-water mark of the slave-trade," curator Chadwick noted; British and other European business interests were fanning out across the globe, bringing home exotic goods that included plenty of human cargo. Imperialism and entitlement didn't begin nor did it end with the colonizing Brits; nosing about the exhibits one felt the tacit presence of William F. Buckleys and the George Bushes, the general sense of Ivied privilege.
A series of satirical prints continues the walk of shame. We learn from Macaronies, Characters, Caricatures & c, published by MDarly (1772) that blacks in Britain were known as 'Mungoes.' A hand-colored etching displays a 'Mungo Macaroni,' presumably a military conscript, striking an oddly proud pose.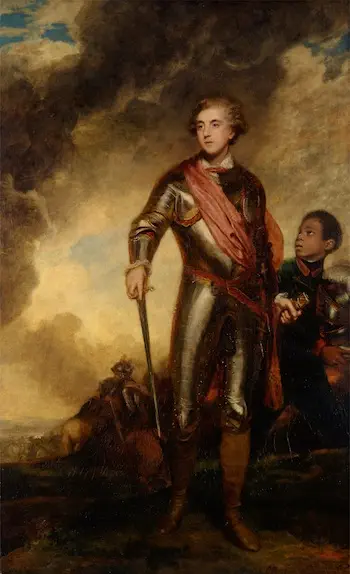 Some of the pictures challenge our understanding of its subjects' interpersonal dynamics. Take the 1765 oil on canvas An Unknown Man, perhaps Charles Goring of Wiston (1744-1829), out Shooting with his Servant, by an unknown artist. Is the young black servant patting his master on the back, with a 'well-done' over the number of birds he's bagged? Or is the master saying 'step lively, hurry up, let's move on?'
Or wonder over Sir Joshua Reynolds' George IV when Prince Wales with a negro page (1787). In the portrait, the page seems to be making a costume adjustment to George, helping to assemble the layers of undergarments and coordinate the placement of a red silk sash. Another Reynolds across the gallery, the oil sketch Portrait of a Man, circa 1770, looked a bit like a stately portrait of George Washington. A black George Washington.
Around the gallery are several glass vitrine cases harboring various artifacts pertinent to the owning classes; one holds a snuff box bearing the visage of Elihu Yale. It is carved of tortoise-shell carried back from Africa or the Caribbean. Born in Boston 1649, Yale travelled to India at 23, later making a fortune from diamond-trading. The epitaph on Yale's tombstone in Wales is recounted in the free, color-illustrated and well-documented catalogue that accompanies the exhibition: "Born in America, in Europe bred,/ In Afric' travelled and in Asia wed, /Where long he liv'd and thriv'd; at London dead."
The catalogue notes that this epitaph "neatly captures the globally connected world in which Yale and his contemporaries lived." This exhibition provides an entry-point into the world of masters and slaves as seen from the white Eurocentric view; it would be fascinating to know what the slaves thought of it all.
Note: In 1998, Yale University inaugurated the Gilder Lehrman Center for the Study of Slavery, Resistance, and Abolition, which is hosting a conference on November 7 and 8 about the impact of slavery on British art and culture.
---
Tim Barry studied English literature at Framingham State College and art history at the University of Massachusetts-Dartmouth. He has written for Take-It Magazine, The New Musical Express, The Noise, and The Boston Globe. He owns Tim's Used Books, Hyannis, and Provincetown, and TB Projects, a contemporary art space, in Provincetown.