Fiber takes on two key aesthetic ideas — gravity and the grid — and one major sociological one, the way fiber arts were created and exhibited as part of a larger feminist agenda.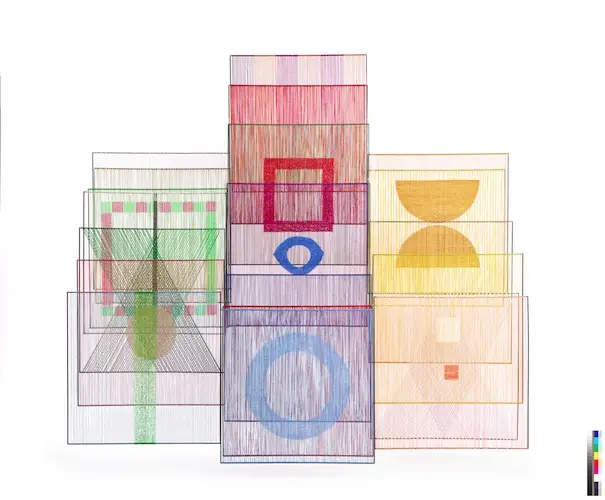 Fiber: Sculpture 1960-Present at the Institute of Contemporary Art, Boston, MA, through January 4, 2015
By Debra Cash
I can just imagine ICA curator Jenelle Porter trudging through loft buildings armed with tattered exhibition catalogs and names she'd collected from talking to artists, as she sought out examples of three-dimensional work in fiber that makes up the ICA's show Fiber: Sculpture 1960-Present.
Four years later, she has assembled a happy show of thirty three artists — both women and men, those based in the U.S. and those outside it. Some of the work is unquestionably world class, some was borrowed from major institutions such as the Museum of Modern Art, the Museum of Art and Design, and Amsterdam's Stedelijk. Yet while the ICA's sampler may not rise to its knotty (sorry) argument about retrieving fiber art from obscurity, or retrieving it from the ghetto of domestic and feminized craft — a perception that was overturned long ago, as its inclusion in major museums attests — the show provides many of the pleasures fiber can offer: color, heft, optical illusion, the visible work of making. The only thing it restricts, for obvious but unfortunate reasons, is tactility.
The ICA itself has produced one-man shows by major fiber-based artists in recent years (including Charles LeDray and Nick Cave). Other regional venues including the MFA, PEM, and RISD have presented fiber-based sculptural works in both individual and group settings. Porter made a curatorial decision to illuminate a relatively narrow swath of concerns, though her point of view is obscured by grandiose PR language about this being the "first major exhibition of fiber art in 40 years." Fiber takes on two key aesthetic ideas — gravity and the grid — and one major sociological one, the way fiber arts were created and exhibited as part of a larger feminist agenda.
The grid appears with a visitor's first steps into the gallery's entryway in the dark linen pillars by the great Lenore Tawney, who adapted loom-based open warp Peruvian techniques to monumental hanging forms. Porter has juxtaposed these totemic verticals to the swirling whites of Kay Sekimachi's nylon monofilament assemblage that curls like rising steam.
There's a theme here that will play out through the show's five rooms and elevator shaft: the 20th century's new materials, luscious and perplexing, energized a generation of artists. Sekimachi had a friend whose mother worked at Dupont, where this strong new thread was invented; in a later room, Shiela Hicks became enthralled with a marine synthetic so new it doesn't have a standard name yet, but which binds pigment so thoroughly that, as she explained at a press opening last week, you can put it in a bathtub full of bleach overnight and the water will remain clear. Like Tawney, Hicks offers a tall vertical, this one a vibrant rainbow she calls Pillar of Inquiry/Supple Column, but the grid is gone: colors simply pour down as if from the ceiling. It made me want to hide in its loops and strings like a kid hiding behind heavy ballroom curtains.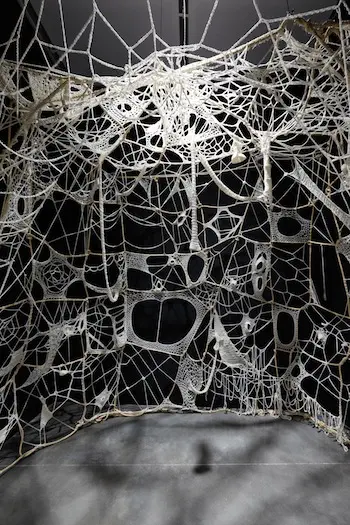 Elsi Giauque was an Swiss artist whose work has never been exhibited in North America, although she has been represented in European shows and was a student for the well-known Dada artist Sophie Taeuber-Arp (Mrs. Jean). The viewer sees geometric shapes, intersections, and recursive afterimages in the colorful hanging panels of her Pure Spatial Element from 1979. Your eye becomes part of the loom's mechanism. I'm sure Porter couldn't resist the luscious fringe of Diane Itter's colorful linen miniatures (and here the work moves back to the wall, a babystep away from painting, and why not), one referencing the modernist Bauhaus weaver Anni Albers with the title Anni in Peru.
Gravity is harder for Porter present in an exhibition format: while much of the work in Fiber gains its shape as pouches, baskets. and nets on the verge of dissolution, they are installed in static arrangements. They don't fall any further. However, there's a nice backstory that goes along with the reconstruction of Robert Rohm's Rope Piece from 1969, a work of rope, dye and nails, which was reconstructed this year by students from the Mass College of Art and Design. When the show tours, other students will take on the work.
Wander through Fiber and motifs start to recur. Claire Zeisler's orange cups on a wavy fringe backing like an African mask or breastplate appear elsewhere in the galleries as neutral, sand-colored barnacles in Josh Faught's 2009 Untitled and finally reappear as vagina and anus in Piotr Uklanski's Untitled (Femmage). Exemplary contrasts are suggested. Faith Wilding's spiderweb crochet cave encloses stillness, while Ernesto Neto's net corridor hung with seed pods and bells enjoins motion. Alan Shield's minimalist abstraction gives way to the riotous crochet and shamanist retreat of Sistah Paradise's Great Walls of Fire Revival Tent by Xenobia Bailey. The ancient textiles of hemp, bamboo, and goat and human hair coexist with the contemporary ones derived from petroleum and bought at Woolworth's.
All that, and the right kind of fiber will keep you warm and dry. Good stuff.
---
Debra Cash has reported, taught and lectured on dance, performing arts, design and cultural policy for print, broadcast and internet media. She regularly presents pre-concert talks, writes program notes and moderates events sponsored by World Music/CRASHarts and cultural venues throughout New England. A former Boston Globe and WBUR dance critic, she is a two-time winner of the Creative Arts Award for poetry from the Hadassah-Brandeis Institute and will return to the 2014 Bates Dance Festival as Scholar in Residence.
c 2014 Debra Cash