It was good to see Martha Davis and The Motels with a full house at Johnny D's, especially since the group clearly has life in them.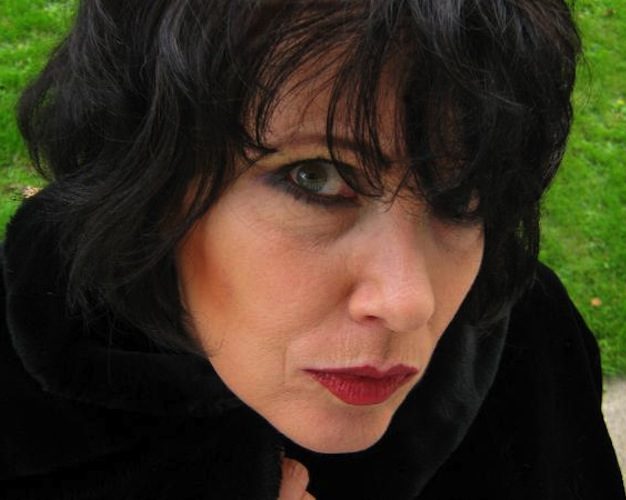 By Brett Milano
If this weekend's show at Johnny D's was any indication, a whole lot of people are in love with Motels frontwoman Martha Davis. The giveaway wasn't just the many "We love you Marthas" that were shouted (in male and female voices) between songs, but the number of sing-alongs she managed to generate on long-ago album tracks. And especially the thrilled looks on the guys upfront whenever she made eye contact during a flirtatious lyric.
Singer/songwriter, New Wave darling, breast cancer survivor and self-proclaimed "crazy 63-year-old lady," Davis has well earned her comeback. When she first relaunched The Motels about five years ago, she played a gig from hell at Cambridge's Middle East: It was a last-minute Monday night booking that was barely promoted, so there were maybe 30 people there. She grabbed the moment, did some of the songs while standing in the audience, and generally made it memorable for the diehards who were there. So it was good to see her with a full house at Johnny D's in Somerville, especially since the Motels clearly have life in them.
The current young-guns lineup has lately been joined by original member Marty Jourard, whose keyboards and sax added some welcome Roxy Music overtones. On Friday there was another special guest in ex-Cars keyboardist Greg Hawkes, who shares some history with the band (the Motels toured with the Cars in 1980). Hawkes added ukulele to one song, keyboards to another, and another touchstone to a show steeped in new wave's heyday. The Motels wound up drawing much of their set from the first two albums, which weren't the ones that sold biggest (1982's All Four One, with the hits "Only the Lonely" and "Take the L" was the commercial breakthrough and was followed by a couple slicker and less interesting discs).
That early material had an edgier European feel, and Davis already had a foot in cabaret. Early in Friday's set came a string of songs, one each from the first three albums — "Dressing Up," "Party Professionals" and "So L.A." — all on the same topic: The glamor and ennui of the demimonde. Davis' take was always half romantic and half jaded — and that's a worldview that ages well, so it never seemed she was out to recapture her youth. Likewise, "Apocalyposo" — the title track of an album that was deemed too weird for Capitol to release in 1981, and finally surfaced a few years ago — was about finding some release before the world blows up, am idea that hasn't gone out of style yet.
Most surprising was a pair of encores (with "Only the Lonely" sandwiched in between) where she put the other foot in cabaret as well. The first was a piano ballad that tore an ex-lover to shreds (part of the chorus went "You, sir, are either a criminal or a child") ; it was delivered with more than a hint of madness. And the night closed with "Last Few Beautiful Days", a September song in the spirit of Edith Piaf. If she can keep pulling the Motels in this direction, Davis will be more intriguing now than she was in 1980.
---
Brett Milano has been covering music in Boston for decades, and is the author of Vinyl Junkies: Adventures in Record Collecting (St. Martins, 2001) and The Sound of Our Town: A History of Boston Rock & Roll (Commonwealth Editions, 2007). He recently returned from New Orleans where he was editor of the music and culture magazine OffBeat.