David Plante's non-fiction and fiction are of a piece. There is always the honesty of a writer who is willing and able to, first, face himself, then, write what he sees, and then, allow the world to see his seeing.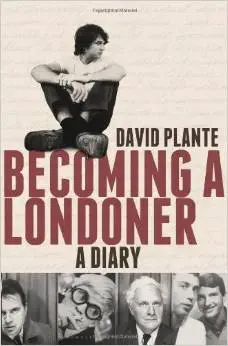 Becoming a Londoner: A Diary by David Plante. Bloomsbury USA, 544 pages, $30.
By Marcia Karp
Becoming a Londoner (2013) is the fourth selection made from David Plante's diary to be published as book; other selections have been published in The New Yorker, The New York Times Book Review, and The Paris Review. Though the first selection, Difficult Women: A Memoir of Three (1983), was published to good reviews in The New York Times and the London Review of Books, Plante recalls in this current selection a discussion over lunch about "the bad reception I am getting" to that earlier book:
"I suppose I should worry that I have written objectionably about Jean [Rhys] and Sonia [Orwell, George's widow] and Germaine [Greer]," I said.

"You perhaps should worry," Natasha [Spender] said.

"Nonsense," Stephen [Spender] explained. "We should write exactly what you want. For forty years I haven't written anything because I've been made to feel I'd offend if I wrote what I've wanted to write."

"Oh," Natasha exclaimed even more, "that's not true!"

"It is," he said.

"Well," Nikos [Stangos] said, "it is obviously a very complex moral problem."
The entry ends with an after-the-fact sharp reply to Spender's now unqualified encouragement: "'Write anything you want.' But, then, he doesn't do it. I do." And, it appears that Plante does. While a reader can't know what silent punches a writer pulls, in his non-fiction and fiction both, Plante reveals, responds to, admires, and criticizes a deep and full range of human nature and particular people.
The second nonfiction work to draw on the diary, American Ghosts (2005), comes closest of the four to being an autobiography. It begins when Plante was 7, "the age of reason," an allusion to the Catholic Church, which acknowledges attainment to reason in the ritual of the First Communion, whose youngest participants are seven-year olds. The first chapter also introduces Plante's family, Franco-American and Native-American heritages, the invisible world, his shifting allegiances, and Providence, Rhode Island. Throughout Plante's writing, both non-fiction and fiction, the city is given in formulas such as these:
a Quebec French parish in Yankee New England

[Becoming a Londoner]

I was brought up in two countries.

The outer country, vast, was America.

I belonged to another, a small one within the large: the French parish, in Providence, Rhode Island, into which I was born.

The small French parish had no rights in America, which really had rights over me.

[The Foreigner, 1984]

This had once been his neighborhood, his parish, of French Canuck immigrants who had come from Canada to work in the textile mills owned by the Yankees.

[ABC, 2007]
All the parts – the French, the parish, the larger non-Franco America – are important. They, and the other concerns of American Ghosts, haunt all of Plante's writing; he has written 20 or so books of a variety of sorts, as well as periodical publications. Among his other constant concerns are multiplicity of self, the false self, the power of imagery, possessiveness, and religion's power and oppression. Because of these shared matters, as well as the recurrence of events and reflections within writings, I am interested in the current volume in relation to the body of Plante's work, and so draw on many of his books for illustration and insight. Quotations without attribution or obvious sources are from Becoming a Londoner.
The third diary compilation is The Pure Lover: A Memoir of Grief (2009). The title is taken from an early poem by Nikos Stangos, Plante's loving partner for some forty years, found following Stangos' death in 2004. (Stangos was poetry editor for Penguin before becoming a director and senior commissioning editor for Thames and Hudson, where he was an important and influential art editor.) In Plante's best writing, description and narration are infused with a sense of character – his own, Stangos', or that of fictional folk. He is able, too, to make narrative into what he describes the epigrams in The Greek Anthology as being – "the expression of grief that grief demands: simple, clear, timeless." Here is the entry that follows Plante's viewing of Stangos "laid out in the middle of [a] room in a narrow coffin."
The taxi driver was waiting outside to bring me back to our home.
Plante began writing during a schoolboy spring as part of his increasing desire and need to get out of the parish, get out of the darkness life there had become.
Writing compulsively, I noted, on scrap after scrap of paper, the images – the sights, the sounds, the feel, the smells and tastes – of spring.

[American Ghosts]
He began his diary in 1959, when he was 19. Running to millions of words, it is kept in New York Public Library's Berg Collection, along with papers and publications of William Caxton (the first English printer), Wordsworth, Keats, Tennyson, Dickens, Lewis Carroll, Thomas Hardy, G. B. Shaw, Yeats, Virginia Woolf, Marianne Moore, T. S. Eliot, Isaac Rosenberg, Vita Sackville-West, Muriel Rukeyser, Saul Bellow, Allen Ginsburg, and Adrienne Rich, and many more. The Berg also has the papers of three writers who are, in order, crucial, important, and there-but-peripheral to Becoming a Londoner: Stephen Spender, W. H. Auden, and Christopher Isherwood. Spender was Stangos' lover until Plante and Stangos moved in together shortly after they met. Spender was then a good friend to the couple and a guide though literary and artistic London.
Becoming a Londoner begins with Plante's arrival in London in 1966 and ends in 1986. He writes in the introduction that the selections are "all elaborated upon by memory and, too, made informative of people and places for publication." There is a coda of sorts; the final section "Some Thirty Years Later," records the deaths of his beloved Nikos and many friends included in the diary. That he was elaborating close to the last moment is apparent in the inclusion of Valerie Eliot's death, which was in November 2012.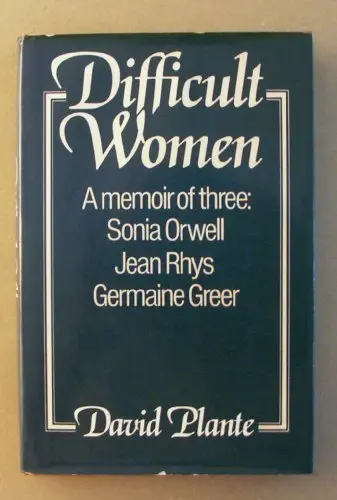 Difficult Women is arranged so as to reveal Plante's relationships with each of the three women. American Ghosts is arranged chronologically by event, with threads connecting his abiding concerns. It took sifting and sifting, Plante says, until The Pure Lover was in sections (labeled Alpha-Omega) of fragments, joined in the hopes of "shaping the larger invisible whole." Becoming a Londoner is organized "with the idea of forming something of a narrative which I hope forms into a world."
Form he does. The new volume is polished into a voice also heard in, what for me is, Plante's best fiction: one observant and reticent in analysis, though not in detail. He is not secretive about writing the diary or what's in it. There were periods when Stangos read and corrected it – something Plante liked. In 1982, he tells Spender, his wife Natasha, and Germaine Greer what he is trying to do in it.
I said, "In my diary, I never try to account for others' opinions, always too complicated, too subtle, for me to account for them in a sentence or two."

Stephen said, "You try to be descriptive."

"I try," I said. "I would never try to account for Germaine's opinion about abortion."

"No," she said, "you don't do that. But you sin by omission. You use the glass-pane technique, which is just to record what you see. You may think that's truthful, but it can be a total distortion of the truth. If you see someone washing his face in vodka, and recorded that, you give the impression that the man is a mad alcoholic; it may be that he's cut himself and is using the vodka as an antiseptic."

Natasha said nothing.

I did think that if I saw a man washing his face in vodka, I would wonder if he was simply bonkers.
Any technique can be used to distort, even the truth, totally, but Greer's opinion on Plante's peering doesn't get to what he does create with it. Wonder is often what comes through in Plante's writing. He doesn't tilt the reader towards seeing a mad alcoholic, but instills, rather, an interested state of not knowing, as here, soon after his arrival in London:
Stephen asked me to lunch with him at his club, the Garrick. I had never before been in a gentleman's club. He told me to wear a tie. I always wear a tie. In the dining room of the club, Stephen said, pointing with two fingers at a table across from us, "There's Benjamin Britten." Against the light from a window, I saw a man with dense curly grey hair talking with someone at his table. Stephen kept looking toward him, but Britten never looked our way. As we were leaving the club, Stephen said, having, it seemed, thought a lot about it, "I don't think he's ever liked me."

Later, Stephen told me he had been reprimanded by the club because I, as his guest, had stood on a rug guests are not allowed to stand on.
What's with the rug? Plante leaves the oddity of the rug to stand on its own. Elsewhere he reveals how much he wants to be a Londoner, a certain kind of Londoner, and know such things.
Not I, but Nikos was invited by Stephen to the Neal Street Restaurant, a new restaurant that is meant to attract interesting people, with W. H. Auden and Cyril Connolly and Pauline de Rothschild. Nikos wore a brown overcoat and Connolly said to him, "Brave of you to wear brown in town," which Nikos didn't understand was not done in London, but which amused him (I would have thought, Oh, I should have known, and clearly I don't know). He said Connolly ordered a partridge, which bled when he cut into it, so he sent back, and when the bird came back burnt black, Nikos saw Connolly staring at it with tears running down his cheeks. Stephen laughed. Pauline de Rothschild ate only one pear. W. H. Auden was silent.
Although he is recording what Stangos told him, this sounds very much like Plante's way of describing, which is enticing and a bit salacious, and like Dr. Johnson's several modes, is difficult to cut short.
Becoming a Londoner is full of lunches, dinners, intrigues, private and public celebrations, getting in and being left out, and writers, painters, historians, has-beens, and all sorts of adepts of distinguished, and other, associations.
Francis Bacon's is the complementary face to Stephen Spender's on Plante's London Janus. Here he has brought Plante and Stangos to meet a new friend, the publican John Edwards. Neither Bacon nor any of the twelve or so in their party, which included "a pretty, blond young man with pimples along his jaw" who "couldn't go more than a mile from the pub, as he'd been convicted of a crime and was awaiting sentencing," would have worried about the brown of a jacket. After drinks a couple of places, they
went out for late lunch at a Chinese restaurant, all of us about a large round table. One bleached-blond queen said to Francis, "So you paint pictures, do you, Francis? Excuse my ignorance, but what kind of pictures do you paint?" This was all said in East End Cockney. Francis said, "Well, it's difficult to say." "Like, do you paint landscapes or people?" "Sometimes landscapes, sometimes people." "Do you paint pictures of dogs, Francis?" someone else asked; "I like pictures of dogs myself." "I used to paint pictures of dogs years ago. I don't anymore." "What do you do with your paintings, then? Do you show them on the railings along the park in Bayswater? I seen paintings, on a Sunday, all along the railings." Francis, laughing, said, "I haven't come to that yet. I might soon." John said, "His paintings are fucking awful. He can't even draw as good as that Piss-casso, and fucking awful he was, too." "Right," Francis said, "I can't." John said, "Ask him to paint a picture of you, it don't look look anything like you, all a mess." "That's right," Francis said, "I couldn't do a portrait that looks like anyone to save my life."

In the car, riding back through the East End, Francis said, "I feel an idiot among them. I feel they know so much more than I do."

"What?" Nikos asked.

"I don't know," Francis answered.
Philip Roth wrote to Plante in praise of Difficult Women, asking if they might meet. Even then, sometime in the mid-1980s, after almost 20 years of being among the famous and the accomplished, Plante's eye was still out for who might see him with whom: "As we were standing together on a corner in Notting Hill Gate by a red postbox, Philip Roth and I were talking when an Englishman I knew came towards us in the crowd, and I wanted him to see me talking with Philip Roth, but he didn't see us, and walked past." Roth commented on how Plante revealed himself in his writing, "Perhaps there's a note of masochistic self-exposure about the book." Perhaps, too, there is the honesty of a writer who is willing and able to, first, face himself, then, write what he sees, and then, allow the world to see his seeing.
Not every writer can do, or sets out to do, each of these things. In reviewing Stephen Spender: New Selected Journals, 1939-1995, August 3, 2012 in The Guardian, Blake Morrison gives credence to Spender's "For forty years I haven't written anything because I've been made to feel I'd offend if I wrote what I've wanted to write." Morrison writes, "Short on bitchiness, and with half an eye on publication, he's too nice to be a great diarist." Then he adds, "But he's unfailingly curious and liberal-minded – and so down on himself that you can't help but take his side." Though Spender, Plante writes, can't take his own side: "Stephen is teaching at the University, but feels he is doing so badly he wants to go into the loos and write on the walls SPENDER MUST GO!"
Roth has understood that Plante writes his life as fully as he can; Plante responds that he writes to understand what he has lived.
Philip said, "Updike and Bellow hold their flashlights out into the world, reveal the real world as it is now. I dig a hole and shine my flashlight into the hole. You do the same."

I said that I want to write about the moment I'm living in, as I do in my diary. In my fiction, I'm still an adolescent, learning about a world that's now no longer the world I live in."
If a different sort of writer at heart, Spender had faith in the young Plante. In France, he brought Plante to dinner at the house of Philippe and Pauline de Rothschild. "I kept putting my hands under my arms," he writes, "to dry them in preparation to shake hands, as my palms were sweating." Among with guests was Louis Aragon. He read a poem he'd written for the Russian writer, Vladimir Mayakovsky. Plante was
very moved, and told him so and for a moment I felt we had a contact.

He asked Stephen about me, "Est ce qu'il a déjà publié un livre?"

"Pas encore," Stephen answered, "mail il en publiera."

Aragon turned away.
This entry shows, too, that, years before Germaine Greer finds theoretical flaws with how Plante writes, Spender had given advice suitable to the young writer's talent when he told Plante (who was already keeping one) to keep a diary, "for the sake of my writing," and write "with clarity and definition. He recommended that I simply describe." Neither the snub from one writer nor the loyalty from the other incites him to ruin the moment in its telling.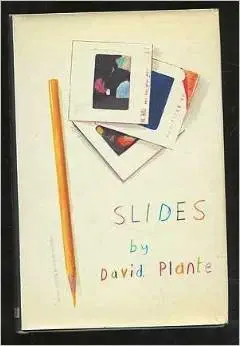 Some time later, when in response to stories Plante has shown him, Spender said "Be sane." Plante writes, "I was struck, and not sure I understood." I think I might. His earliest novels are vague – Spender said "What's in them is never fully expressed" – and full of unsupported shock and emotion. The vagueness, though, is something Plante values – he relates it to imagery and to Henry James, an admired influence, and to their mutual desire "to have everything." The epigraph for his second novel, Slides (1971), is taken from James's 1879 study of Hawthorne: "His tales all go on more or less 'in the vague'." James is thinking about Hawthorne's Transformation (the British title for The Marble Faun), which is set in Rome, rather than, New England, as Hawthorne's earlier and, James thinks, superior novels are. It is not that Hawthorne is inaccurate, but that he "incurs that penalty of seeming factitious and unauthoritative, which is always the result of an artist's attempt to project himself into an atmosphere in which he has not a transmitted and inherited property."
In Slides and Plante's first novel, The Ghost of Henry James (1970), the atmosphere that is less than convincing is internal, not geographic. Description of place is one of the great pleasures of Plante's writing – not only London, Paris and Barcelona, Lucca in Italy and Brussels and its neighboring Louvain, but Providence and Boston are authoritatively given. If you can read The Catholic (1986) and then drive by Boston College or walk over Beacon Hill to the Common and not think of Plante, let me know.
I can only guess that that falling short with characters in the early novels was related to what Spender was responding to in the stories. He continues his advice:
He told me not to worry about making my stories imaginative as there's enough imagination in me that will come out. He said, "Don't try to be mad, you're mad enough." He told me not to be hysterical, because the hysteria always seems unmotivated and therefore boring.
Then came Plante's sixth novel, The Family (1979). The Jamesian accent is gone and the clarity and definition are compelling. Now he can render emotion without pitching it too high or faking it in any way. Now he has created nine characters who are individually recognizable and remain so throughout eight more novels, though they change in the ways people do. The characters are the Francoeur family – parents and seven brothers – drawn from his own. His friends recognized the change in his writing:
Stephen is enthusiastic about the novel, as if for him I have finally situated the characters in the world.

It especially pleases me that Sonia Orwell said, "Enfin, you've written a novel I can take seriously."
The Foreigner (1984) and The Native (1987), two of the Francoeur novels, are deeply planted in two of those adolescent matters Plante told Roth he was trying to understand. In the first, Daniel Francoeur, who plays Plante in the novels, fights off becoming. Hemingway
was what I wanted to be, but would have to risk everything to become: a foreigner.
He even fights off being.
To get my passport I had to swear I was not a Communist. As the Jesuits at Boston College had taught me, I made a mental reservation: I was not going to swear to being, or not being, anything but what I wanted to be or not be, and no one was going to force me. In the office in the City Hall, I raised my hand and moved my lips, but I did not utter any words.
What he claims to be, had always claimed to be – French – isn't accepted by the French Consul. He was born in America, he is told, and so is American. In Paris, then Spain, Daniel is absorbed into the lives of others, being many things and holding off becoming one anything.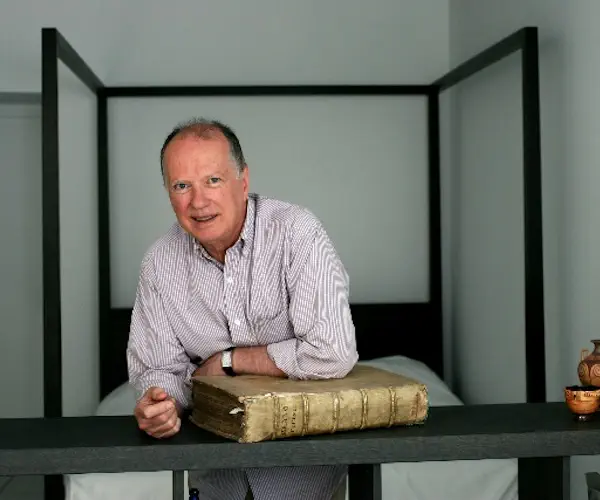 In The Native, the middle son of the Francoeur seven worries about his daughter's being drawn back to the Providence parish. The family religion, a Catholic/Native-American religion, is despairing and punishing. Its god, the Canuck God, the God of death, is a god who himself is hurt. Wanting to become something, Antoinette yearns for the certainties, mysteries, and pains that Daniel must get away from.
Plante is a wonderful writer. His non-fiction and fiction are of a piece.
Whether Becoming a Londoner is the record of a charmed life or a life made charming in the record doesn't matter. Here are two final, teasing occasions from it.
Plante goes to the movies with Stangos and another Greek, Nikos Georgiadis. In the men's room, Plante,
turning away from the urinal, saw Rudolf Nureyev peeing in the next urinal. Outside, I joined both the Nikoses on the pavement, and when I mentioned that I had just peed next to Rudolf Nureyev, Georgiadis, instead of leaving us, talked about the film until Nureyev came out and, seeing Georgiadis, joined us. Georgiadis had designed the set for the Prokofiev Romeo and Juliet in which Nureyev and Margo Fonteyn starred. He didn't introduce Nikos and me to Nureyev, and we all went our separate ways. […] The next day Georgiadis rang to apologize – Nureyev had rung him to complain that he, Georgiadis, hadn't introduced us.

I thought, just as well, really, just as well, I sensing that Rudolf Nureyev could be a threat to Nikos and me.
On the phone with Philip Roth, who has returned to London following his mother's death:
During the two weeks he spent with his father he took notes about the funeral and burial. He is still taking notes.

I asked, "What kind of people are we that we don't even stop taking notes about the funeral of a mother?"

"Good enough," he answered.

"Are we?"
---
Marcia Karp has poems and translations in Free Inquiry, Oxford Magazine, The Times Literary Supplement, The Warwick Review, Ploughshares, Harvard Review, Agenda, Literary Imagination, Seneca Review, The Guardian, The Republic of Letters, and Partisan Review. Her work is included in these anthologies: Penguin Books' Catullus in English and Petrarch in English; Joining Music with Reason: 34 Poets, British and American, Oxford 2004-2009 (Waywiser); and The Word Exchange: Anglo-Saxon Poems in Translation (Norton).