Rednote is a Music Messenger. We offer the fastest, easiest way to share an audio emotion. Texting words alone lacks a good part of the feeling, mood, and fun people want to communicate.
By Charlie McEnerney
In the Fuse Tech series we've recently spoken with the founders and executives from Grouptones, Groupmuse, and PledgeMusic…and we have lots more to come!
In the history of the arts, word of mouth has been crucial for success. It's existed for centuries: one person telling another what is good (or not so good) and each of us spreading the word in and through our communities. In 2014, despite all that artists and producers have at their disposal when it comes to communicating and promoting, word of mouth is still considered the holy grail of effective marketing.
Over the last half century, people have discovered new music through radio, reviews, features, record store clerks, music videos, and advertising. It's no surprise that the internet has changed what word of mouth means. Instead of being able to tell a few friends about the latest music artist or album that you loved, we have e-mail and social networks that spread the word faster than ever.
With the arrival of cell phones and then smart phones, text messaging and mobile apps are now booming, with the sales of smart phones and tablets rapidly surpassing those of desktop and laptop computers at rates faster than most forecasters predicted.
The Boston-based Rednote has developed a service that allows users to send custom 5-15 second promotional music clips from one mobile user to another, putting an "audio emotion" into the text, as they say.
The service currently features some well-known musicians, but the platform has the potential to become a powerful delivery platform for up-and-coming artists, too.
As many music start-ups and musicians wonder aloud about how or where musicians will make money in the future, Rednote offers an intriguing option: sponcers pay to share a song and both the company and musicians would share in the revenue.
The Arts Fuse recently spoke with Richard van den Bosch, CEO of Rednote, about the start-up, how it came to be, and how music conveys emotion.
---
Arts Fuse: What is your background and how did you come up with the idea behind Rednote?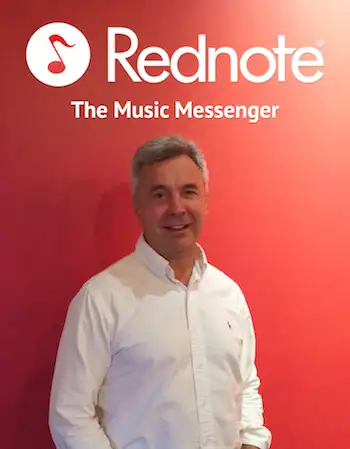 Richard van den Bosch: I grew up in Ann Arbor, Michigan and moved to New York to work for N.W Ayer, a large advertising agency. Always interested in creative and energizing ideas to connect people, I continued to work for large agencies in Dallas and Boston including Tracy-Locke/BBDO, HBM/Creamer, and Woolf Associates as well major brands including Coca-Cola, Borden, Titleist, AT&T, and Kraft.
Rednote was conceived three years ago when I recognized three trends coming together:
1. We're a Twitter Society now, we think in small bits and bites and have short attention spans.
2. Smart phones are changing the world and they will offer richer and richer media experiences.
3. Texting is becoming a primary form of communication, but despite eight billion texts being sent every day, we're not necessarily communicating better.
I always viewed music as having that instant, unique ability to share emotions and feeling across time and space.
Arts Fuse: What is Rednote and what problem(s) are you solving?
van den Bosch: Rednote is a Music Messenger. We offer the fastest, easiest way to share an audio emotion. Texting words alone lacks a good part of the feeling, mood, and fun people want to communicate.
From my texting conversation, typing the words, "Tonight's going to be a good night, tonight's going to be a good, good night" does not really express my excitement. Instead, I want to share that specific line of the song, as audio, from the Black Eyed Peas, to convey the true emotion I am feeling.
Think next generation "audio emoticons" with brand name licensed artist content.
Arts Fuse: What makes Rednote different from other music sharing services?
van den Bosch: We uniquely license, create, and curate the Rednote musical messages to highlight just the right emotions, moods and feelings of the songs — typically Rednotes are 5-15 seconds long. We have built a fabulously elegant and scalable technical platform that empowers texting platforms, app developers, carriers, OEM's, and others to deliver billions of licensed audio snippets to their users with just 1-2 clicks.
Rednote offers licensed content and we pay royalties to the artists. We have essentially created a whole new "social media form factor" and spent almost two years working through licensing issues with the major music publishers and top labels to get the very latest content. We always believe that artist should get paid. The idea here is that we bring micro-payments to the industry and because there are 8 billon texts sent each day, we will develop music messaging as an additional revenue stream and valuable promotional channel for artists.
Arts Fuse: What are the benefits of using the service for the audiences and artists?
van den Bosch: For audiences, you greatly enhance the impact and emotion of your text messages and social conversations and you don't have to go into yet another separate app. We integrate directly into partner platforms so the users can add a musical message with just 1-2 clicks without ever leaving their text conversations.
Artists have 2 great benefits.
1. We capture all usage and reporting and payments. Revenues will grow as music messaging becomes part of our cultural paradigm.
2. More importantly, Rednotes are a great way to engage with and reach more fans. We've run some very successful case studies with Savoir Adore, Morgan Page, and now Peter Murphy that are showing that fans love to get Rednotes from artists and share them with their social networks. That's great promotion for artists and a way to build stronger relationships with fans that artists can monetize.
Arts Fuse: What is the business model?
van den Bosch: We're a "Powered by Rednote" platform. Quite simply, that means that any large messaging service, carrier, app provider, and/or social network that wants to integrate Music Messaging into their platform can easily do so with Rednote. We become an embedded capability within our partner's applications, all of which already have large consumer audiences. We are not trying to be our own stand alone app or destination, but rather an important ingredient in our partners' platforms.
We have both a transactional revenue model and a sponsored revenue model. Our transactional model is similar to the massively successful "stickers" freemium model that allows customers to enjoy free content and also buy unique, premium content in app.
We also have an ad-supported sponsored model that allows a full "free to consumer" model. Major brands recognize that current forms of mobile advertising, such as banners, are not meeting their brand objectives. They are looking to engage with consumers in new ways and become engaged through content. Peer-to-peer emotion based music messaging is great place for advertisers to engage consumers and to make use of music preferences to provide a powerful targeting capability.
Arts Fuse: Are there plans for music artists to be able to submit their music for consideration?
van den Bosch: Absolutely! We've had great results developing apps and mini-sites for artists. Artists have used Rednote to help launch a new album, publicize a tour, and share songs from concert performances. We're currently at work on widgets that make it even easier for artists to create, upload and share Rednotes. We provide full reporting on metrics so we're a measurable promotional tool that is very cost efficient.
Arts Fuse: Do you have success stories you can share from current users?
van den Bosch: Fan and artist response has been terrific so we're now creating easier tools for artists to upload their music clips and create reach programs to their fans. Our very first convincing proof of the concept was with an app launched two years ago for Valentine's Day. We used 10 independent artist's including a South African band called the Parlotone's.
Since then we have run programs for artists including Savoir Adore, Morgan Page, and now Peter Murphy through the Nettwerk Label. This Summer we're launching a "Summer Six-pack" program to 1.2 Million Pledge Music fans. We'll feature a number of known artists and highlight how e-mail, social media, and texting can be used to engage fans, sell tickets, and fund new music efforts.
On the platform side, we have also just launched our new Music Messenger service on Kik, a leading OTT messaging application with over 140 million registered users, and we plan to announce a number of other major platform and messaging provider partners in the coming months.
So stay tuned for much more on Music Messaging, powered by Rednote.
---
Charles McEnerney has held marketing and editorial roles at HBO, WGBH/PBS, Fast Company magazine, ArtsBoston, MovieMaker magazine, Seattle International Film Festival, and worked in film, television, and music production. He was also Host + Producer of the Well-Rounded Radio music interview podcast series from 2002-2010 and is now Principal at Layers Marketing.