By Peter Walsh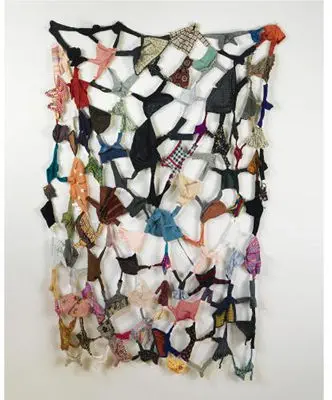 Charles LeDray, Institute of Contemporary Art (ICA), Boston, MA, July 16 through October 17
New York sculptor Charles LeDray is known for making very, very tiny things—especially men's clothing—with fanatical precision and craftsmanship. Something about them fascinates. A British critic has compared his elaborate, Liliputian arrangements to "the model tankers and cruise ships you see in the offices of shipping companies, or of the model steam engines made by hobbyists who, like LeDray, spend years on single projects."
LeDray is one of several contemporary sculptors who make work that suggests folk art, home crafts, or pre-teen play more than it does the aggressive, over-scaled, hyper-masculine pieces that seem typical of American artists. The very smallness draws you in. A few minutes gazing at his teensy ties and men's suits or minuscule pottery and you find yourself musing on the cosmic nature of scale and the role of miniature lives in children's literature. Or speculating on the odd narratives the ensembles can suggest.
A LeDray 25-year retrospective of sorts, CHARLES LEDRAY: workworkworkworkwork, opens at the ICA in the middle of this month and runs through the summer and a chunk of the fall. Organized by ICA Associate Curator Randi Hopkins, it will later travel to New York and Houston. Visit and see how beautiful small can be.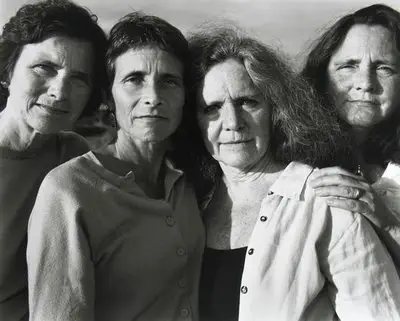 Nicholas Nixon, Museum of Fine Arts (MFA), Boston, MA, July 28 through May 1, 2011
Using your own family as subject matter is about as old as photography itself, and not just with amateur snap shots. In the 1860s, pioneer innovator Julia Margaret Cameron photographed her nieces (one of whom gave birth to Virginia Woolf) along with celebrity friends like Charles Darwin, Ellen Terry, and Henry Wadsworth Longfellow.
Others giants of the medium—Alfred Stieglitz and Edward Weston, among others—made some of their most famous images from studies of close relations, clothed and unclothed. More recently, Sally Mann became a famous, or, in some circles, notorious, photographer with her nudes of her own young children, made with the same cumbersome 19th-century wet plate method Cameron used.
Like Cameron and Mann, Nicholas Nixon (who teaches at Massachusetts College of Art and Design) seems to have been drawn to family portraits for several reasons, including convenience and insight. Family members are always around and can usually be cajoled into posing. Long-term relationships reveal deeper currents than a one-time portrait session.
Very early in his professional career, Nixon began a series called The Brown Sisters—annual portraits of his wife, Bebe, and three sister-in-laws—that now make up some of his most famous work. An admirer of Edward Weston, Nixon uses the retro, large-format "analogue" cameras the older artist favored to capture the slowing, aging physiques and gently shifting relationships among the quartet.
The Brown sisters, Bebe, and Nixon's own children, Samuel and Clementine, feature prominently in Nicholas Nixon: Family Album, on view at the MFA July 28 through next April.
"Reshaping Reality," Brattleboro Museum and Art Center, Brattleboro, VT, July 24 through October 24
It's now high summer and, as we noted last month, many artists usually associated with urban centers like Boston or New York are scattered along the hills, lakes, shores, and river valleys of small-town New England. The Brattleboro Museum and Art Center, housed in a handsome former train station overlooking the Connecticut River in Brattleboro, Vermont, is hosting Reshaping Reality, an exhibition of work by sculptors from the Boston Sculptors Gallery, a 20-year-old artists' cooperative on Harrison Avenue in the South End.
The show includes work by Laura Baring-Gould, Benjamin S. Cariens, Rosalyn Driscoll, Laura Evans, Christopher Frost, Peter DeCamp Haines, Michelle Lougee, Nancy Selvage, Jessica Straus, Leslie Wilcox, and Andy Zimmermann and explores themes of recycling, layering, installation, and multi-media. It will be up through leaf season.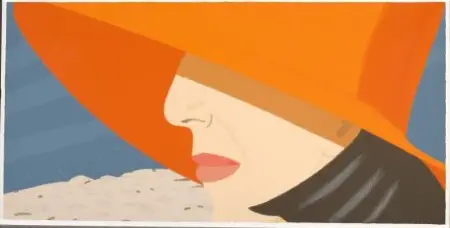 Alex Katz, Farnsworth Museum of Art, Rockland, ME, through December 31
Coastal Maine's Farnsworth Museum of Art in Rockland was created by a wealthy, local eccentric who didn't collect art and who never saw the museum her will established. The art-world professionals who put together the place in the 1940s hit on a brilliant formula: collect and exhibit the work of American artists who spend part of their year or part of their lives in the state of Maine.
That simple mission opened up surprisingly rich and sophisticated territory: everyone from Lewiston native son Marsden Hartley, painters Winslow Homer and Edward Hopper, and sculptor Louis Nevelson to the Wyeth family and pop artist Robert Indiana, who makes a home base on nearby Vinalhaven Island. In recent years, with gifts of work from many well-known Maine-associated artists, the museum has expanded into a new wing, a converted church, main street storefronts, and the Olson House, the weathered farm figures in numerous Andrew Wyeth canvases, including his famous Christina's World.
Showing a mix of work from the early 19th century to the present, the Farnsworth has grown up to become one of the nation's most interesting regional art museums.
The Farnsworth's major show for the second half of 2010 is Alex Katz: New Work. Katz, a painter born and raised in New York City, was introduced to Maine as a student at the celebrated Skowhegan School of Painting and Sculpture in the summers of 1949 and 1950. In 1954 he returned to spend the summer in Lincolnville, just up the road from the Farnsworth. He has spent every summer since living and working there and the place has had a major impact on his art. Katz made every work in the Farnsworth show in Lincolnville.
Katz is best known for his larger than life portraits, with the bright colors and simplified outlines of the most sophisticated 1950s advertising art. His canvases and drawings seem infused with the sort of blinding, pure white light that you find on cloudless days along the Maine coast—the same sort of illumination you find in Andrew Wyeth's very different Maine watercolors.
Katz's more recent work, the museum says, has also "included lushly painted, subtly colored, large-scale canvases intimately connected to the place he has called home for more than five decades." See for yourself through the end of the year.