In the superb "But where is the lamb?," James Goodman takes up the numerous ramifications, moral and otherwise, of God's chilling command to sacrifice Isaac and Abraham's — perhaps more chilling — acquiescence.
But where is the lamb?: Imagining the Story of Abraham and Isaac, by James Goodman, Schocken, 320 pages $25
By Vince Czyz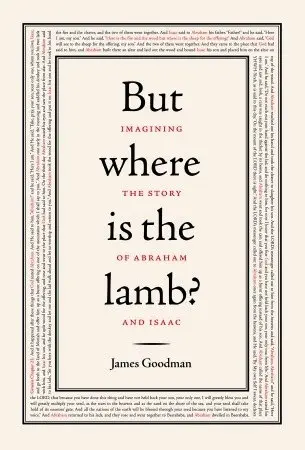 In 1956, the Jewish scholar and philosopher Martin Buber, perhaps best known for his existential essay "I and Thou," gave a series of lectures on religion in which, among other things, he excoriated the ancient Phoenicians for sacrificing their first-born sons. In the same lecture, Buber praised Abraham "above all living things" for his willingness to sacrifice Isaac. The tireless mythographer Joseph Campbell was on hand and asked Buber where the difference lay. "We believe that God spoke to Abraham," Buber replied. (The incident is recounted in Campbell's audio cassette series Transformations of Myth Through Time, Volume I, "Soul of the Ancients," Program 4, "Pharoah's Rule: Egypt, the Exodus, and the Myth of Osiris").
Child sacrifice it seems, even among the People of the Book, was not uncommon at one time. In his classic The Golden Bough, Sir James Frazer mentions that Philo of Byblos, "in his work on the Jews, writes, 'it was an ancient custom in a crisis of great danger that the ruler of a city or nation should give his beloved son to die for the whole people, as a ransom offered to the avenging demons …'" The fact that Deuteronomy and Leviticus explicitly forbid child sacrifice suggests that there is some truth to Philo's assertion.
If child sacrifice was in fact fairly routine in the ancient Levant, this helps explain why Abraham does not protest when God commands: "Take, pray, your son, your only one, whom you love, Isaac, and go forth to the land of Moriah, and offer him up as a burnt offering on one of the mountains which I shall say to you." In the traditional version, Abraham does not carry out the order, but that is only because God stays his hand. In But where is the lamb?, James Goodman, whose Stories of Scottsboro was a finalist for the Pulitzer Prize in history, takes up the numerous ramifications, moral and otherwise, of God's chilling command and Abraham's — perhaps more chilling —acquiescence.
Goodman's voice is colloquial, despite the book's scholarly approach. It's almost as though the reader were having a very long conversation with Goodman as, with admirable erudition, he exhausts the numerous interpretations of Genesis 22. Jewish scholars have viewed the Adekah (the Binding) in a variety of ways, from an exaltation of unquestioning obedience to God to a dramatization of the proscription of child sacrifice among the Jews; Christian commentators saw it as a foreshadowing of the Crucifixion of Jesus, who is viewed as a counterpart to Isaac; Muslim clerics, who generally believe it was Ishmael, not Isaac, who was trussed up for slaughter, often praise Abraham's actions as near-perfect confirmation of Islam, a word which translates as submission (to God).
Goodman, however, doesn't stop with theological commentary; he spotlights the Akedah as a motif among painters such as Caravaggio, Titian, and Rembrandt and presents nuanced distillations of Kierkegaard" and Kant's interpretations. There is also a chapter devoted to exploring how the medieval mystery dramatized the binding of Isaac, complete with the latter's understandable wariness of his father, post-Mount Moriah. Goodman even discusses the song "Highway 61 Revisited," in which Bob Dylan offers his own take on Genesis 22:
Oh God said to Abraham, "Kill me a son"
Abe says to God, "Man, you must be puttin' me on."
Perhaps the most poignant of all are the interpretations of modern-day Israelis — novelists, poets, dramatists, soldiers. While many of the young soldiers bitterly condemn their fathers for sacrificing them for the sake of their political disputes, among the fathers there are those, such as the poet Uri Zvi Greenberg, who wonder "What can equal this glory, this wondrous zeal" and proclaim their readiness to offer "sacrifice on the Temple Mount at dawn."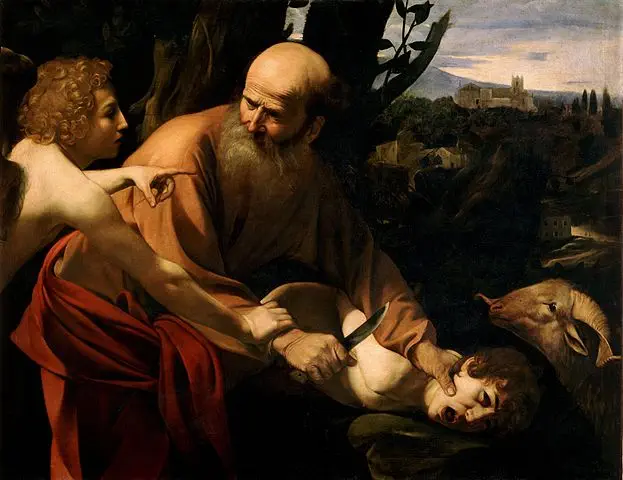 Goodman is admirably broad-minded, giving each exegesis fairly unbiased attention. He quotes, for example, Yeshayahu Leibowitz, who sees the Akedah as "the highest symbol of Jewish faith … where all human values were annulled and overridden by fear and love of God." This in spite of the fact that Goodman himself is diametrically opposed to Leibowitz's belief: "I regret the celebration of any kind of violence in God's name, and I despise the idea that willingness to kill and die for God is the greatest form of devotion."
In sum, But where is the lamb? is a fascinating study that uses a single biblical tale as a lock-pick to turn all sorts of tumblers in the human mind and heart. I found it to be a quick read, which would be surprising except that a few years ago I read Goodman's Stories of Scottsboro and was thoroughly impressed with the elegant fluidity and crisp lucidity of his style as well as his gift for distilling mountains of historical documents into a few pages of cogent exposition. My only serious qualm with the book is that the author does such a good job of presenting other points of view that his singularly open-minded, unfailingly humanistic take on the Adekah, and on the 2,500 years of commentary, is sometimes lost. This is not the case, however, when Goodman criticizes Kierkegaard's position: "Where Kierkegaard went wrong was in thinking that our singular relationship with God somehow exists independently of (and above) our singular relationship with others, our responsibilities to others, when in fact our relationship with others (in this case, Isaac lying on the altar) ought to mediate our relationship with God." If we could all agree on that wise and elemental stricture, I can imagine terrorist acts, clashes between sects, even religious wars that would no longer have participants.
While Goodman devotes most of his intellectual curiosity to discussing the meaning of the Binding, he also touches on various theories of what "really" happened on Mount Moriah — or at least what was originally written — including the suggestion in the initial version that Isaac was sacrificed. Later editors, according to this line of thought, added verses 11-14 and a single phrase ("a second time") in verse 15. This explains the glaring disappearance of Isaac at the end of the story ("And Abraham returned to his young servants, and they rose and went together to Beersheba …") and the fact that Isaac never again appears in the Old Testament writings attributed to the author known as the E (Elohim) writer. Indeed, the possibility is intriguing and persuasive enough that Goodman could have called his book But Where is Isaac?
---
Vincent Czyz is the author of Adrift in a Vanishing City. He is the recipient of the Faulkner Prize for Short Fiction and two NJ Arts Council fellowships. The 2011 Capote Fellow, his work has appeared in many publications, including Shenandoah, AGNI, The Massachusetts Review, The Georgetown Review, Tin House online, Louisiana Literature, Southern Indiana Review.