We do feel Charles Dickens's heart tenderly beating, swept away by Nelly Ternan's poised beauty, and it's touching in an almost Chekhovian way, his being smitten by a love which can only bring sorrow.
The Invisible Woman, directed by Ralph Fiennes. At cinemas around New England.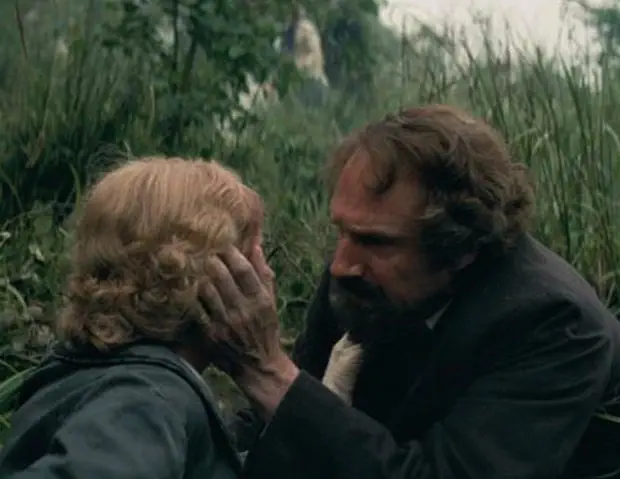 By Gerald Peary
It was many years after Charles Dickens died before rumors arose: that the most morally righteous of Victorian novelists, had, on the sly, kept a young mistress. Only in the 20th century was her identity pinpointed and confirmed, causing Dickens academics to speculate about their entwined lives. But it was British literary historian Claire Tomalin who figured things out. She did the tortured archival research, combing through the most arcane, and hidden-away Dickensia; and, in her impressive, award-winning 1990 biography, The Invisible Woman, she nailed down much of the elusive story.
The eponymous "invisible woman" of Tomalin is Nelly Ternan, a struggling actress when the novelist met her. Though Ternan and Dickens were together for 13 years, their relationship was never acknowledged publicly, probably by mutual consent. She lived on after him for forty-five years, but never blurted to the outside world that she had been Boz's babe.
They became acquainted as performers in the same stage play. Already world-famous for his writings, Dickens would slum a bit, and just for fun, appear in down-home theatrical productions, and in the hammiest, most show-off roles. So there he was in The Frozen Deep, happily overacting as a father figure, collapsing dead at the curtain of this soapy Wilkie Collins melodrama. Nelly was there also, in the background, in a minor role. Somehow Dickens noticed her. He, in effect, fell hard for the chorus girl, the old cliché. But unlike the modern-day prototype, the promiscuous chorine with a heart of gold, Nelly embodied the Victorian-age sexual ideal: pure of heart and spirit, definitely pristine of body at 18 years old.
What everyone knew at the time was that Dickens walked out on his wife Catharine and their heap of kids. He actually sent a notice to The London Times gently announcing, also soft-peddling, his marital estrangement. That was scandalous enough. What he didn't dare say, surely repugnant to his devotees, was that he had taken up with Nelly. Soon after, she gave up the thespian life. We know now that from 1857-1870, until Dickens's death, she was a kept woman, living quietly, probably comfortably, but sequestered in the shadows. Meanwhile, Dickens wrote on, beginning with A Tale of Two Cities.
In The Invisible Woman, Tomalin acknowledged her ultimate frustration. She could never say reliably what the day-to-day relationship of ex-actress and ever-working novelist was actually like. Both parties covered their trails obsessively and very effectively. No letters between them have ever been discovered, no diary entries except, with Dickens, the most cryptic, encoded ones. Dickens's friends and business acquaintances kept the secret well, and Nelly's family also. Charles and Nelly's romance was as brilliantly hidden as, today, the identity of Thomas Pynchon.
We can venture that Dickens must have been mad for Nelly to have left his wife and family for her. He remained with her, and her only, for all those years, when he was the most worshipped author in the world. But how did Nelly feel about him, 45 when she was 18? Did she love him immediately, or not? Did she grow to love him, or not? And did she relax within their confined relationship, or was she bitter at having such a cut-off life? Did she resent his writing, his celebrity, or was she one of the worshippers?
These are the key questions which must be confronted if you're going to make this story into a viable screen drama. The filmmakers of The Invisible Woman realized they had to go boldly beyond the conjecture of their source, Tomalin's biography. A credible narrative needed to be concocted, bringing Charles and Nelly out of the fog.
I'll admit to having been skeptical, guessing that actor and director Ralph Fiennes and screenwriter Abi Morgan (Shame, The Iron Lady) would choose a treacly strategy for winning over the costume-drama art house audience, offering a schmaltzy, sentimental tale of age-crossed lovers. Fiennes, playing Dickens, could have provided for himself lots of florid, philosophic speeches. Nelly could have learned life lessons from Dickens's sage wisdom, and we who are watching could have too.
But no, the film of The Invisible Woman is gutsier than that. Fiennes's Dickens is, as he should be, peppy, personable, a people-loving extrovert, and, of course, a king among writers, who, in the years the movie covers, produces the masterly Great Expectations. But as for life lessons, he stumbles about like the rest of us. We see him being cruel to his dumpy, homely wife, fairly indifferent to his children, a callow kid at 45 beneath his burly beard. As for his courting of Nelly, it's treated by the filmmakers with a persuasive complexity.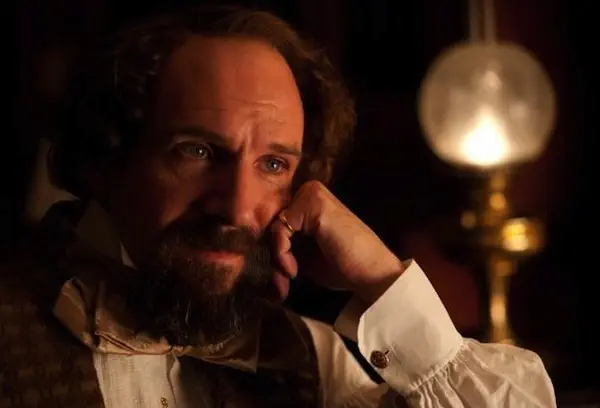 We do feel Charles's heart tenderly beating, swept away by Nelly's poised beauty, and it's touching in an almost Chekhovian way, his being smitten by a love which can only bring sorrow. And which is not returned. That's the daring decision of The Invisible Woman filmmakers. Nelly, played beautifully by Felicity Jones, the gracious young British actress, does not love Charles Dickens. She finds his courting of her gross and offensive. And she tells him off twice, for being mean to his wife and also for bringing her into the home of his pal, Wilkie Collins, who is living with a woman to whom he is not married. Nelly does not approve. She is a nice Victorian girl.
And yet they do get together, and then live together. In a subtle, well-directed sex scene, Charles takes Nelly's virginity. Does it make sense that Nelly gives in to him?
One artistic decision I don't quite buy is that Nelly is ultimately won over because of her adoration of his writing. We see her swoon over Dickens's ending to Great Expectations, and soon after, they are a couple. It makes more sense that his courting just wore her out. He had the power. There's also her actress mother (Kristin Scott Thomas) pushing her to accept an arrangement. Finally, the movie only hints at what takes up several chapters of Tomalin's book: the execrable life being an actress in 19th-century England, where even the most talented were considered harlots by the public, and where even the most successful often ended up destitute. Perhaps it was more expedient for Nelly Ternan, not especially talented or successful, to give in to the great Mr. Dickens.
---
Gerald Peary is a professor at Suffolk University, Boston, curator of the Boston University Cinematheque, and the general editor of the "Conversations with Filmmakers" series from the University Press of Mississippi. A critic for the late Boston Phoenix, he is the author of 9 books on cinema, writer-director of the documentary For the Love of Movies: the Story of American Film Criticism, and a featured actor in the 2013 independent narrative Computer Chess.